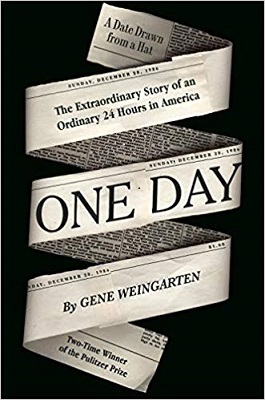 Gene Weingarten, One Day: The extraordinary story of an ordinary 24 hours in America, Blue Rider, 2019.
Denied entry to the US (who knows why, and welcome to the club),* I must take solace as a writer, traveller, travel writer, in others' experiences in the creaking monster to the south. In the writings of those 'lucky' enough in live there or at least visit at will.
Weingarten starts from literally scratch, pulling a year, month and date out of a hat with scribbled numbers on bits of paper. The only limit was in the year; between 1969 and 1989, 'far enough in the past to feel like 'history' and have a future to explore, but not so far so witnesses would be hard to find.'
He landed on December 28, 1986, at first, in disappointment, as it was a Sunday (bad 'news' day) and worse yet, the news doldrums of post-Christmas. But he forged ahead, assuming fate had something to tell him. He started out interviewing a few HSAM (Highly Superior Autobiographical Memory) types he saw in 60 Minutes, but even they drew a blank (!)
But after 6 years of research and writing, it turns out Weingarten hit a winner, though his journalist talent alone could turn a pig skin into a gold mine.
He cleverly sketches out a full range of Americana: lots of murders, of course, but also a historic moment in medicine (longest surviving heart transplant), crazy politics of race (Koch blowing his chances at a fourth term as mayor of New York), miraculous escapes from death, a vicious lawyer turned nice transwoman, lots of ex-soldiers, corrupt police … A page-turner from start to finish.