Books of Interest
Review: Weingarten, One Day: The extraordinary story of an ordinary 24 hours in America
Written by

Eric Walberg Эрик Вальберг/ Уолберг إيريك والبرغ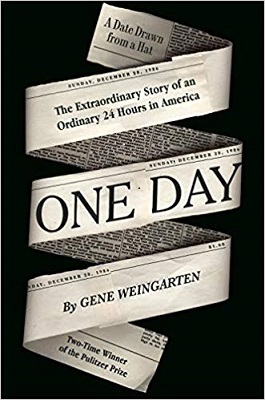 Gene Weingarten, One Day: The extraordinary story of an ordinary 24 hours in America, Blue Rider, 2019.
Denied entry to the US (who knows why, and welcome to the club),* I must take solace as a writer, traveller, travel writer, in others' experiences in the creaking monster to the south (of Canada, but, hey, of most of the exploited world). In the writings of those 'lucky' enough in live there or at least visit at will.
Weingarten starts from literally scratch, pulling a year, month and date out of a hat with scribbled numbers on bits of paper. The only limit was in the year; between 1969 and 1989, 'far enough in the past to feel like 'history' and have a future to explore, but not so far so witnesses would be hard to find.'
He landed on December 28, 1986, at first, in disappointment, as it was a Sunday (bad 'news' day) and worse yet, the news doldrums of post-Christmas. But he forged ahead, assuming fate had something to tell him. He started out interviewing a few HSAM (Highly Superior Autobiographical Memory) types he saw in 60 Minutes, but even they drew a blank (!)
But after 6 years of research and writing, it turns out Weingarten hit a winner, though his journalist talent alone could turn a pig skin into a gold mine.
He cleverly sketches out a full range of Americana: lots of murders, of course, but also a historic moment in medicine (longest surviving heart transplant), crazy politics of race (Koch blowing his chances at a fourth term as mayor of New York), miraculous escapes from death, a vicious lawyer turned nice transwoman, lots of ex-soldiers, corrupt police … A page-turner from start to finish.
Notes on James Clear, Atomic Habits: An easy & proven way to build good habits & break bad ones (2018)
Written by

Eric Walberg Эрик Вальберг/ Уолберг إيريك والبرغ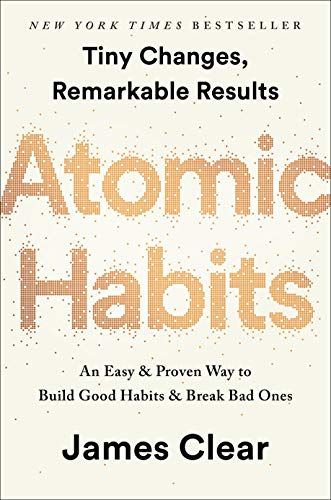 James Clear, Atomic Habits: An easy & proven way to build good habits & break bad ones, Penguin Random House, 2018.
Rules: make obvious, fun, easy, satisfying. ie, hide 'bad' habit stimuli, see them as unpleasant, hard, unsatisfying, to break 'bad' habit.
-the more tasks you can handle without thinking, the more your brain is free to focus on other areas.
-little stresses compound into serious health issues.
-knowledge builds up, like compound interest. (buffett)
-if you see people as angry, unjust, selfish, you will see them everywhere.
-the more you help others, the more others want to help you. Build up connections (~ knowledge)
-not how successful you are right now. Your current trajectory rather than current results.
-fall in love with the process rather than the product. True long-term thinking is goal-less thinking. Your commitment to the process will determine your progress.
-true behaviour change is identity change. Start habit from motivation but stick with it because it becomes part of your identity. Must believe. Your habits are how you embody your identity. (when you write each day you embody identity of creative person.) Identity: proof in pudding. (what you do is what you are.) process of building habits is the process of becoming yourself.
Review: Diana Johnstone, Circle in the Darkness: Memoir of a World Watcher (2020)
Written by

Eric Walberg Эрик Вальберг/ Уолберг إيريك والبرغ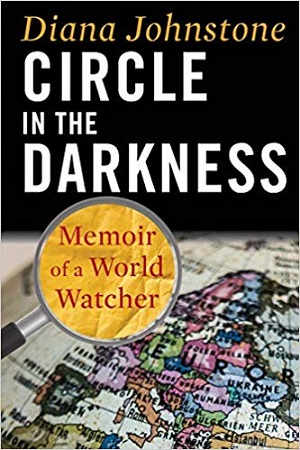 First, Diana Johnstone's memoir is a classic, and will be read and quoted as long as we keep struggling for peace and justice. It is one of the great personal accounts of the anguished decline of our uncivilization, both a riveting eye-witness account of many of the horrors and perfidies, and a primer for students of history and all those struggling to not only dismantle the beast, but to prepare us for what follows it.
Read it and weep. And smile at the follies. And shout 'Yes!' as light bulbs flash in your mind.
Johnstone's concern in Circle in the Darkness Is not so much 'the lived experience of the transitory nature' of things but 'especially of the moral environment.' She was blessed to to begin at the beginning of the end. At the empire's undisputed zenith under FDR. And though not a card-carrying anything religious or left wing, she grabbed that blessing and stoked and nurtured it, creating her life, her jobs, a single mother raising a daughter in Minnesota and then France, seeing through the cant everywhere and using her only weapon, the pen, to expose it.
It is a frightening, unremittingly gruesome, Dantesque journey, but Johnstone's steady moral compass sees us through and is uplifting.
Review Rob Kall, The Bottom-Up Revolution: Mastering the emerging world of connectivity (2019)
Written by

Eric Walberg Эрик Вальберг/ Уолберг إيريك والبرغ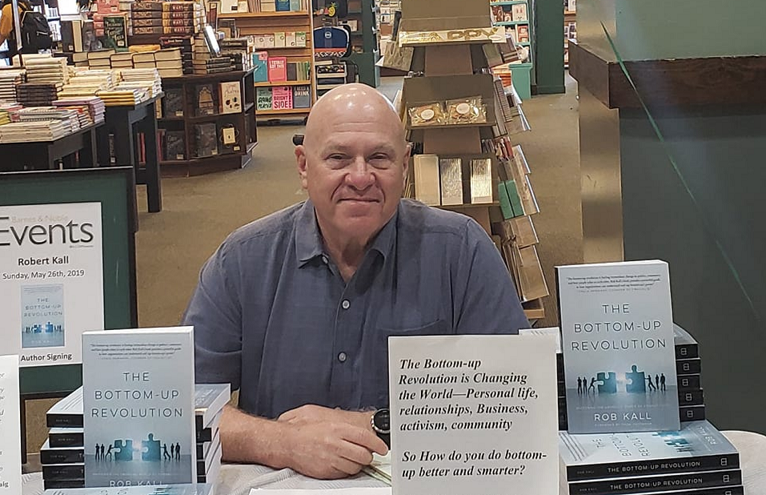 Our civilization is a top-down hierarchical one, as are most large-scale ones in the past, i.e., one-to-the-many, 'top-down', explains Kall in an interview with Tom Hartmann. Kall's book is the distillation of his experience founding and running the website Opednews, which started as a personal blog, i.e., one-to-the-many, 'bottom-bottom', and morphed into a many-to-the-many, with the potential of bottom-top, as a volunteer-based collective.
Kall calls this 'gayan', as contributors and management are directly interconnected in a symbiotic, transparent relationship. Writers can 'fan' their favorite writers at Opednews and both comment, generating discussions of controversial topics, and contact other members directly.