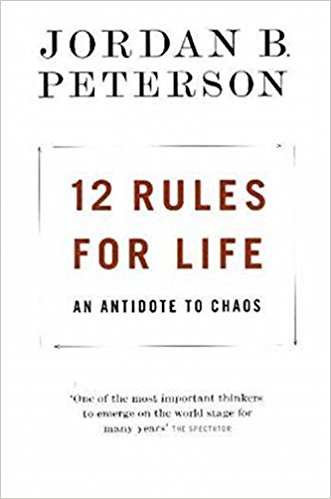 Review of Jordan Peterson, 12 rules for Life: An antidote to chaos, Random House, 2018.
Over the past year, Peterson shot into the public eye with his jihad against political correctness, using YouTube, the new medium for getting one's beliefs broadcast without corporations, governments and media gatekeepers censuring and burying one's new ideas. And his ideas are radical, but more radically old than new. To him, cherished beliefs are mostly cherished because they've worked for millennia, some actually hardwired in us, and we abandon them at our peril.
He asserts what he argues is his male, rational energy, taking no prisoners as he fights to save the English language from attempts to substitute gender neutral terms with orwellesque 'they's and 'zhe's and then forcing one and all (provincial premiers and profs included) to bow to the new golden calf. Language is important, as is marriage and respect for sex (not the amorphous 'gender'). That is just part of his message, and he is now riding an angry, bucking herd of politically correct broncos. Peterson stares them down unapologetically.
Prairie boy makes good
Peterson grew up in a tiny village in northern Alberta, and gives a fascinating account of his youthful friendships, looking at his early life now through his psychiatrist lenses. His own maturing led from socialism till he turned 18 (he grew disenchanted with the NDP due to what he saw as a preponderance of "the intellectual, tweed-wearing middle-class socialist" who "didn't like the poor; they just hated the rich") to … well, some kind of conservatism, but not the neoliberalism which has poisoned both conservative and liberal politics. He also moved from a limp protestantism to a kind of spiritual agnosticism, though his conservative bent will please Catholics.