Books of Interest
CIUT interview: Canada Israel Nexus
Written by

Eric Walberg Эрик Вальберг/ Уолберг إيريك والبرغ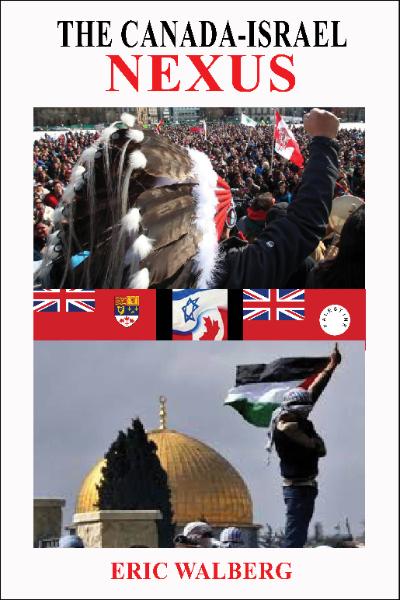 9 minute interview with Phil Taylor on University of Toronto radio
http://www.radio4all.net/files/

This email address is being protected from spambots. You need JavaScript enabled to view it.

/16-1-CanadaIsraelNexus.mp3
Israel as a Russian-Soviet invention
Written by

Eric Walberg Эрик Вальберг/ Уолберг إيريك والبرغ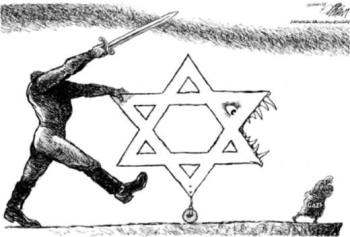 Reading Rabkin's
What is Modern Israel
(2016), you can only marvel that Israel continues to exist at all, given its unending criminal behaviour, from the 1920s, while it was still just a dream, until the present, the only change being in the details, the full scale wars of expansion giving way to smaller scale invasions of occupied territories and Gaza (there's no more land to conquer), and ever new bureaucratic torture techniques intended to drive the Palestinians either crazy or into voluntary exile. Even the latter, a soft version of the 1948 ethnic cleansing, is made difficult, as the Palestinians can only leave via Jordan, at the mercy of Israel. Why does the world, especially the US, which could bring Israel to heel overnight, let the horror continue?
Rabkin delves deep into the Russian Yiddish roots of Israel and brings together many startling facts which suggest that there was a much better option for Palestine and the Jews, one which was scuttled by secular Jewish fanatics inspired by their experiences before and after the Russian revolution.
What is Modern Israel
is packed with fascinating quotes and historical tidbits. Some of Rabkin's insights from his book and a
podcast interview
:
*He decries the use of 'holocaust' in depicting the tragedy of WWII, as it is a religious symbol, and the deaths were hardly a burnt offering to some god. Rabkin uses 'genocide'. He also insists that it is not the "Jewish lobby" and "Jewish state", but the Zionist lobby/ state, as most Jews are not Zionists, certainly not approving of Israel's bombings, invasions, and illegal settlements. The lesson of the genocide for Zionists was 'be strong and kill and hound suspected antisemites.' For Rabkin, it is the opposite: a rejection of Zionism and Israel as a Jewish state.
Review of 'The Way of Strangers': Spiritual cancer or spiritual diabetes?
Written by

Eric Walberg Эрик Вальберг/ Уолберг إيريك والبرغ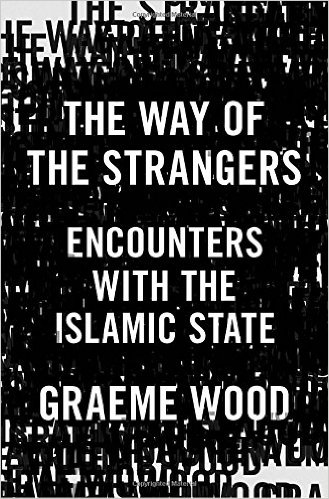 Review of Graeme Wood, The Way of the Strangers: Encounters with the Islamic State, Random House, 2016.

Wood is the most prominent media star exposing ISIS today. A Yale professor, Council of Foreign Relations guru, his articles on ISIS have appeared in the New York Times, The Wall Street Journal, The Atlantic, and on and on. He has an ambitious agenda, instructing the lay reader in Islamic theology and jurisprudence as he travels from one leading ISIS supporter or fellow traveller to another around the world. While providing a wealth of detail, his American slant, almost entirely overlooking the US as the chief culprit in abetting terrorism, is evident. But his book is worth reading, giving the reader a window into the people behind ISIS. None of them are monsters, but all of them challenge Muslims to better understand Islam and Islamic history.

Wood poses throughout his research as a possible convert to Islam and apparently fools one and all. This deception he would no doubt rationalize using a quote from the Quran about lying being okay in a time of war (taqiyya), but he used it in Egypt merely to string along a modest tailor, Hesham, who was sincerely trying to convert Wood, and believed Wood was genuine. This gave him otherwise forbidden access to Hesham's personal life, ridiculing him in the account. Others Wood interviewed were not so naive, but politely answered his questions, though his agenda was seen for what it is: a report for use by western academics, media and security forces to better 'fight the beast'.

Some of his interviews are revealing and colourful. He met multiple times with larger-than-life Muslims based in the West, both pro-ISIS and anti-ISIS activists and theorists. His professionalism as a researcher and writer produced a good overview of the different movements and actors in western radical Islamic circles, including Hizb ut-Tahrir, Jabhat al-Nusra, and other al-Qaeda factions, and their visions of revolution and apocalypse. He interviews leading western Muslim scholars and activists, mostly American converts, including  the Sufi Yusuf Hamza, the Salafi Yasir Qadhi for their critical analysis of ISIS (they are both targeted as apostates by ISIS), and Yahya Michot, who lies somewhere in between.
Reviews of Petras & Hammond: US Delusion of Empire - Obstacle to Peace
Written by

Eric Walberg Эрик Вальберг/ Уолберг إيريك والبرغ
Reviews of James Petras, The End of the Republic and the Delusion of Empire, Clarity, 2016
Jeremy Hammond, Obstacle to Peace: The US Role in the Israeli-Palestinian Conflict, Worldview, 2016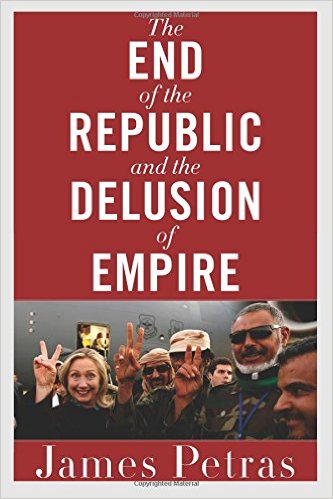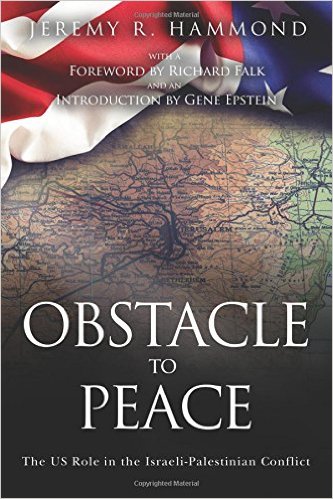 It is time to assess the legacy that President Obama bequeaths us. These two timely books contribute to this, Hammond focusing on the "special relationship", Petras, more broadly on US imperialism. Both are pessimistic about the possibility of any change without an active, articulate citizens' movement that has staying power, thereby creating the conditions for a political renewal.
Hammond's work is detailed, documenting the period starting with Obama's 2008 victory and Israel's immediate response: its invasion of Gaza in December. Throwing down the gauntlet, which president-elect Obama refused to pick up.
There were more such attacks to come, involving seizing aid flotillas headed for Gaza, culminating in a repeat of that full scale invasion of Gaza in 2014, both killing thousands of innocents. Hammond's main point is to separate Obama's weak, nice words -- "the borders of Israel and Palestine should be based on the 1967 lines" -- with his inability to move towards fulfilling them.
Aziz Ansari: Romance with a punch
Written by

Eric Walberg Эрик Вальберг/ Уолберг إيريك والبرغ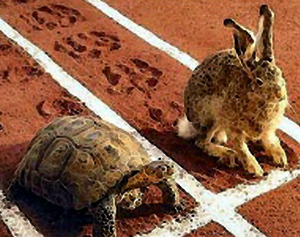 Azizi Ansari's runaway bestseller
Modern Romance
is the perfect self-help book. Lots of data, thoughtful interviews with psychologists and 'victims', funny. The celebrated stand-up comic confirms the truth in the oxymoron, "the wise fool". And surprisingly, finds that humans pretty well figured things romantic out long before computers.
A few nuggets
Experiments on rats show the "uncertainty principle" in rewards: reward the rat when it presses the knob till s/he figures out it must press the lever to get the treat, but after that, only reward it intermittently. Their reward dopamine levels increase beyond the level when they always get rewarded for knob-pushing, like they're "being coked up". We are rats: in the human version of the experiment, women are most attracted to those guys who are in the 'uncertain' group, those who rated them high are second rate. No doubt this works the same for men.