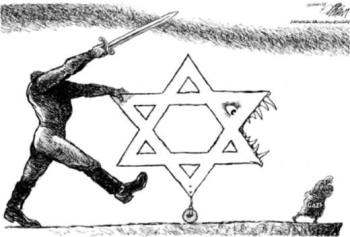 Reading Rabkin's
What is Modern Israel
(2016), you can only marvel that Israel continues to exist at all, given its unending criminal behaviour, from the 1920s, while it was still just a dream, until the present, the only change being in the details, the full scale wars of expansion giving way to smaller scale invasions of occupied territories and Gaza (there's no more land to conquer), and ever new bureaucratic torture techniques intended to drive the Palestinians either crazy or into voluntary exile. Even the latter, a soft version of the 1948 ethnic cleansing, is made difficult, as the Palestinians can only leave via Jordan, at the mercy of Israel. Why does the world, especially the US, which could bring Israel to heel overnight, let the horror continue?
Rabkin delves deep into the Russian Yiddish roots of Israel and brings together many startling facts which suggest that there was a much better option for Palestine and the Jews, one which was scuttled by secular Jewish fanatics inspired by their experiences before and after the Russian revolution.
What is Modern Israel
is packed with fascinating quotes and historical tidbits. Some of Rabkin's insights from his book and a
podcast interview
:
*He decries the use of 'holocaust' in depicting the tragedy of WWII, as it is a religious symbol, and the deaths were hardly a burnt offering to some god. Rabkin uses 'genocide'. He also insists that it is not the "Jewish lobby" and "Jewish state", but the Zionist lobby/ state, as most Jews are not Zionists, certainly not approving of Israel's bombings, invasions, and illegal settlements. The lesson of the genocide for Zionists was 'be strong and kill and hound suspected antisemites.' For Rabkin, it is the opposite: a rejection of Zionism and Israel as a Jewish state.