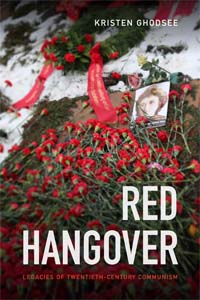 I feared Kristen Ghodsee's
Red Hangover: Legacies of 20th century Communism
(2017) would be yet another dumping on the sad ending to the world's socialist experiment, or at best a boring collection of footnotes. I was wrong. It is full of ironies, twists, incisive exposes of the venality of the whole process of 'liberation'. And some biting Bulgarian barbs.* Oh, and women have twice as many orgasms under socialism.
Like Feffer in
Aftershock
, also published in 2017, Ghodsee uses her travels, studies, lectures to audiences east and west to test the waters of eastern Europe today. This fresh approach to documenting history through the eyes of both participants and sympathetic observers is more like reading a page-turner spy novel, full of often misunderstood heroes and villains, crafty confidence tricksters and lots and lots of victims. Who needs fiction? You enter the theatre of life, feel its pulse.
Sleuthing in Sofya
Ghodsee, always the researcher, saw a heap of documents in a garbage can on a trip to Bulgaria in 1997, and on an impulse started putting them in her bag. A pathetic homeless guy, clearly a drug addict, accosted her, always on the lookout for something to hawk. She told him she was CIA and he fled. Safely back at Duke University, she started perusing them.
The files were of agronomist Andreev, who rose in the 1950s to be Mr. Cucumber, responsible eventually for importing Dutch seeds and planting them in government greenhouses to feed the nation, with some for export to other socialist countries in COMECON. He had been awarded a golden badge of honour. It appeared his life was tranquil, successful, that he was a model citizen who didn't worry about 'profit', though he no doubt was key to determining the production, distribution and pricing of cukes.