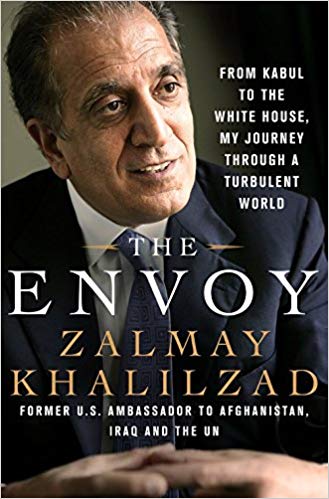 Zalmay Khalilzad, The Envoy: From Kabul to the White House, my journey through a turbulent world, St Martin's, 2016.
The art of autobiography is a slippery one, "a review of a life from a particular moment in time."* Whatever truths are revealed here by Khalilzad in 2016, they are by definition personal truths, confessions, with lots of caveats.
The Afghan version of Horatio Alger's Ragged Dick, Zalmay Khalilzad (ZKh) began life in a remote village, riding a horse to school. He brags of winning a race by taking a short cut through a farmer's melon field, crushing the precious fruit but bragging to mommy upon reaching home. No remorse for collateral damage. No punishment. He would go on to repeat his success as ambassador and hitman in first Afghanistan, then Iraq, then Afghanistan, then the UN.
He is a staunch Republican, so he disappeared into private consultancyland under Obama, president of Khalilzad Associates. In September 2018 he was rehabilitated, hired by Secretary of State Mike Pompeo to serve as a special envoy to Afghanistan. Good timing with the autobio, Zal.