Book review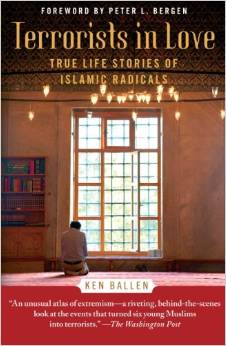 Ken Ballen, Terrorists in Love: The Real Lives of Islamic Radicals, Free Press, 2011.
This is a strange book—a racy title, documenting the way six jihadis turned to al-Qaeda and its spin-offs in desperation to find some kind of fulfilment in life. There are several Romeo and Juliette stories, though the author seems oblivious to the fact that the 'love' in the title is mostly about devotion to God, however mistaken.
Ballen is president and founder of Terror Free Tomorrow, "a nonpartisan, not-for-profit organization that investigates the causes of extremism". Ballen's CV suggests "nonpartisan" can be taken with a grain of salt, as he spent two decades in law enforcement and intelligence, and was given grudging accommodation by the Pakistani ISI intelligence, and free access to the Saudi Ministry of Intelligence (MOI) Care Center, where captured jihadis are sent for rehabilitation.
As well as his extended interviews in Saudi Arabia, he gained access to several jihadis still on the run, and relates a truly remarkable story—if he is to be believed—of a Saudi royal son who discovers he is gay and has a passionate affair with his cousin before joining the jihad.