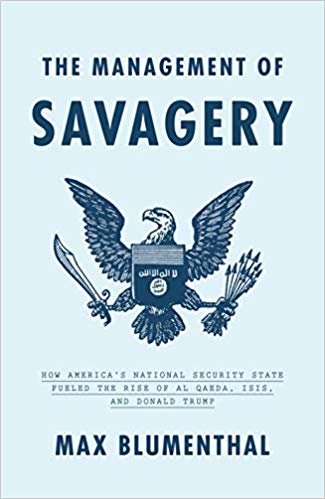 The 9/11 dust is finally settling. Blumenthal takes us on a nightmare tour of the landscape, starting with two key moments in 2018 that dramatically expose the plot behind the passion play taking place even as we sip our morning coffee: Trump's absence from the establishment's lovefest-funeral for McCain, and a few days later, the New York Times editorial 'I Am Part of the Resistance Inside the Trump Administration', excoriating Trump's 'amoral leadership'.
McCain has been latched onto as the anti-Trump icon (he's safely dead so he can't mess things up, a habit this very Trump-like loose cannon was prone to). At the virtual state funeral (absent the head of state), McCain's daytime talkshow host daughter Meghan repackaged McCain's 'finest hour', the (illegal, horrible, criminal) Vietnam War as a fight for the 'life and liberty of other peoples in other lands', a celebration of American empire, rebuking Trump (America was always great) as a threat to its survival.
Blumenthal's message is crystal clear: US-Israel policy from 1979 on has been to create and support Muslim terrorism, even as it claims to be fight terrorism. It used jihadi in Afghanistan to undermine the Soviet Union, and has used them against Iran and Syria. Create the problem, and provide the solution.