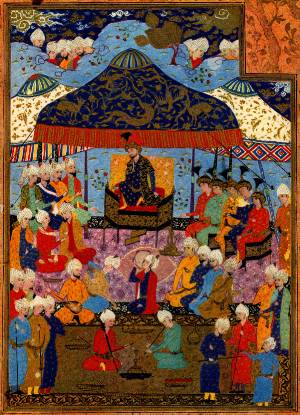 Review of Heaven on Earth: A Journey Through Sharia Law from the Deserts of Ancient Arabia to the Streets of the Modern Muslim World,
New York: Farrar, Straus and Giroux, 2012
There are 50 Muslim-majority states in the world; 11 of them, including Egypt, have constitutions that acknowledge Islam as a source of national law. In Heaven on Earth, Sadakat Kadri, an English barrister and New York attorney, provides a much-needed and highly readable overview of Islamic legal history and an entertaining survey of the state of Islamic law today, full of fascinating anecdotes.
For instance, have you heard the one about the eleventh-century Sufi mystic whose prayers were interrupted by a familiar voice: "Oh, Abu Al-Hasan!" it boomed. "Do you want me to tell people what I know about your sins, so that they stone you to death?" "Oh, Lord," Al-Hasan whispered back. "Do you want me to tell people what I know about your mercy, so that none will ever feel obliged to bow down to you again?" "Keep your secret," came God's conspiratorial reply. "And I will keep mine."
Such risqué offerings aside, Kadri looks at the development of Islamic law from the time of the Prophet, focussing on attitudes to war, criminal justice, religious tolerance, and movements of reform through history. He provides valuable background for all those concerned and/or excited about today's resurgence of Islam. As the fastest growing religion, second only to Christianity in numbers (and surely first in terms of sincere practitioners), Islam is an increasingly powerful force not only in the world of religion, but in the realms of culture, politics and even economics.