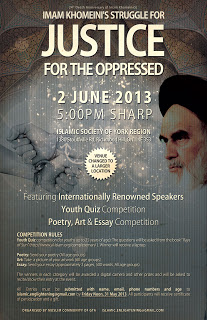 The commemoration of Ayatollah Ruhollah Khomeini on the 26
th
anniversary of his passing took place at the Islamic Center of York Region on May 31. Among the speakers was Moulana Zaki Baqri, Zafar Bangash and myself. Despite hate-filled demonstrators with placards and megaphones, threatening attendees, 400 people came. Sadly, many others turned back, intimidated by the angry demonstrators.
The protesters, over 100 Iranian Canadians, Jewish Zionists and even elected politicians, were denouncing Ayatollah Khomeini as an unjust dictator, though the topic of the conference was "Khomeini's fight against injustice". Richmond Hill MPP, Iranian Canadian Reza Moridi, called the commemoration "a shame", though he didn't consider his joining the Jewish Defense League and B'Nai Brith in the uncultured screaming and threats of violence a shame as a Muslim and an Iranian.
Zafar Bangash told one journalist that if the demonstrators were against injustice, why were they demonstrating against the struggle against injustice? His only conclusion was that they supported injustice. This is starkly demonstrated by their support for Israel, and the policies of injustice in Palestine perpetrated by the Israelis and supported by the Zionist demonstrators.