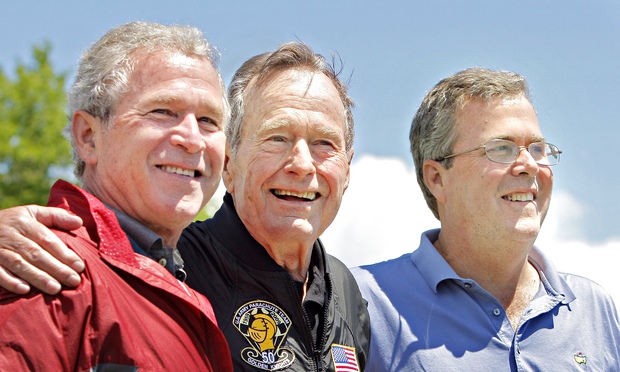 Until recently, Bushism referred only to George W Bush's infamous malaproprisms, such as "they misunderestimated me", "make the pie higher". As Americans gear up for the 2016 presidential elections, it is coming to mean something completely different. Two dynasties are competing for the presidency. Hillary Clinton and Jeb Bush will most likely face off, the former the spouse of the popular Bill Clinton (1992—1980), the latter, the younger brother of the now reviled George Bush junior (2001—2008), herein Bush II—both sons of George HW Bush senior (vice president 1980-1987, president 1988—1991).
Elites, dynasties, families, and even tribes have always been governing society. Conspiracy theorists refer to such elements as "the deep state," a coalition of (some believe) occult forces exercising real power regardless of who is nominally in charge. Does the US have its own "deep state" too? Yes, but only a few families can be called both deep staters and political leaders. Logically, Bushism would mean a family dynasty from the deep state, in harmony with the elites, able to convince the voters that they are providing the best political leadership, given the economic system in place.
This clan rule has been the norm in pre-capitalism, and continues to some extent in the third world; for example, in Syria under the rule of the Assads and it seems to be shaping up for the Karimovs in Uzbekistan. But it has not been the rule in the West. America had a father-son president in the 19th century (John and John Quincy Adam) and a grandfather-grandson (William and Benjamin Harrison). The Roosevelts, too, produced two presidents, uncle and nephew Theodore and Franklin. The Kennedys had their own dynastic ambitions but were stopped after just one president, John F., because both he and his most likely successor Robert were assassinated. But there was no sense of a dynasty in any of these instances. None of them were deep staters.
The Bush clan is by far the most important such dynasty. In addition to two presidents and a likely third, they also include congressmen, senators and governors. Just how coherent their politics are is moot. But the Bush family has been intimately connected with power for a century now, and thus are supported by the deep state to be president, who is (or should be for the powers that be) mostly a figurehead, following the policies necessary to maintain the US as world hegemon.