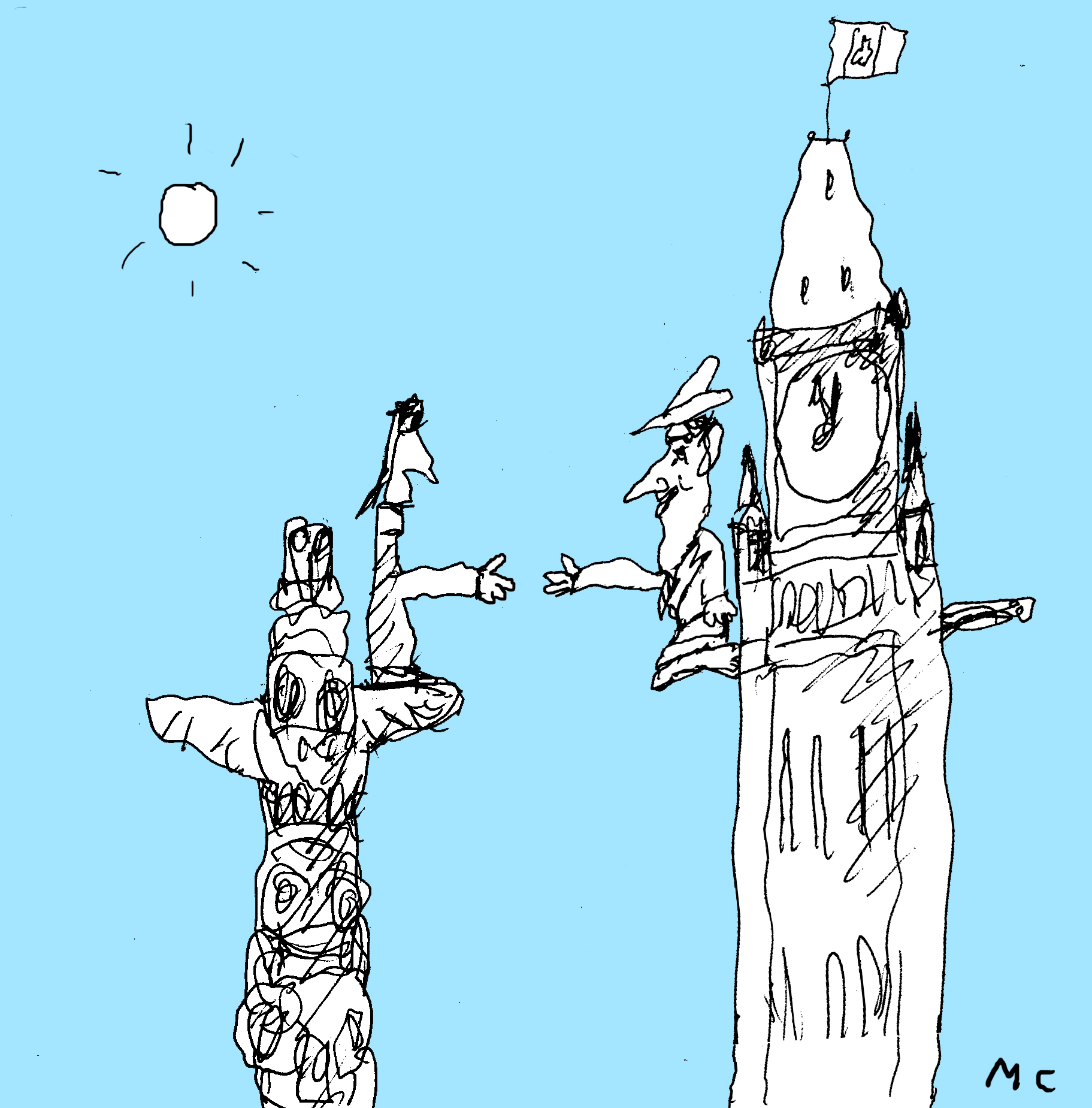 The constitutionally guaranteed rights of Aboriginal Peoples in Canada are not an inconvenience but rather a sacred obligation. Our futures are inextricably intertwined. When I say that we must complete the unfinished work of Confederation, I mean that Canada needs a renewed, nation-to-nation relationship with Aboriginal communities.

Not a month into
his reign
, and Justin's problems are rushing to meet him. The ogre was not only on Parliament Hill, but on a much higher mountain top, one that stretches around the globe, creating a very complex geopolitical map.
The French suicide bombing killing 129 on November 13 was immediately called "terrorist" and was indeed nasty, but is really a revenge match in the Great Games series in which France has been one of the stars. The latest chapter in that saga began, appropriately, at a football match between Crusaders France and Germany, ratcheting up the global temperature in the West. A kind of political global warming, which deniers insist is caused by a few nasties who must be ruthlessly killed, even if it means killing thousands of innocents.
This has been the traditional policy of the ogres on high, who are dull but have lots of very nasty weapons, and only disdain for their native peoples, never understanding why they get the odd firecracker under their seats. They have been terrorizing the world for centuries, so it's hardly surprising that the victims should go for revenge, however lamentable this may be.
The worldwide outcry was only because the victims were French white folks. 44 people were killed in Beirut the day before and no cries of outrage were heard in western news headlines. 80 Palestinians gunned down in the previous week, ditto.
Justin's personal realm is calm, and while sympathetic to the French, he refuses to take the road of vengeance. Instead, he sees the best way to fight the terrorists avenging western bombing of Syria is to ... stop bombing! And better yet, provide a haven for tormented Syrians, with his vow to welcome 25,000 Syrian refugees. Take the wind out of ISIS sails.

Canada's colonial heritage festers
However, this sensible approach is running into snags. Some Indigenous Canadian leaders see millions suddenly going to help poor Arabs from across the globe, and wonder if their sorry state will continue to be ignored in Trudeau's own backyard. Aboriginal communities rank a miserable 63rd in per capita income in the world, versus Canada's 8th position.
Dakota Tipi First Nation Chief Dave Pashe says it's frustrating to see the government prioritize refugees over First Nations people, who need work and housing too. He was shocked when he was elected to see most of his young people not finishing Grade 12. He asked the Manitoba government for funding, however the cupboard was bare. "But they have all kinds of money to bring in refugees from all other countries. The governments are sending the wrong message to native people by doing that."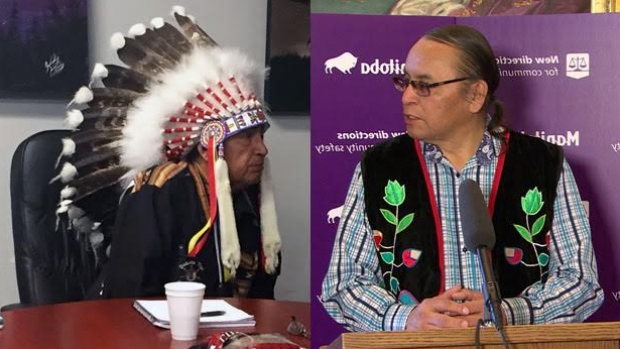 Pashe can rest assured with the overthrow of the ogre. Ten years ago under Trudeau's Liberal predecessor Paul Martin, before Pashe's reign, the Kelowna Accord was signed, a nation-to-nation collaborative plan to close the inequality gap with Indigenes, but then Harper came to power, and Kelowna was gone. The few policies issued under Harper were acts of "political theatre and the illusion of progress", Trudeau told the Assembly of First Nations General Assembly in July.
Trudeau told Canada's founding peoples of "the urgent need for a renewed relationship between the federal government and Indigenous Peoples in Canada. One built on trust, recognition and respect for rights." He said the failed relationship between the Crown and Aboriginal Peoples is the result of "generations of political leaders at all levels".
Harper worked hard to outdo his predecessors in cynicism. The head of the Assembly of First Nations (AFN) Perry Bellegarde was particularly pleased to see him go, as last January Harper had greeted the new chief of Canada's First Nations with a stony silence on Bellgarde's complaint about the Conservatives' education bill, and his request that Harper launch an inquiry into murdered and missing Indigenous women.
Justin knows about the natives' long, heroic resistance to the injustices of colonialism. He knows about their culture, where Nature is sacred, and has come to respect and honour them. Even before besting the ogre in October, he committed his government to set things straight with Canada's founding nations. He vowed
*To sign the UN Declaration on the Rights of Indigenous Peoples of 2007, which Harper refused to sign.
*To revised Harper's draconian security Bill C-51, which Indigenous Peoples saw as threatening them as "terrorist" when they stand up for their rights.
*To implement the Truth and Reconciliation Report (TRR) on native issues, including language, education, health, housing, and special funds for CBC.
*To set up a Reconciliation Framework based on the TRR, which will include mechanisms to resolve grievances associated with historical treaties and modern land-claims agreements.
*To repeal Harper's changes to the Elections Act which make it harder for Indigenous Peoples to exercise their right to vote.
*To ensure all natives have access to safe drinking water within five years.
*To launch an inquiry into missing and murdered indigenous women and girls.
Justin's new band includes a record eight Indigenes, with Hunter Tootoo as Fisheries Minister. In the 2011 elections, there were four Conservative native MPs. This time none, and with the two NDPers, that makes a historic ten on Parliament Hill.
.
One of the TRR demands was for the Catholic Church to apologize for the spiritual, cultural, emotional, physical and sexual abuse of First Nations, Métis and Inuit children at Catholic-run schools. Before he was toppled, the Protestant ogre met with Pope Francis, the kindly Great White Father in Rome, but made no mention of this sorry chapter. What will our Catholic hero do?
Canadians arm with terrorism silver bullet
The ogre's band are not happy about the new alliance with Canada's founding nations, nor with the Trudeau's 'smart policy' against terrorism. Candice Bergen, Conservative MP for Portage-Lisgar, Manitoba, condemned Justin's call to Obama canceling Canadian bombing in Syria and restricting Canadian involvement there to troop training and humanitarian aid, arguing that bombing is necessary to achieve peace (sic). Pashe is in Bergen's riding, and shot back that she should come to visit his community and other First Nations in the constituency before she casts stones.
Fears have been raised especially in Justin's own native Quebec over the Syrian policy, pointing to
terrorist attacks last year
by 2 radical Quebec citizens protesting Canada's earlier bombing of Syria. The ogre was even forced to hide in his prime ministerial closet when shots were heard a few metres from his lair.
We should not fear criticizing France for its sordid colonial past and ongoing killing of Syrians. Canada will not attract such vengeance. The trick, as Trudeau pointed out to his own colonial victims--the First Nations, is to make up for past crimes of "generations of political leaders", and establish a relationship "built on trust, recognition and respect for rights." A lesson from our young hero to his French colleague.
As for a silver bullet, the only way to fight ISIS responsibly is to do the right thing, and expose their policy of violence as bad for Muslims, bad for everyone. Already thousands of communities across the country have pledged to sponsor Syrian families and are busy hosting fundraisers. Port Elgin, a town of 12,500 in Bruce County Ojibway lands, is sponsoring two families. Quebec City, a stronghold of the ogre's remnants on Algonquian lands, is nonetheless taking 200 families, braving the ogre's naysayers loudly petitioning to cancel the goodwill gesture.
Terry Nelson, Grand Chief of the Southern Chiefs Organization, says Manitoba's plans to bring refugees in from other countries should not be impacted by events in Europe. "There's been an invitation for 2,500 Syrian people to be here in Winnipeg," he said. "They should not be judged by a small minority of people that are terrorists. We live in the greatest country in the world. The most peaceful country in the world. We are blessed."
Writes Jennifer Tsun (Eagle Watch) reflecting Justin's dilemma: "What don't some people get about living in the 'global village'? What affects one will affect others. France is bombing Syria. France, always a colonial power, is very active plundering northern African nations such as Niger. Why should we run to their defence? [Because] Indigenous people understand this Connectedness intuitively based on their teaching that we are all related."
Justin wants to do the right thing on the world stage and at the same to satisfy his own people. The path is strewn with pitfalls. Let's hope our young hero can avoid them.
For
Canadian legend Chapter IV: Goodbye Canada, Hello Harperland