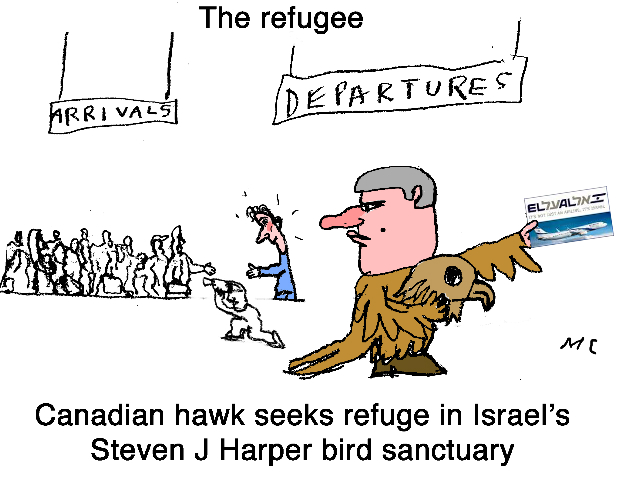 Ex-Prime Minister Stephen Harper, the
defeated ogre, licking his wounds,
finds little comfort from his hawkish "best friend", despite his love for Israeli birds for whom he helped raise more than ten million Canadian dollars to build a bird sanctuary in the Promised Land. This was in preference to Canadian birds, who along with almost all other Canadians, had their funding slashed.
He did this with the help of the Jewish National Fund (JNF), an innocuous sounding organization, one which operates worldwide, but one which was founded to 'disappear' Palestinians and their homes, building bland pine forests (though not indigenous, they grow quickly and help us forget), where villagers once grew olives and tended sheep.
His JNF friends decided to honour him by naming the park, the Stephen J. Harper Hula Valley Bird Sanctuary Visitor and Education Centre. The new
Harperland
is near the Golan Heights, on land confiscated from 30,000 Bedouin in 1948. Lake Hula was vital, not only to the Bedouin, but to Nature, as a wetland. But as part of the plan to "make the desert bloom", the lake was drained, creating a dust bowl, and the new kibbutz soon abandoned. (I'm not kidding.)
In the ogre's favour, Harperland at least tries to provide migrant birds with refuge, if not the original occupants. In a slick promo JNF video advertising the park and
lauding Harper as the new messiah
(I'm still not kidding), DJ Schneeweiss, Toronto's Israel consul general enthuses, "The birds know no borders."