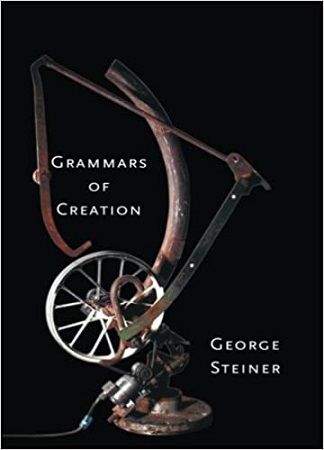 George Steiner, Grammars of Creation, Yale University Press, 2001.
(George Steiner: Real presences (1989) notes here)
I
Plato maxim: in all things natural and human, the origin is the most excellent. To begin is to act essentially. But our perception now is afternoon, twilight. Century of progress liberalism -> 'long summer of 1914'. Collapse of humaneness not from distant steppe, nazism, fascism, stalinism from within the context of civilization.
Shoah (wind out of blackness) not 'holocaust, a technical greek designation for religious sacrifice.
Future tense came relatively late into human speech. Ability to discuss possible events on the day after one's funeral or in stellar space in a million years. Every use of 'to be' is negation of mortality. Every 'if' sentence tells of a refusal of the brute inevitability, the despotism, of the fact. Hope and fear are supreme fictions empowered by syntax. Fear has mustard seed of hope. Hope encloses fear of unfulfilment. 'Hope to god'.