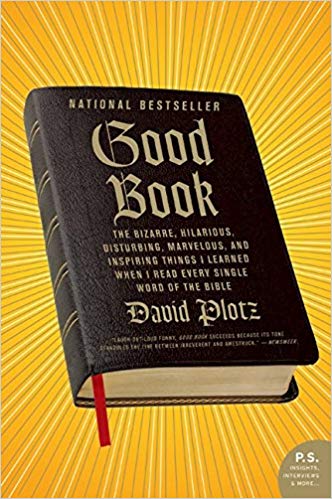 What exactly is the religious rationale for Israel as a Jewish state? Who better to ask than an America Jewish secular journalist. We can assume that makes our investigative journalist a zionist (90% of Jews support Israel), but, as a journalist, and secular, our protagonist assures the reader he is interested in giving us as objective a version as can be expected.
David Plotz's Good Book: The bizarre, hilarious, disturbing, marvelous, and inspiring things I learned when I read every single word of the Bible (2009) puts the Old Testament (OT) under his microscope, knowing virtually zip about the religion, not practicing, nor forced to go to Saturday Hebrew school. Locke's 'blank slate', sort of.
Plotz loves the ironies and contradictions of his journey and the Bible itself. He starts out believing vaguely in the existence of God, but not observing the rituals. During his 365 days of plodding through the book, he comes to admire the rituals, and starts observing shabat Friday dinners, complete with prayers, celebrating passover, new year, sukkoth.
But he's not at all happy with the God the OT reveals. "I leave the bible as a hopeless and angry agnostic. I'm brokenhearted about God. God made me rational so I must use the tools to think about him. Submit him to rational and moral inquiry. And he fails that examination. The history of Judaism is an effort to grapple with the bible's horror."