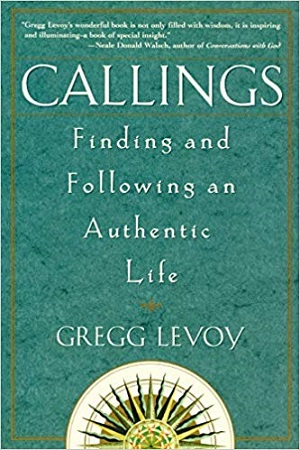 Gregg Levoy, Callings: Finding and Following an Authentic Life, Three Rivers Press Random House, 1997.
-in many traditions, calling (sounds) precede prayer, rites of initiation, major life events. summon adherents away from routines to new level of awareness, into sacred frame of mind, communion with what is bigger than themselves. what is calling? 'life's longing for itself' (Gibran). 'living means being addressed' (Buber).
-we can't see the force, but we can see what it does. a return call, a response, creates a dialogue. our own unfolding requires that we be in constant dialogue with whatever is calling us. call-response central metaphor for spiritual life. listening = following in Latin.
'No man is an island, entire of itself...any man's death diminishes me, because I am involved in mankind; and therefore never send to know for whom the bell tolls; it tolls for thee.' (Donne 1624) brings on the fear that frightens away sleep. no guarantee change for better.
-re-ligion = re-connect, re-member our selves, the deep life within us where religious impulse resides. William James: religion as 'the attempt to be in harmony with an unseen order of things'. 'hope is not the conviction that something will turn out well, but the certainty that something makes sense, regardless of how it turns out.' -we don't know enough to despair. Despair is hidden arrogance. i have seen the future and it doesn't work. hope is rooted in trust in the unknown. work, wait, and hope. that is enough. (Sam Keen)