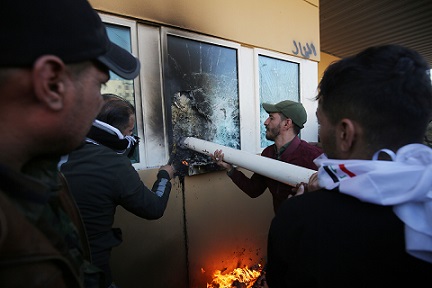 After a clumsy, cruel bombing of reported weapons depots of pro-Iranian militias on Sunday, December 29, the next day, Iraqis stormed the US embassy in the Green Zone, forcing diplomats to flee.
Pictures of frightened US soldiers, bristling with their rifles, went viral, as the US tries to reinforce its embassy, the largest US embassy in the world,
The US blames the Iraq police and army for not preventing the demonstrators from entering the Green Zone, as if it is US territory. The image of survivors of the bombings bearing coffins of some of the 25 martyrs with them shows a different story. US actions only unite the Iraqis in opposition to them.
Wait. have I got this right? The US, without so much as a howdy-do to Iraqi authorities, bomb and kill 25 Iraqis in the Iraqi capital, Baghdad, the birthplace of western civilization, and then whine when Iraqis assert their national pride by the only weapon they have -- some bricks and their lives?