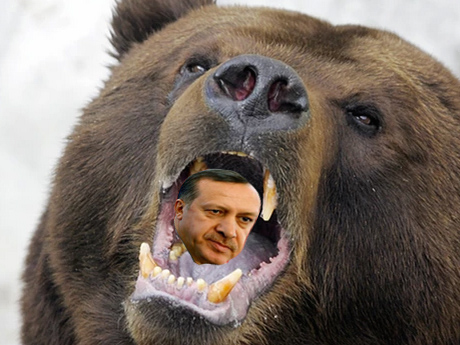 Q
: What do you think Kremlin has in mind in displaying such a harsh reaction to risk a total breakdown of its relations with Turkey?
As Putin put it, the shoot down was a 'stab in the back'. What would you suggest Russia do?
Q
: But Turkey said it wouldn't down the jet had it known it was Russian. Do you think Turkey's aggression was deliberate?
I am not impressed by such a weak claim. The Russians said there was no warning communication (perhaps there was but it was not intercepted), the Turks claim there were lots of warnings, which suggests they must have known who it was. Declarations of innocence sound pretty lame. Who else could it have been? ISIS doesn't have military planes.
Q
: After the jet crisis, the hashtag WWIII immediately became a globally trending topic on Twitter and since then, tons of articles discussing the possibility of a new world war is flooding the media. What do you think the chances are for that another globe-sized confrontation may be looming in the offing?
My first thought was 'Sarajevo 1914', a foolhardy provocation which indeed could topple into war. I am still shuddering. For the first time in my life, I genuinely fear that a world conflict could explode. Notice, like WWI and WWII, the location is conveniently far from Washington.
Q
: With the direct involvement of the Western alliance and Russia in the Syrian civil war, Iran's expanding influence in the region and the Arab Spring, the cards seem to have been reshuffled. What does the Syrian quagmire promise for the future given the most recent conditions?
The 2011 Arab Spring initially looked hopeful for the region. Tunisia and Egypt threw off odious dictators with hardly a shot fired. But it soon soured, with no consensus on a "new world", and entrenched elites that were able to reassert control, electorally in the case of Tunisia, and through a coup in Egypt. Bahrain and Yemen's 'springs' dragged out and were undermined without any real change. Civil war resulted in both, with the Saudis and Americans supporting the old Sunni elites against the Shia, leaving an ongoing legacy of anger and, in the case of Yemen, violence and war.