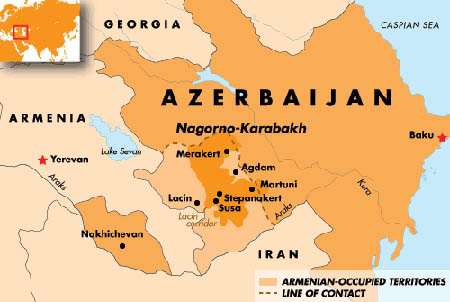 The world hovers on the edge of war, not only in Israel-Palestine, Syria, Ukraine, but in Eurasia's ground zero, where Armenia and Azerbaijan are always on the cusp of a new outbreak of their unresolvable conflict over Nagorno-Karabakh, an Armenian enclave in the centre of the post-Soviet 'republic' of Azerbaijan.
Oil-rich Azerbaijan is lavishing its petro-dollars on beefing up its armed forces, assisted by--guess who?--Russia and Israel. It seems only a matter of time till a full scale explosion happens. It almost did in April, 2016, when Armenian forces in Karabakh shelled civilian settlements and attacked Azerbaijani forces in retaliation for an Azerbaijani helicopter firing on Armenian military positions. 18 Armenian and 12 Azerbaijani troops were killed. Given Azerbaijan's growing military teeth, it is unlikely the Armenians started this.
This is yet another intractable dilemma resulting from the sudden collapse of the Soviet Union. Soviet borders were not carved out in the 1920s with western-style sovereignty in mind, and now many make no sense at all within the western legal framework.