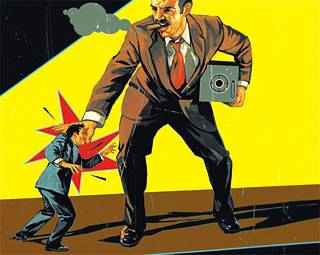 About 10% of Canadians live in poverty. That figure is even higher in major cities, such as Toronto where the number of children living below the line is nearly 25%. In India, 22% of the people live in poverty. A "guaranteed annual income" (GAI) could wipe out this poverty at a stroke.
GAI (also BIG -- basic income guarantee) has been quietly mooted by both left and right since the 1960s. Economist Milton Friedman called it (approvingly) "helicopter money". What could be easier to administer, to end the most obvious source of social injustice, and which is welcomed even by most Canadians?
Leading politicians around the world have endorsed the idea. In India, several projects and modest universal Cash Transfers (CTs) have been implemented. All Green Parties from Europe to North America, the Scottish National Party, the French Socialists, all endorse it. Switzerland will hold a referendum in June. Finland will launch a trial in 2017, and is committed to implementation, as are several Dutch cities. Brazil implemented a Citizens Basic Income for all of its citizens in 2004, with positive results in terms of health and economic stimulation (and ensuring the reelection of President Lula da Silva).
Rising star of the European left, economist Yanis Varoufakis, founder of Democracy in Europe Movement 2025: In the 50s and 60s the dream of shared prosperity was that which gave hope. The basic income approach is capable of doing this as long as you can explain to them where the money will come from, that it will not be simply debt, that we are going to generate a lot more income and a chunk of it is going to fund this.