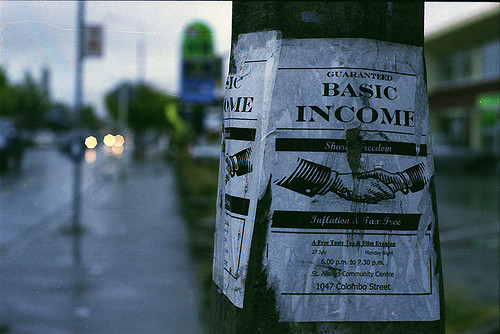 Read the first part: Basic Income: Helicopter money
Founded in 1986, the Basic Income European Network (BIEN) is the international NGO that promotes BIG around the world. It held its last conference "Re-democratizing the Economy" at McGill's Faculty of Law in 2014. A North American congress is being held in Winnipeg in May 2016 and its 16th congress in July in Seoul, South Korea. Its credo is that some sort of economic right based upon citizenship rather than upon one's relationship to the production process or one's family status is called for as part of the just solution to social problems in advanced societies.
We are half way there with welfare, various subsidies, unemployment insurance, pensions, but as more people join the "precariat", subsisting on part time work or permanently unemployed, the current ad hoc support network for this 'economic right' requires a people-centred radical reform. This is the logical conclusion of the UN Covenant on Economic, Social and Cultural Rights (1976) which recognizes the right of everyone to an adequate standard of living.