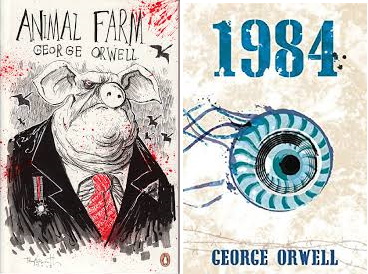 How do you explain the fact that the John Birch Society used 1984 as its main office telephone number in the 1960s? Or that both Animal Farm and 1984, are force-fed to virtually the entire western world in people's formative years in their teens, even as Big Brother jacks up repression and surveillance, and pursues ever more cruel and senseless wars?
A look at Orwell's weaknesses reveals how Big Brother turn the tables on him, getting the last laugh.
Both Animal Farm (1945) and 1984 (1949) are listed on the Random House Modern Library 100 Best Novels of the 20th century (#31 and #13), and have been translated into more than 60 languages, more than any other novels. Orwell "helped prevent the realization of the totalitarian world he described", according Jeffrey Meyers in Orwell: Wintry Conscience Of A Generation (2001). We are taught in school to revere his warnings against "Thought Police" and the supreme importance of individual rights and freedom of thought.
An antihero's vaccine