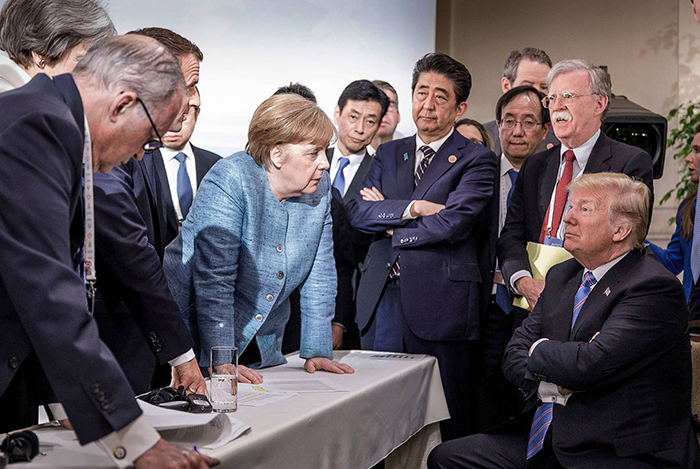 How to explain the welter of contradictions in US politics these days?
*Trump's enthusiasm for peace with Russia vs his acceptance of Cold War II with Russia, launched even as Trump declared victory in 2016.
*Trump's virtually declaration of war against the mouse, Canada, next door, with his cutting insult to Justin Trudeau as weak and dishonest, as he left the summit early and refused to endorse its free trade plea.
*Trump's original enthusiasm for pulling out of Syria and elsewhere, pursuing an old fashion Republican isolationism, vs his sudden flurry of bombings in Syria recently and the threat of invasion of others (Iran, North Korea, Venezuela).
*Trump's dumping of the carefully crafted nuclear agreement with Iran, renewing sanctions and threats in the face of world opposition, both domestic and foreign (ok, the Zionists are happy, but no one else).
*Trump's unsolicited 'deal of the century' with Israel-Palestine.
The Russians are coming
There are behind-the-scenes forces at work, with Russia at the centre. Obama's and the western media's human rights spat with Russia over Ukraine and Crimea are not important to the long term strategy of the neocons. Trump and his deep state backers understand this. Kissinger admitted it in June. They want Russia back in a new G-8, as Trump so loudly proclaimed at the G-7 in Quebec in June. But a Russia on the defensive is also in their interests, the better to make Russia bow more respectfully to US world hegemony in any grand compromise. Good cop, bad cop.