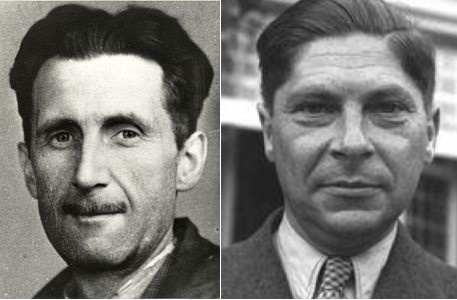 The two most celebrated leftist literary figures of the 1930s--40s, George Orwell (1903--1950) and Arthur Koestler (1905--1983), lived through the 20th century's revolutionary times as documentarists. They were on the front lines as journalists in the Spanish civil war, came close to death there and in WWII, and then wrote their explosive novels dissecting the communist experience from the inside.
Orwell never joined any party, let alone the Communist Party of Great Britain, but was inspired to go to Spain to fight fascism, and was condemned when he returned to Britain in 1937 for having joined the Trotskyist POUM (Partido Obrero de Unificación Marxista) to fight Franco. His brush with both fascist snipers and Stalinist enemies led him to write Animal Farm and 1984, after which he died of TB, before he could witness what was done with his works.
Koestler joined the German Communist Party in 1931, 'saw the light' by 1934 as his friends started being arrested in Moscow, but stuck it out until 1938, writing Darkness at Noon, becoming the toast of post-WWII western Cold War intellectuals (and the CIA). Diagnosed with terminal cancer, he eventually committed suicide with his wife in 1983.