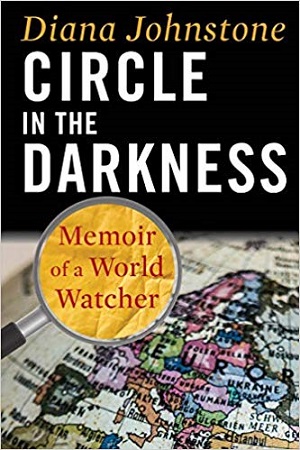 First, Diana Johnstone's memoir is a classic, and will be read and quoted as long as we keep struggling for peace and justice. It is one of the great personal accounts of the anguished decline of our uncivilization, both a riveting eye-witness account of many of the horrors and perfidies, and a primer for students of history and all those struggling to not only dismantle the beast, but to prepare us for what follows it.
Read it and weep. And smile at the follies. And shout 'Yes!' as light bulbs flash in your mind.
Johnstone's concern in Circle in the Darkness Is not so much 'the lived experience of the transitory nature' of things but 'especially of the moral environment.' She was blessed to to begin at the beginning of the end. At the empire's undisputed zenith under FDR. And though not a card-carrying anything religious or left wing, she grabbed that blessing and stoked and nurtured it, creating her life, her jobs, a single mother raising a daughter in Minnesota and then France, seeing through the cant everywhere and using her only weapon, the pen, to expose it.
It is a frightening, unremittingly gruesome, Dantesque journey, but Johnstone's steady moral compass sees us through and is uplifting.