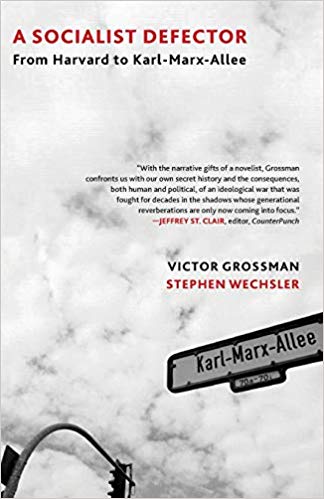 I finished Victor Grossman/ Stephen Wechsler's* A Socialist Defector: From Harvard to Karl-Marx-Allee (2019) with a sigh of regret. His memoirs of living in East Germany from his defection from the US army in 1951 to his witnessing the post-collapse 'freedom' was as close to building socialism as I'll ever get. What a great life he led, quiet, without the rat race, surrounded by socialists living socialistically.
Sure, after 1917, those of us born and bred in the West who wanted to help 'build socialism' could join the appropriate communist party, hurriedly set up by eager enthusiasts in the 1920s. But, as Grossman describes his own experience in the CPUSA in the late 1940s, this was like having your teeth pulled in some modern day Inferno.
For an all too brief 40 years, Germans had the rare chance to free themselves from their capitalist puppet-masters. Some, the best, braved the shrill cries of red, traitor, fool and choose socialism. Thousands of non-Germans did too, escaping death, prison, torture, like Grossman and Chilean socialist Michelle Bachelet, who returned to become president of Chile in 2006. Despite the nightmare conditions of isolation, sabotage, the heavy cultural hand of FRG media pouring lies and distortions, sugar-coated with Camels and nylons. We don't make our history as we please, but under circumstances existing already, given and transmitted from the past.