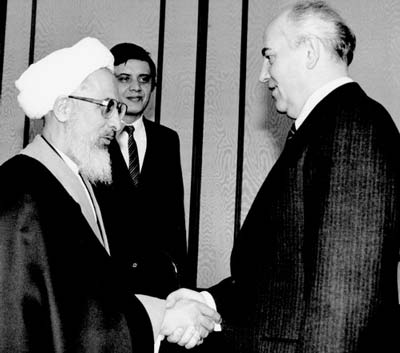 On January 1, 1988, just a year and a half before he passed away on June 3, 1989, Ayatollah Khomeini made a historic move, reaching out the Soviet President Mikhail Gorbachev, in a gesture of anti-imperialist solidarity, despite the long hiatus in relations with communist Russia. This was at a time of war against Iraq and continued subversion of Iran by the US and Israel. He sent President Gorbachev
his only written message to a foreign leade
r.
Ayatollah Khomeini made other prescient gestures in his short and difficult decade as the leader of the Islamic revolution in Iran; in the first place, the transfer of the Israeli embassy to Palestinian representatives, the canceling of recognition of Israel, and the inauguration of al-Quds Day as an annual international holiday on the last Friday of Ramadan. He met with Fidel Castro and other third world leaders, encouraging solidarity against the imperialist foe.
The unprecedented visit of the Iranian delegation to Moscow was a sincere offer of support to the faltering Soviet leader, who had rejected the atheism of the Soviet past. It contrasts with the treatment of Gorbachev's new friend, Reagan, who was at the same time conspiring to subvert the Soviet Union, even as Gorbachev was sincerely reaching out to the hawkish Reagan, offering a generous plan of world nuclear disarmament.
The Ayatollah's warning not to trust the West was being brought home to Gorbachev graphically as the last Soviet troops were retreating into Uzbekistan in 1988. Despite the unilateral withdrawal of Soviet forces from Afghanistan, the US was continuing to arm the insurgents, killing those doomed soldiers as they crossed the Afghanistan-Uzbekistan Friendship Bridge, built in 1982. Imperialism takes no prisoners.
Iran played no part in the US-backed 'jihad' in Afghanistan in the 1980s that brought the collapse of the Soviet Union. Iranian leaders knew that nothing good would come from working in alliance with America.