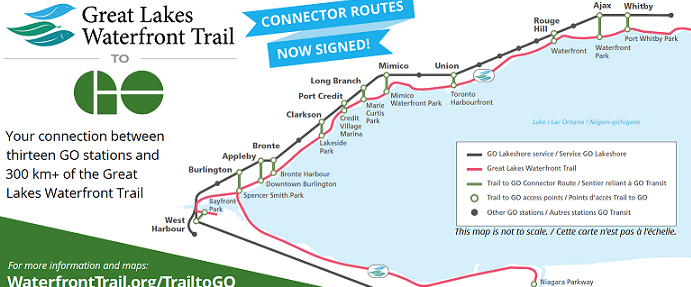 Okay, a bit of Lake Ontario -- the fabulous Waterfront Trail from Oshawa to Toronto, 60km, almost all in sight of the lake. Hardly any private mansions, and the towns with their marinas in between are funky. Accessible (free for bikes) on GO commuter trains from as far as away as Hamilton (the waterfront trail going west from Toronto is much less enjoyable).
I was afraid it might be too easy, and the lake boring after a while, but not so. It's always an orienteering game, and the trail is never straight (except for bridges).
I've done the Pickering-Toronto stretch (40km) twice now (Pickering just west of Ajax). The first time always a learning experience. My first trip was also the inauguration of my Presto card, the new gimmick to minimize user-worker contact, which I don't like, but I've got the hang of it by now. Do NOT forget to tap your card when leaving the GO train. Which I did, as I flew out of the station and over two hills and found the path. A bike is a form of meditation. Ram Dass's 'Be Here Now.' You get in a rhythm as you process your thoughts and the trip so far and what's ahead. Oh no! Didn't tap the card. So my first retracing of steps (not the first or last time).
The panorama, the air. Such a relief from Toronto. And no 'ribbons of death' to contend with. The deadly hwy 401 a safe distance, buried behind lots of trees. Only the occasion rush of the electric train, the railway being the least deadly of our obsession with speed and distance. The two rail tracks just a tad wider than one car-truck lane. And when you make that 10--12 car-truck lanes and football-field size interchanges, the environmental impact is truly shocking.
You reach the Port Union Waterfront Park over two wooden walkways, with marsh and river underneath. Too bad the stern warning 'No swimming - high water'. The water looked fine, Google says it's okay. Bureaucracy. I could have found a cove and done my own thing, but on both my first and second trips, I was saving energy for the final haul getting through Toronto home.