7:20am Union Station. 12 hours door to door to door. Six hours of travel hassles, 6 hours of fine biking, visiting childhood haunts in Eden Mills and Guelph from 1951 to 1969.
To get there, a 2 1/2 hr milk run Go bus from Union Station to Guelph University. First, parachuting down Gordon St to inaugurate the adventure, over the Speed river, through town, to the library for the weather report. Promises no rain. Chilly and overcast. Perfect biking weather.
Along Woolwich where I biked to piano lessons with Mrs Ward and harmony lessons with Mrs Price. Flashes of two wonderful teachers, strict but appreciative, memories clear as day. Mrs Ward wanted me to have her grand piano when she had a stroke and was whisked off to California, but her daughter nixxed that. She wrote a few times and then stopped. Sad. These aging spinsters/ widows can be saints. Keeping involved with young people is the best medicine as you turn gray and start to creak.
First stop -- Woodlawn cemetery to visit mom and dad's grave. Tricky to find, but success at last. As I leaned in to read the inscription, a young rabbit darted out from the flowers planted there (what are they? Thanks, Anne, as most graves were without tending.) I must have woken it. No other visitors. Or rabbits.
Through Riverside park over the walking bridge to Delhi (I mean the street :). I saluted the Guelph General Hospital where I began life, and the Homewood, where many movie stars have come to dry out, and which is featured in many Canadian novels. I remember skating there once (maybe a myth. Anyone else?).
And suddenly, there's 113 Eramosa, where Delhi begins, at the end/ beginning of the street lined with trees, that does India proud. (Who named it Delhi?)  It could be a high commissioner's house during the Raj. The same old homes, staid and dumpy, around it, but all looking fresh and alive.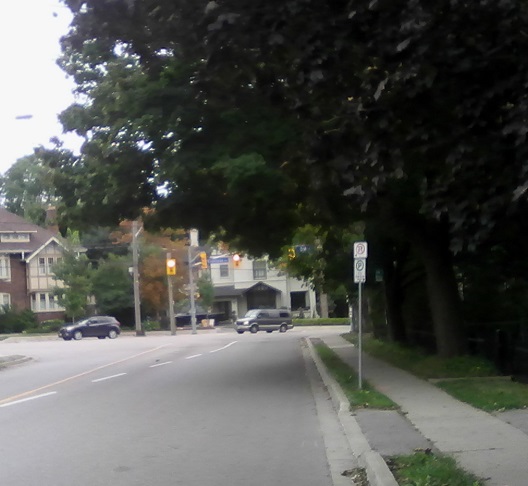 Unfortunately with a 4-car garage covering the lawn where I almost lost my big toe to the lawnmower.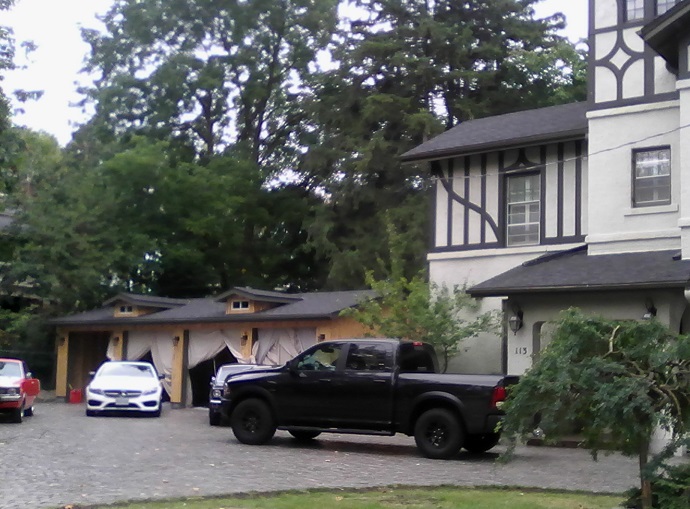 It is Guelph's Casa Loma, and much more tasteful. Small is beautiful. It was built by Frederick Briscoe in 1875, remodeled in 1927. What a great Downton Abbey/ Upstairs, Downstairs soap opera it must have seen. The second generation took it over in the roaring 20s. Much the same story.
I bet there are still 80 yr olds who are alive and knew what was up at 113e. It was the centre of high society for 60 years, during grandma's heyday when she played violin on Great Lakes steamers for the Canadian gliterati. You can tell, as it was never closed off, like the Gamble's. People came in their horse and buggies in the driveway. The stables were behind.
Wish I were a novelist.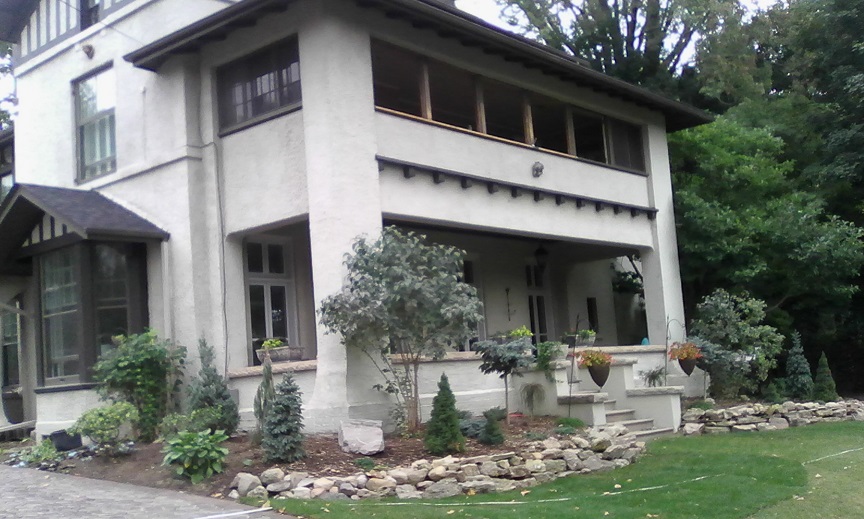 Then around the corner to Ardmay Crescent and Mrs Cole's house. Probably my most vivid early memory is barreling down Ardmay with my feet on the handle bars and smashing into the goofy taillight of her 1954 Cadillac with the Martian fins.
In my defense, I had more than a few scrapes and a black eye for my troubles, and the car probably took up half the width of the crescent. I must have been really scared of a beating, but when she came over (or maybe I was marched over to her place), she burst out laughing as if it was just a clever joke. She took a shine to me and invited me on rides in the magnificent ship from outerspace.
Then to Lemon street to peer through the dark trees at Jim Gamble's gothic mansion. 113e is cheery, bursting with life. The Gambles' home is definitely haunted. Jim was a prankster (older, failing at school, eventually losing it in drink) and dropped a bucket of water on us from the third floor over the entrance.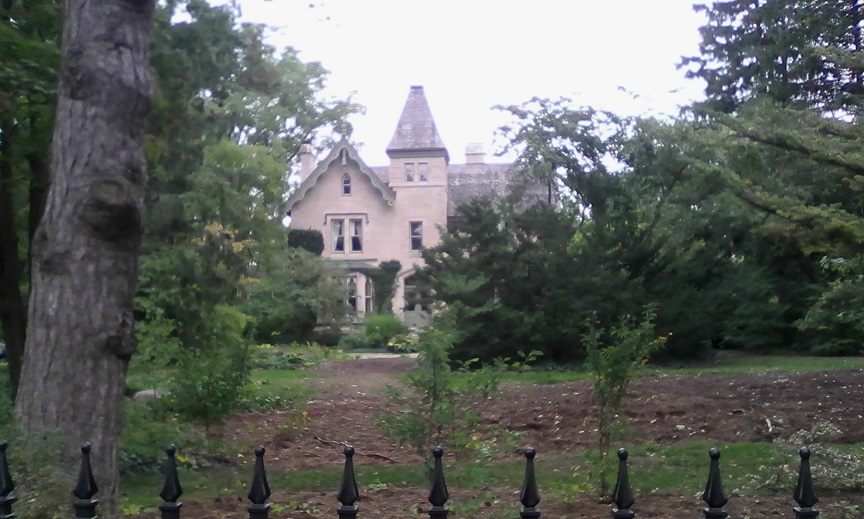 Further down Queen st, my father woke me at 2am in 1962 and we walked down the street to watch as St George's school rise like a burnt offering, a genuine 'holocaust', to God via St George. Maybe it was the Gamble's ghost at work.
Going back down Lemon st, north, I passed King George School,a nasty looking, blue and white box, with no windows in the front. It was never my favourite place, with more than a few unpleasant teachers, lots of bullying. The chemistry teacher eventually committed suicide. Gr 7&8, when I was a year younger than the other boys (having 'skipped'). The frowsy old one was demolished. Cursed.
Speaking of George, I finally found out why Guelph is Guelph.  The name Guelph comes from the Italian Guelfo and the Bavarian-Germanic Welf. It is a reference to the reigning British monarch at the time Guelph was founded, King George IV, whose family was from the House of Hanover, a younger branch of the House of Welf sometimes spelled as Guelf or Gwelf.
I knew the Guelphs fought the Ghibellines at the time of Dante. Dante was among the supporters of the White Guelphs, and in 1302 was exiled when the Black Guelphs took control of Florence. John Galt, Guelph's founder, was a novelist, friend of Lord Byron, and of course a fan of Dante, hence the name. The wave of Italians came only much later, so the name has always intrigued me.
Am so glad John F Ross CVI didn't pave their track and put artificial grass in the football field. The scrappy, slightly pebbly track is much better for knee and hip joints than pavement. Toronto Central Tech is up the street on Harbord St, and just did the artificial turf number. It's everywhere now in Toronto. As if we don't have enough pavement suffocating poor mother earth here. This is not Turtle Island, it's Pavement Island.
It was fun going in the side door, peeking in the auditorium, the gym. The music room is now a teachers' lounge. I see the assembly hall is now the Fox auditorium. Our benign highschool dictator keeping us in line. I wonder if Carol or Jim can remember him sternly chiding us during morning announcements? I searched and found out that John Ross was a noted teacher in Guelph. The school felt good; well managed and the students well behaved, oblivious to the storm raging in Toronto over sex education.
I stopped in at Anne's but they are always on the move. So off to Guelph lake, where I found a spot where locals build a campfire and leave a nice lawn chair for community use, so was able to relax on the shore in luxury. Then the long haul to Eden Mills via Eramosa.
The best way to learn the terrain, directions, and get the feel of a place is walking or cycling with a map plus the odd question, to keep in touch with locals (asking directions is always a good excuse to say hello). Forget the cell phone and google map. We are turning into helpless baby automatons. .
I missed our farm completely on the way in to Eden Mills, where I paused on the town bridge and remembered the house where Mrs Metz, our wild young American Jewish-princess French teacher, lived on the second floor overlooking the river.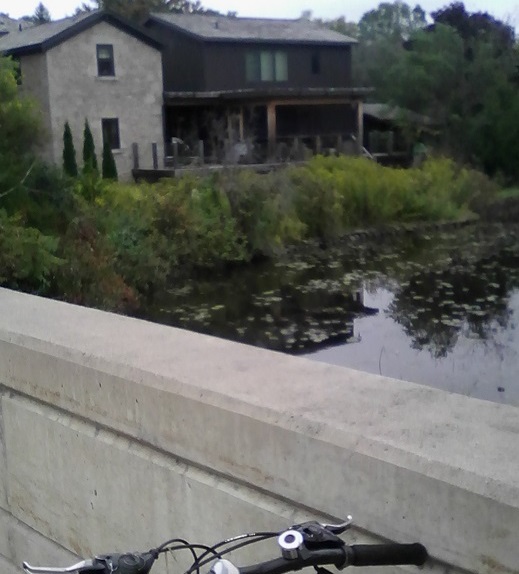 Eden Mills hosts Writers Festival in October
She materializes, waving to me from the window, reminding me how she pushed us grade 13ers to excel. She had me play the Grieg concerto 3rd movt for our class, and convinced me to apply to Oberlin (near Cleveland). We were sure we saw a flying saucer, lying there on the river bank one summer night. She was not beautiful, only 5', with a loud, deep, New York, very Jewish voice. Always making fun, with a sharp wit. Her energy and self-confidence made her compelling. It's wonderful how some teachers really played an important role as models.
I returned along the same road, now remembering the steep twisty road leading to the sharp 90 degree turn in the road where the old country schoolhouse used to be. Why did they tear it down? And throw up a fake-brick clapboard shack? Biking along, I saw the neighbour's farm where I rode a horse for the first time (it took off at a gallop, but I didn't fall. I was too shocked to be scared and I guess it figured I was ok.)
Biking is perfect speed to keep the momentum up while leaving you time to recall. Linh (Postcards from the end of America (2017) agrees:
The speed and protection of a car prevents you from being anywhere except inside your car, with what's outside rushing by so fast that each face, tree and building is rudely dismissed by the next, next and next. Like television, the private automobile was invented to wean us off our own humanity. From each we've learned how to amp up our impatience and indifference towards everything, and with life itself. Anything that's seen through a screen or windshield becomes ephemera, with its death nearly instant.
Of course both Linh and I are writing on a screen :)
My brain clicked in: there was the pond where Jim almost drown, and the laneway up ahead on the left to our farmhouse. I turned in and rode up the lane. Spectacular, but sadly, now paved, the maples draped over it, so close you could feel them. In expectation, I rode up to the house. Was that it? It looked like a parody of Tara in Gone With the Wind. but done lovingly, sort of covering the old stone. The barn was now a 3-car garage (plus the one in the house). Another four car family. (We had no garage, though two cars.)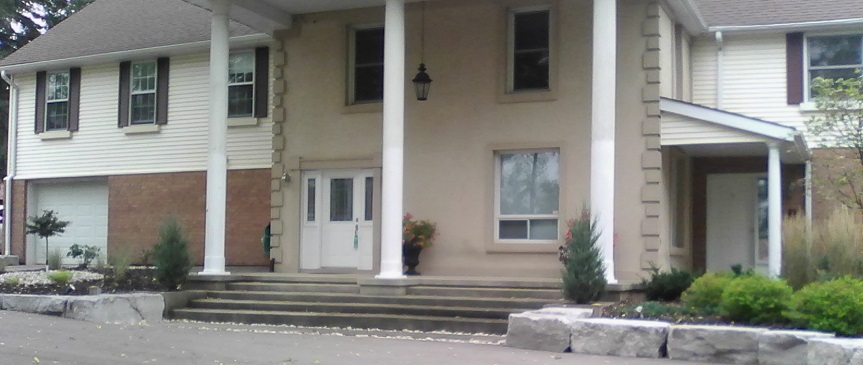 I sighed and rode down the asphalt lane, relishing the moment, remembering walking down its earlier gravel (and getting a spanking), and began the long haul (now very tired) back to Guelph. I cycled past the old folks home built in one corner of the property, and mulled. Why don't I go back and just hang out a bit? That place is sacred for us. Such a shame Bob and Sharon never experienced life there.
So (the bike's advantage) i stopped and turned around. It was uphill, but that just increased the sense of pleasure I would feel wandering down the lane again, memory lane. As I left, I took pictures, one with Dorothy Kerr's white house peeking through the trees, where my first friend, Mariann Kerr, lived.
Turning onto hwy 7, with gigantic trucks hurtling past,  i saw our maid's home, Mrs Logan, her son Bert also a friend. I suddenly realized ... we had had a maid! Just like in Hollywood movies. She was wonderful, along with another of mom's helpers, Mrs Mcgill, who laughed at me for refusing to clean out a garbage can with maggots in it at 113e. She poured water in and dumped them, and told me to grow up.
Suddenly, on the left, the Guelph Penitentiary (penitent ie, to reform, not just punish), where Carol worked as a guard. But it had no name, just 735 York St. There was a pedestrian gap in the fence, so I sailed through and went past a beautiful lake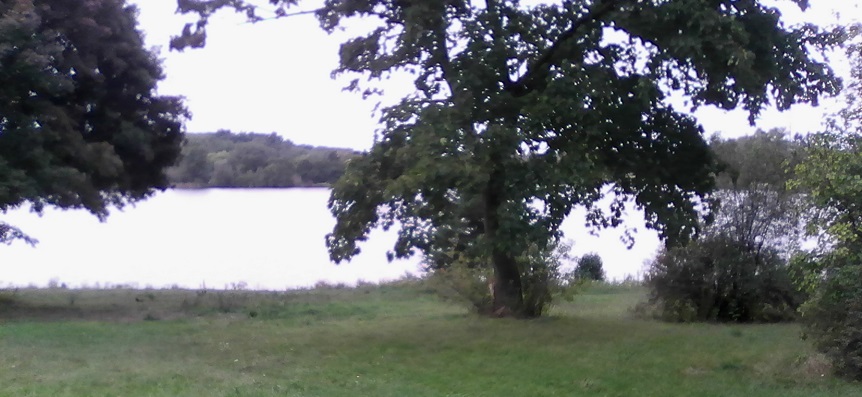 to a solemn sign basically saying 'we're watching, so get out.' The actual prison was still way up the hill, out of sight. What a priceless gem this is. I bet many thousands of men (ok, far from all) reformed, thanks to time on this idyllic island of sanity. Let's hope it's not hijacked by developers. I heard that it was being dusted off, but am not sure of its fate.

My last excursion was along the new Speed river bike path and Galt park, where the old train station was, with St George's church and the pedestrian path arching over the river. I had to make a beeline to the crossing before the freight train took control. Too bad about the cars.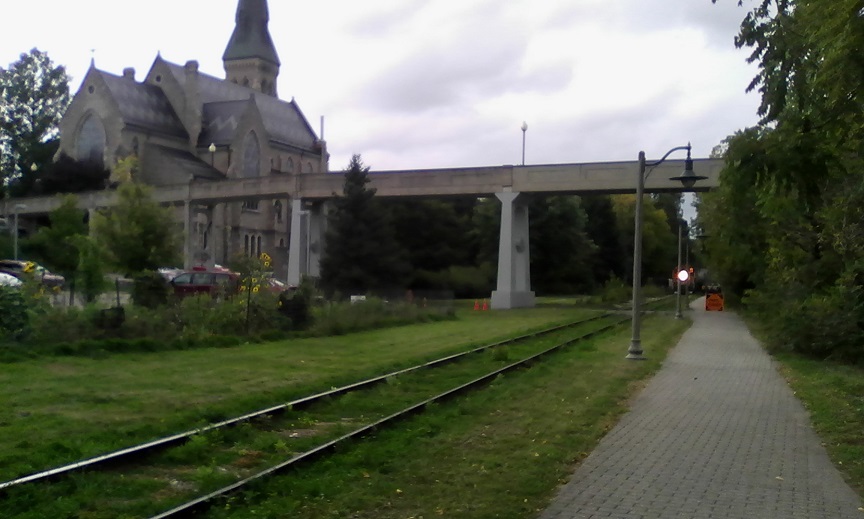 I read the 'heritage' plaque about Galt and decided to go hunting for the dirt at Wikipedia.
John Galt (1779–1839) was a Scottish entrepreneur, adventurer and novelist, with his novels set in the Industrial Revolution, friend to John Byron. Together, they traveled to Byron's newly independent Greece soon after its independence from the Ottomans in 1821. He then became the first superintendent of the Canada Company (1826-1829) that surveyed and sold lots on 1.1m acres of land 'acquired' from the Chippewa First Nation by the British government.
To attract settlers, they built infrastructure, schools and mills, much like real estate agents today, except they get our municipal govts to do the dirty work. In 1829, he was recalled to Great Britain for mismanagement of the Canada Company, and was later jailed for failing to pay one son's tuition. His sons left for Canada in 1834, Alexander later became one of the 'Fathers of the Confederation', and Canada's first Minister of Finance.
So what was this gadfly really up to? A pyramid scam -- for hungry settlers eager to seize native lands -- gone wrong? He got a huge tract of the Grand River 'concession', the finest hunting and farming land in Ontario, land that was given by Queen Victoria to Iroquois chief Joseph Brant* in 1784 for his support of the British and Canadians during the American revolution,
He found Guelph in 1827 but was sent packing due to mismanaging the business. Hmmm. Another one of Canada's stellar colonial appointees, many of them confidence men on the lam in Britain.
The down side of staying in the British empire. But after my harrowing experience with US justice and spying, give me a parliamentary democracy over a republic any day. The native tribes saw this and stayed with the British, as they were seeing already how even more vile the Yankees were.
Another plaque there is of Guelph's Progressive Conservative MP (1968--1973) Alf Hales, commemorating his interest in water issues with the memorial trail. Another vivid memory from my early teen years was having lunch with him and my father Alf. Fancy silver cutlery and a waiter dressed like in the movies. They seemed like bosom buddies, but then you can see how charming this other Alf was. It must be in the name.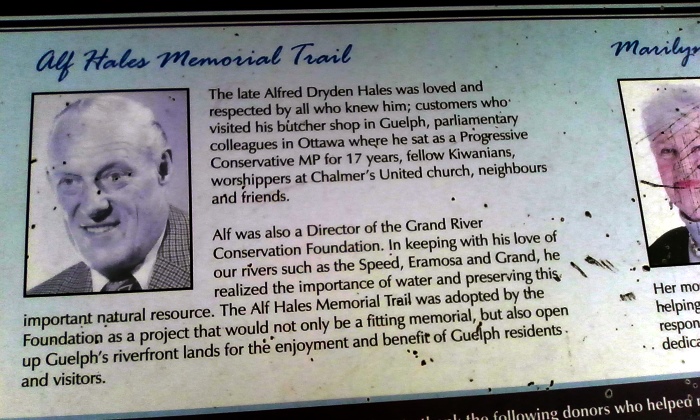 3:55pm. Finally some real food. A shwarma from a Pakistani fast food place on MacDonnell, by the Go station. Guelph has quite a multicultural face now. It's a refreshing change from the even more multi'cultural' but increasingly violence-prone Toronto, which is becoming more and more an urban jungle.
On the 2 1/2 hr ride home (25 mph on average), we were soon in an endless maze of suburbia. I twigged and asked the Chinese driver 'what's this town?' He was bored and indifferent (no one wants to know anything anymore!), but looked and we realized Acton. Why did it ring a bell? Carol tells me, "there was a tannery there and it stunk every time we traveled through." No stink now, except for car exhaust.
xxx
*Thayendanegea or Joseph Brant (1743–1807) had acquired the 'six miles' tract along the Grand River from its source north of Guelph to Port Maitland on Lake Erie. His idea was to lease the land to white settlers, but this was reneged, forcing him to sell the tract for peanuts in perpetuity.