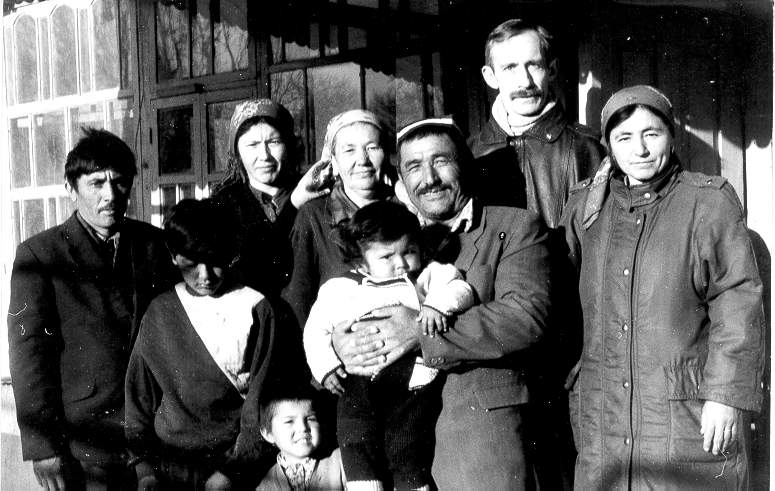 My life journey as a peacenik took me to Moscow in 1989 to see Gorbachev's 'socialism with a human face', his attempt to combine materialist communism with ... it wasn't clear exactly what Gorbachev had in mind, but it certainly wasn't a wholesale sell out of what had been built over the previous 70 years. However, the rickety structure that the Soviet Union had become, a tired society always under pressure from the capitalist West, final collapsed. Or rather was pushed over by a well-planned conspiracy―begun in 1979 under Carter but greatly expanded under Reagan―to destroy the last socialist revolution, in Afghanistan, next door to Uzbekistan. The tragedy of Afghanistan put Uzbekistan on my radar. A remote part of the world shrouded in mystery and now convulsed in war. Sounded interesting to the young adventurer devoted to world peace.

I had come to Moscow at the invitation of Moscow News. From my editor's office on Pushkin Square, I watched on TV the last Soviet troops leave Afghanistan and arrive in Uzbekistan, retreating across the Amudarya River on the Friendship Bridge (built in 1982 to ferry Soviet troops into Afghanistan). Even as the troops retreated, mujahideen snipers continued to target them, with US arms still being poured into what was already a powder keg. I was intrigued by this little-known part of the world, and remembered a dream-like trip as a Russian language student in 1980 to Tashkent, with its elegant opera house and its bountiful fruits, soaring mountains and hospitable people.

After five years in Moscow, working as an editor at Moscow News and then as a Greenpeace activist-administrator, I had had enough of a Moscow in upheaval, where food was scarce and expensive, and people were losing their laid-back Soviet ways and embracing the worst features of the West. I was robbed more than once (once by the train police waiting in a suburban station on the way to Uzbekistan), and remember gun shots in the Vikhino apartment building entrance one night, told the next day someone had been found murdered just a few feet away from me.

Moscow had lost its charm. I yearned to try living in a Muslim society. Uzbekistan seemed to be the most developed, cultured of the Soviet 'stans' and a short hop away from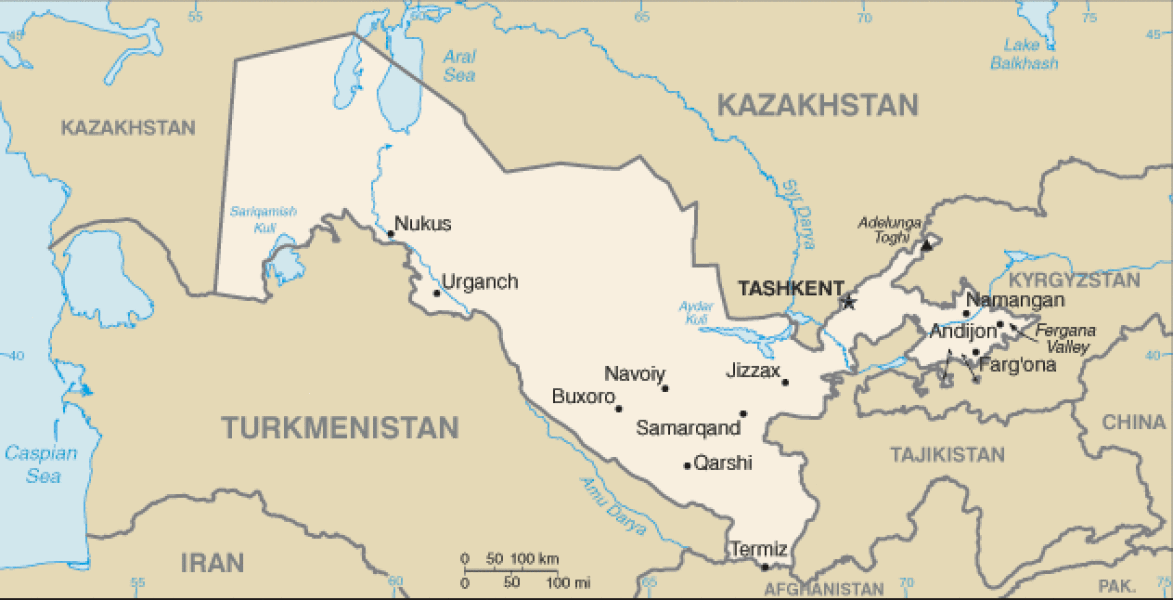 Mazari-i-Sharif.
My 1980 memories made me decide to take the leap. I looked on the budding internet (still in its infancy 20 years ago) and signed on to a 'friends of Uzbekistan' notice board, where I found a call for English speakers to teach at the new English-language university in Tashkent. Despite protests from my Moscow friends ("You will be mugged or killed by the Muslim insurgents. Russians are all escaping, and you are going there willingly?"), I made the wild leap to Tashkent to teach at the University of World Economy and Diplomacy (UWED), and bought a $15 platzkart [third class] one-way ticket, bracing myself for the long journey in the heat of mid-August to Tashkent. As the train pulled out, as if on cue, a band of robbers climbed through our open window (they were later kicked off trying to rob someone further down the car).

1/ Russian ghosts

I'm not the first western adventurer to find romance in Tashkent. Tashkent has benefited, as do the more attractive colonial possessions, from pampered rakes from the imperial centre. The most famous, or rather infamous, was Grand Duke Nicholas Konstantinovich of Russia (1850–1918), first-born son of Grand Duke Konstantin Nikolayevich of Russia, grandson of Tsar Nicholas I. Born in St Petersburg, he was a gifted military officer and an incorrigible womanizer. His scandalous affair with the American adventuress Fanny Lear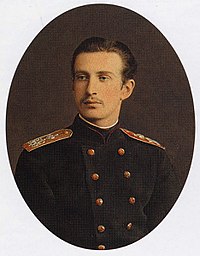 had led him into a plot to steel three diamonds from his mother's icon. He was declared insane and banished to the far reaches of the Russian empire in 1874, eventually settling in Tashkent in 1881.

Despite his notoriety as a diamond thief, he still had his family fortune, and he used it to built a modest palace in 1890 and sponsor a number of philanthropic and entrepreneurial projects. He was renowned as an engineer and irrigator, constructing two large canals, the (now silted up) Bukhar-aryk and the much more successful Khiva-Aryk, later extended to form the Emperor Nicholas I Canal (atoning for the betrayal of his royal family?), irrigating 33,000 acres of land in the Hungry Steppe between Djizak and Tashkent. Most of this was then settled with Slavic peasant colonisers.

He used his palace to show his large, priceless collection of works of art. The palace became the Lenin Young Pioneers Palace in 1935 and reopened in the 1980s as the State museum of arts of Uzbekistan, since 'independence' closed to the public and used for foreign ministry receptions, a few of which I attended. It is itself a priceless gem, one of Tashkent's few.

The rebel gene was passed on to the Grand Duke's youngest granddaughter, Princess Natalia Alexandrovna Romanovskaya-Iskander, born here in the fateful 1917, the last Romanov and the only Russian among the Romanovs to remain in Russia following the Revolution. Her father Alexander died in 1918 and her mother kept the family in Tashkent out of the upheaval of the Civil War. They eventually moved to Moscow under a new name and miraculously survived, despite their Romanov blood and the fact that her uncle Artemi died fighting for the Whites. The princess becoming a professional vertical motorcyclist, an army driver during WWII, and secret agent of Lubyanka. She would visit the Pioneer Palace in Tashkent, fondly remembering that it was their family home. Natalia died in 1999, having witnessed the Revolution from start to finish.

One day, I stumbled upon a tiny museum opened in 1981, dedicated to another Russian adventurer, one of modern Russia's great poets, Sergey Esenin (1895–1925), founder of imaginism. It is, appropriately, on Tolstoy Lane on Pushkin St near Puskhin metro station (now Independence St and Salar metro) commemorating his visit to Tashkent in 1921. Esenin had a lifelong fascination with Central Asia; his lyrical poems include a series "Persian Motives". In the now Soviet Tashkent, he met local poets and read his poem "Pugachev" which he'd just finished. Esenin was originally enthusiastic about the revolution but became disillusioned, writing such poems as "'The Stern October Has Deceived Me".

When I arrived by train from Moscow in the summer of 1994, following the same journey of the more illustrious Esenin and Grand Duke, life was peaceful, but Uzbeks were looking on with unease at the anti-communist whirlwind a mere 300 miles to the south. Afghan President Najibullah was still alive though without a government, living in the UN offices in Kabul. The Taliban only got to Kabul in 1996, when they seize and castrated him before hanging him from a lamp post.

The plan of Reagan was for the mujahideen to merely drive the Soviets out as a stepping stone in the US plan to undermine the Soviet Union. US strategists just assumed they could 'divide and conquer' the tribal Afghans, and bribe the resultant mess into the latest client state in their New World Order. The mujahideen, fresh in their victories, were having none of this. Liberate Afghanistan from the Russians and hand it over to the equality evil Americans? Fat chance! Au contraire, they were eager to keep going and 'liberate' Soviet Central Asia.

The Soviets were threatening Pakistan from Afghanistan in the 1980s, so the story goes, and Pakistan dictator, President Zia, was using the massive supplies of US firepower at the time to contemplate not only conquering Kashmir, but Soviet Central Asia, using the insurgency in Afghanistan as a stepping stone. This far-fetched plan was approved by the CIA first in 1952 and then dusted off in 1984. Things were going swimmingly until all this caught up with Zia and he died mysteriously in a plane crash (along with the US ambassador) in 1988. My naive hope was that I could make my journalistic career in this hot spot. As it turned out, I did this, but not in the way I expected, nor was that the only transformation I experienced.

The four-day trip across steppe and desert in an open sleeping car of 80 people is a blurry but pleasant memory now. The Soviet tradition of camaraderie on crowded, spartan trains was still alive, this time surrounded by genial Asian faces, all of whom spoke Russian, encouraging me with stories of life in Uzbekistan. I was covered in soot upon arrival in Tashkent, but was relieved to find a dapper Alisher from UWED on the platform. We took a 'taxi' (most taxis are just private cars which you hail on the street) to the elegant university, formerly the Communist Party school, renamed in 1992. I joined the staff along with a British Council language teacher Martin, a tall, gangly fellow from Leeds, who was a like-minded adventurer. He became a good friend, and a passport into the diplomatic world of expat parties, a lifeline to the distant West.

2/ Timurid ghosts

Public life in Tashkent unavoidably centres on Amir Timur (1337-1405), the legendary Turko-Mongol conqueror and the founder of the Timurid Empire in Persia and Central Asia. Timur is considered the last of the great nomadic conquerors of the Eurasian Steppe, and his empire set the stage for the rise of the more durable "Gunpowder Empires" in the 1500s and 1600s, which once blazed and now limp along, their baneful effects enduring.

Timur envisioned the restoration of the Mongol Empire of Genghis Khan, claiming descent (probably falsely) from the even more legendary and ruthless 12-13th century Mongol conqueror. He even justified his Iranian, Mamluk and Ottoman campaigns as a re-imposition of legitimate Mongol control over lands taken by usurpers, referring to himself as the "Sword of Islam" and patronizing educational and religious institutions. Scholars estimate that his military campaigns caused the deaths of 17 million people, amounting to about 5% of the world population. He was not as bad as Genghis, who is considered responsible for closer to 40 million deaths. (The Brits are somewhere in between in British India, overseeing 27 million deaths, mostly due to famine.)

Timur paid no attention to Tashkent, making his capital Samarkand in 1370, where he brought the world's best artisans and had constructed fabulous Islamic mosques and madrassahs. He was the grandfather of the renowned Timurid sultan, astronomer and mathematician Ulugbek, who ruled Central Asia from 1411 to 1449, and great-great-great-grandfather of Babur, founder of the Mughal Empire, which ruled parts of South Asia for over three centuries, from 1526 until 1857.

Just as Mongolia fetes Genghis Khan as their patron saint, Timur is now officially recognized as Uzbekistan's national hero, his museum in Tashkent occupying the place where Karl Marx's statue once stood. Appropriately, it abutts Amir Timur Square, where the world's largest statue of Lenin formerly stood, replaced by a globe featuring a geographic map of Uzbekistan at its centre. And in the Karimov traditon, it replaced a quiet tree-lined park which was a beloved meeting place for ordinary Tashkenters. 1996 was declared to be the "Year of Amir Timur", and the 660th anniversary was widely celebrated, reaching a peak with the inauguration of the museum by President, who said, "Every man visiting this museum can make sure to my words, that this museum is like a great mirror, reflecting both our past and present and our great future".

There is no question that Timur was a genius, if a cruel one. He took counsel with Muslim intellectuals such as Ibn Khaldun and Hafiz-i Abru. But whitewashing his genocidal acts and seeing him as the inspiration of "our great future" raised eyebrows at the time. It is no coincidence that Karimov is also a Samarkander, and as Karimov spoke of "our future", he was no doubt using the royal "our", having turned Tashkent into his personal fiefdom.

3/ City of stone (and trees)

Tashkent, literally "Stone City", is the capital and largest city in the 'stans', with a population of two and a half million―big but not too big. Due to its position in Central Asia, Tashkent came under Sogdian and Turkic influence early in its history, before Islam in the 8th century AD. After its destruction by Genghis Khan in 1219, the city was rebuilt and became an important way station on the Silk Road. In 1865 it was conquered by the Russian Empire.

With the collapse of the Russian monarchy, changes in Tashkent mirrored those elsewhere in the former empire. In March 1917, Tashkent celebrated the first revolution in Petrograd with a parade with Russian workers marching with red flags, Russian soldiers singing La Marseillaise, and thousands of curious onlookers. Governor General Aleksey Kuropatkin closed the events with words, "Long Live a great free Russia". The First Turkestan Muslim Conference was held in Tashkent in April 1917, dominated by the Jadid, Muslim reformers (think: Young Turks). A more conservative faction emerged in Tashkent centered around the Ulema. This faction proved more successful during the local elections of July 1917, forming an alliance with Russian conservatives, while the Soviet became more radical. The Soviet attempt to seize power in September 1917 proved unsuccessful, as it was mostly Russian-based, Russians being 20% of the population, but soon prevailed, bringing in Jadid types.

The historic Congress of the Peoples of the East was a multinational conference held by the Communist International in Baku, Azerbaijan (then part of Soviet Russia) in September 1920, attended by nearly 1900 delegates from across Asia and Europe and marking a commitment by the Comintern to support revolutionary nationalist movements in the colonial East. The gathering adopted a formal "Manifesto of the Peoples of the East" as well as an "Appeal to the Workers of Europe, America, and Japan". Muslim religious leaders attended, but the congress was solidly secular and anti-imperialist.

In April 1918, Tashkent became the capital of the Turkestan Autonomous Soviet Socialist Republic (Turkestan ASSR). The new regime was threatened by White forces and basmachi (read: mujahideen), revolts from within, and purges ordered from Moscow. The anti-religious campaign of the time was not as severe here as in Russia, but signs of independent movements were repressed. My friend Mubin's grandfather disappeared in 1934 and his mother only found out that he was executed in Moscow when the KGB archives were made public in the 1990s. In 1930 Tashkent fell within the borders of the Uzbek SSR, and became the capital, displacing Samarkand.

When Nazi Germany invaded the Soviet Union in June 1941, whole factories were dismantled and 'shipped' to Tashkent. This led to a great increase in industry, and the Russian population increased dramatically; evacuees from the war zones increased the total population of Tashkent to well over a million. In addition to groups forcibly deported (mostly Koreans in 1938 and Crimean Tatars in 1944), Russians and Ukrainians eventually comprised more than half of the total residents of Tashkent. Many of the former refugees stayed in Tashkent to live after the war, rather than return to former homes, but many left after 1991, and Russians comprise less than 10% of the population today.

During the postwar period, the Soviet Union established numerous scientific and engineering facilities in Tashkent. After the war, Japanese prisoners of war built the stunning opera house. Soviet archeologists did important work documenting the past. Being sent to Tashkent was deemed a plum location for winter-plagued Russians. In 1966, much of the old city was destroyed by a huge earthquake (7.5 on the Richter scale), leaving 300,000 residents homeless. In a spirit of socialist comradery, the Soviet republics, and some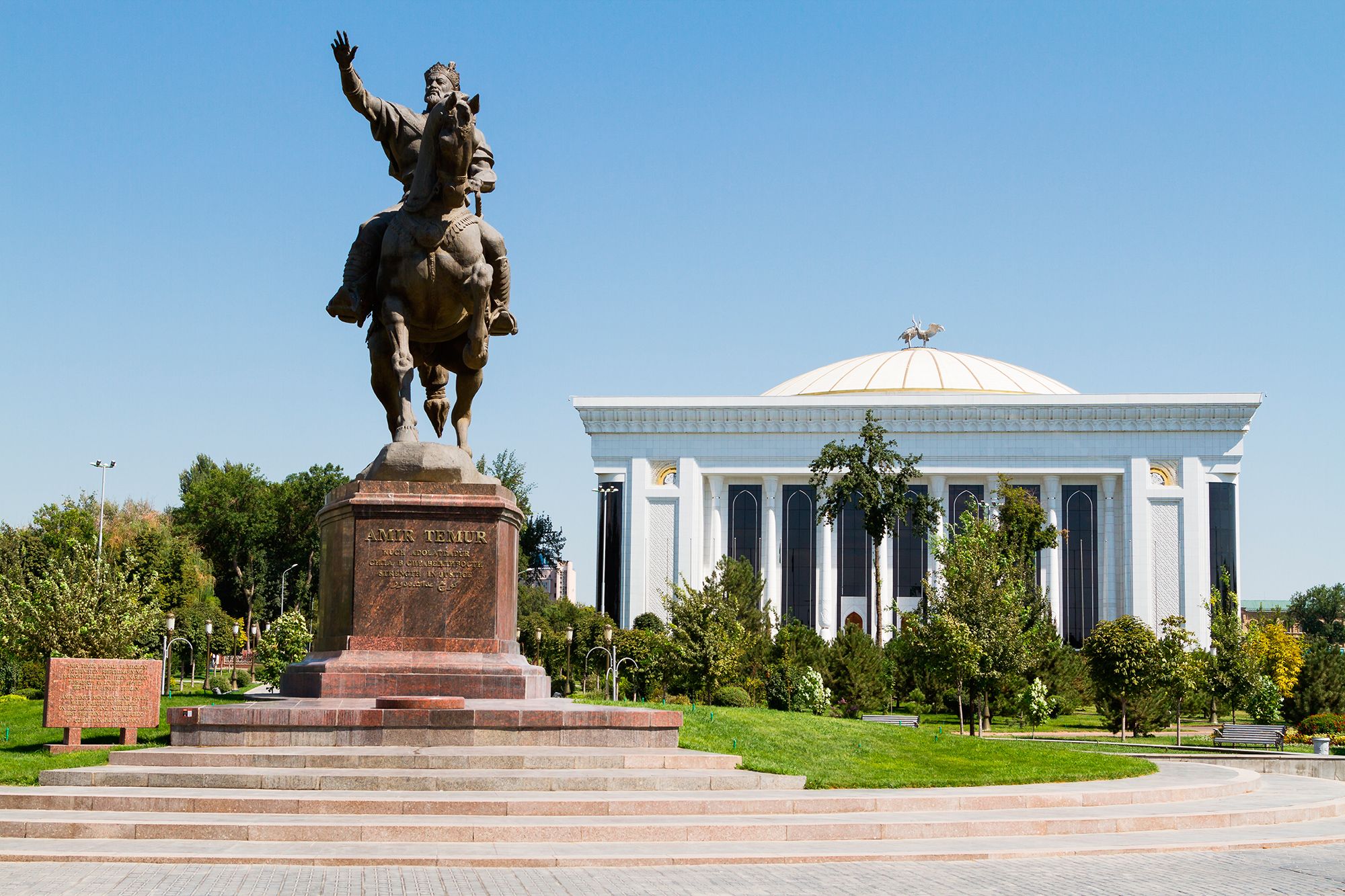 other countries such as Finland, sent "battalions of fraternal peoples" and urban planners to help rebuild devastated Tashkent. They created a model Soviet city of wide streets with parks, immense plazas for parades, fountains, monuments, and acres of apartment blocks. A beautiful metro was built, with fine mosaics of Uzbek poets (Alisher Navoi) and scientists (Ulugbek).

It was noted for its tree-lined streets, numerous fountains, and pleasant parks, at least until the tree-cutting campaigns initiated in 2009 by President Karimov. He mortified Tashkenters by cutting down the towering century-old chinars (plantanes), planting lovingly by the Russians at the turn of the last century in the central square, renamed Amir Timur.* Probably they were seen to overshadow the sparkling new Amir Timur Museum. The park is lovingly called Broadway by locals (too lovingly for Karimov), a lively meeting spot where people could get relief from the summer sun under the legendary chinars.

4/ Teaching new Uzbeks at UWED

My excuse for being in Tashkent was to teach sons and daughters of the new elite. I was given a room in the dormitory and ate in the cafeteria during the day and used the communal kitchen to make simple meals, there being no fridge. It was spartan and when I was proposed possession of my own apartment in exchange for an occasional English lesson by a local performing legend, I jumped at the chance. His English was already fluent and he said he would be on tour most of the time. Alisher2 was the drummer in Yalla, one of the most popular Soviet folk rock bands in the 1970s--1980s, but by 1994, long past its due-date.


I thought I had lucked out, an inside track to the Uzbek cultural world. But once he had me trapped, his apparatchik haughtiness was revealed with a vengeance, and he started to demand daily (free) lessons, making life unbearable. A good lesson for me about the worst type of "Soviet man", used to ordering people around, lying, with no religion and no social graces.
The students had to go to the fields to pick cotton in November, and I pestered the administration to be allowed to go with them. They promised yes, but then one day the students were gone―without me. Hardly surprising, as this is called forced labour by the Anti-Slavery International, and Ikea, Adidas, Marks & Spencer and others boycott Uzbek cotton. The authorities were unlikely to let the curious Eric nose around their dirty laundry. My students later told me they mostly did nothing in the fields as they could pay a bribe to have someone else gather their quota. They treated it as time off to party. But that only works for the rich students. 
By the end of the school term, I'd had my fill of spoiled students eager to move up the ladder in the brave new capitalist world, and had enough contacts to find a normal rental apartment. I landed work on contract with a UNIDO privatization project. My landlady was an Evangelical Christian who after a few months politely asked me to leave ("You can stay with me") to accommodate a church member. So the second of six moves, a Godsend, so to speak. I politely declined her offer to share her flat. 
I finally found what was to be my main home, settling into a rather pricey apartment with a phone and a delightful Tatar landlady right next door, cultured, Muslim and with stories to tell about Soviet life. It was on what is now called Bogishamol Kychasi (Garden Breeze St) near the Botanical Gardens, across from the new Intercontinental Hotel and new western-modelled Tashkentland children's park. The pricey theme park is enclosed by a high chain link fence, and consists of treeless expanses (what does Karimov have against trees?), a water slide and rollercoaster. It had just opened, replacing the modest, wooded Soviet children's park, which had been gratis and fenceless, but lacked the water slide and roller coaster.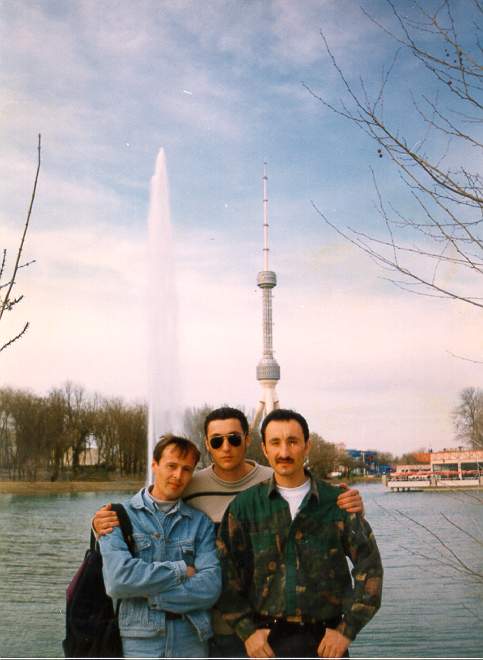 What had drawn me to Tashkent was both the fact that it was largely Muslim and precisely the fact that it was still very much a Soviet remnant, not yet invaded by the West, though the Intercontinental Hotel and Tashkentland were forebodings of things to come. I had always been impressed that the Soviet experiment, despite its flaws, was a viable alternative to capitalism as a way of organizing society, stressing social equality and mobility, de-emphasizing materialism―all borrowings from the Quran. Its major flaw was its long tradition of discouraging religion as the alternative to material pursuits, and this was already changing when I got there. The street name changing and Tashkentland-type buildings were already taking place when I arrived,** the tree cutting would move into full gear later. They both are examples of Karimov's obsession with blotting out all evidence of  Russian and Soviet heritage.
The president, Islam Karimov, had a promising name, but this turned out to be a misnomer, as he was the most ruthless of the pre-independence Soviet appartchiks, quickly dispensing with any likely rivals, muzzling all media. Being in the right place at the right time, during the chaos of Gorbachev's perestroik (1985--1991), he became head of the new version of the old Communist Party, the People's Democratic Party of Uzbekistan, now the Uzbekistan Liberal Democratic Party, and wasted no time taking control of the reins of power after declaring 'independence' on September 1, 1991. He has been the dictator presiding over fake elections every since, and has killed, tortured and imprisoned thousands of mostly Uzbek Muslims. When the killing gets too scandalous, the West cools its relations, but the exigencies of geopolitics and Uzbekistan's strategic importance has brought him forgiveness more than once. Relations with the West now are cool but correct.
I had survived the grind of teaching Economics and English, and was restless to explore life here. I eventually stumbled onto the beautiful old Chorsu Turkish banya, with a flavour of both Turkish and Soviet tradition of steam and sauna to make the summer heat bearable (soon privatized, now an upscale club). As a result of my earlier trip to Astrakhan, I had written articles for the Moscow Tribune (Russian sails around the world from Caspian Sea, animal rights, cold bathes, the banking pyramid scandals in Moscow). I reinvented myself as a journalist, wrote the Privatization Newsletter for UNIDO and prepared an English language paper Good Morning for the main daily, People's Word, and the Canadian Peace Magazine, carefully steering clear of Uzbek politics.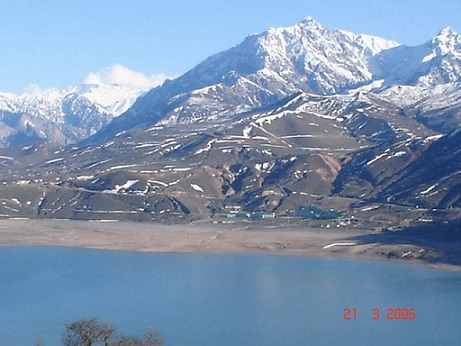 I took time out for trips to the magnificent Chimgan mountain, only an hour and a half by bus, Uzbekistan's highest peak, part of the Tien Shan range which merges with the Himalayas. There, I met Nuf, a wiry old Kazakh tour guide, now retired after years in service in Chimgan, Uzbekistan's only ski resort. We became friends and I visited Nuf often, and did some paragliding, skiing, and trekking with a Russian New Ager Vadim who lived there.
To keep my visa, after the UNIDO contract ended, I hussled to get work at―of all places―the President's Office, translating presidential decrees and pro-Uzbekistan 'news', continuing my own writing but, with the new opportunity the internet offered, under a pseudonym. After 9/11, internet news sites proliferated and there was interest in the West on this new ally of the US. Canadian Press and the Economist business reports actually provided some cash. 
I made good friends, Mubin an editor and Yuri a designer at the Tashkent Business Weekly (TBW), where, as an employee at the dread President's Office, I had use of a desk and computer to translate the TBW English page. We enjoyed carousing and hiking. They were not 'new Uzbeks' though both would like to have had a better life. They, like most Uzbeks and most Soviets, bemoaned the collapse of the Soviet Union. "We were once living in a borderless world covering a sixth of the globe. We were a respected world power," sighed my hiking friend Rashid, a Tatar whose family was from Kazan.
My friend Vladlen (Vladimir-Lenin acronym) and his friend Anafi are Tatars whose families were deported from Crimea in 1944 as punishment for Tatars cooperating with Nazi invaders. Vladlen's grandfather had been an imam, suffering Mubin's grandfather's fate. Vladlen (he was born in 1967 on the 50th anniversary of the Russian revolution) was from a broken family and grew up off and on in orphanages. Though life was grim growing up, he was well-educated and enjoyed reading psychology. His favourtie painter is Dali.
There was no sign of anti-Russian sentiment. This happened only briefly during the collapse of the Soviet Union and the early excitement at independence. Everyone spoke Russian and the Uzbeks would slip into Uzbek among themselves. I diligently studied Uzbek, but when I tried to speak it, my interlocutor would laugh and reply in Russian. I played piano with an Uzbek musicologist, Olim, and his Jewish violinist friend Sasha. It was a pleasant life, not rushed. My friends were a mix of Uzbeks, Russians, Tatars, Koreans and Ashkenazy Jews from European Russia. The legendary Bukharan Jews had by now got their US green cards or Israeli passports, but many Russian Jews had no interest in emigrating, enjoying their lives as part of the intellectual and artistic elite. 
5/ Horseback riding in Iranov nature reserve (don't tell anyone)
On a three-day mountain hike in the Tien Shan, Sasha decided to take a shortcut back, which meant going through the nature reserve which is off limits. Of course, we were found out. The patrol leader, Zhora, as he introduced himself with a Russian diminutive, put his hand on his heart to show respect (though our party was clearly not Muslim), and proceeded to explain that this was a sanctuary, and hunting and hiking were forbidden. He was short and athletic, missing a few teeth with a few others capped in gold, but with the traditional Tajik flashing eyes and a well-shaped, handsome face. They made a half-heartaed attempt to fine us, but Sasha said no one would ever keep track of the paperwork. Zhora was intrigued to meet a Canadian. I was equally intrigued by this fresh young Tajik mountain dweller, and said how great it must be to do his work on horseback. "Come and I'll take you on an expedition," he offered.
I accepted and a few weeks later, showed up in his village Nevichu unannounced, phones being a luxury back then. Zhora has 6 brothers and 4 sisters, and the family is mostly able to live off nature (gardening, fishing and poaching, but as the ranger he earned a measly $8 a month).  I found Zhora at a 'toi' for the neighbourhood, hosted by Bakhodir, a friend from schooldays, a birthday party for his new-born daughter. 
"Why such a big deal for the first birthday?" I asked Zhora after enduring long speeches of gratitude and many vodka toasts.
"Bakhodir is a very generous guy. He was a teacher, but took advantage of commercial possibilities after independence in '91 and became rich. He's always helping people out with their weddings and funerals, circumcision ceremonies and whatever. But for seven years, he and his wife had no children. That is a terrible thing for young people, and when his wife finally gave birth, he decided to show his thanks to Allah, and celebrate by inviting all his neighbours and friends." 
It was in fact quite a do, with endless food and drink. I didn't point out that strictly speaking the vodka was taboo. This after all was the Soviet Union for 70 years. Old habits die hard. I ended up at the table with bachelors and heavy drinkers, who tried to get me tipsy, but after a hard 4-hour bike ride in 30+ degree heat, I craved only tea and the succulent watermelon and early grapes, which I gathered from abandoned tables nearby. The drinkers lost interest in me. In fact, one was soon hanging his head in an unsightly stupor, and one of his cohorts quickly ushered him out, a great example of the evils of liquor. Knowing your limit is very important in a Tajik village, where everyone knows everyone and there is little news other than neighbourhood scandals.
It struck me that this village dynamic harks back to ancient traditions which are an integral part of Islamic culture. It certainly was not something that was introduced when Uzbekistan embraced capitalism at its independence in 1991. It seemed like a combination of the North American native tradition, where it was the duty of their well-off tribal members to blow their surplus on big potlach parties, plus a dose of Muslim paternalism: "Praise Allah for your blessings." 
In any case, though many in Nevichu may be jealous of Bakhodir for his successes, he seems to be unanimously admired and respected, and is playing a vital role in distributing some of the wealth among direly poor neighbours. For example, Zhora;s $8 a month must feed his wife and four young children, not to mention pay for his own 'toi's. In addition, there is the day-to-day danger which he must now face. Last year several inspectors were killed by bandits (shade of the old basmachi and the nearby mujahideen) and there are militia currently patrolling the area.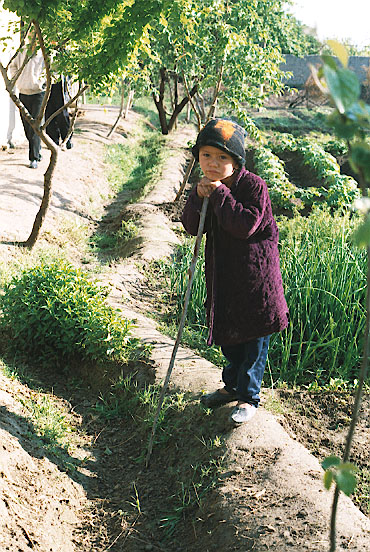 With her 11 children, Zhora's mother was a Hero of the Soviet Union, though that doesn't hold much water these days. His father was inspector at the nature reserve for 40 years, so Zhora came by his job almost by inheritance; certainly love of nature is in his blood. His grandfather lived in the territory of the reserve until the 1930s and part of the reserve is actually named after him, the Iranov valley and river.
After the 'toi', I said in a respectful jest to Zhora's father: "You are probably the richest person in Nevichu. After all, children are wealth, and you have 11 healthy children and countless grandchildren." He laughed and said: "Not true. I'm still trying to marry off my three youngest sons. Have you any idea how much work they have been?" But I think he was rather more proud than frustrated, and if I could judge from Zhora and his equally handsome younger brother, who brought us my horse for our trip, there would be little problem in finding eager partners for the remaining unmarried sons. 
The expedition was a challenge, the horse fully aware that I was a greenhorn. The serious danger of a tree branch stump ripping open my designer jeans didn't enter my mind till after the fact, giving me a nasty scrape and sprinkling the path with the pocket contents, including my keys, and ripping the arm off my glasses. Fortunately I found them, but we had no needle and thread (along with bandages, an absolute essential on such hikes), so Zhora later used his hunter-gatherer wiles, found a bit of electrical wire in his bag, stripped out some filaments, and showed me how to use a match stick as a needle and the metal filaments as thread until we got home. For dinner, he caught six trout (a 1000 soum fine for each one!) while I prepared the fire and some tea. We spent a lazy day, gorging on fish and tippling on vodka (I know, shame on us), swimming in a pool in the river and lounging on hot rocks, specially worn down for us by Mother Nature.
This adventure confirmed my love of the Uzbeks/ Tajiks, who have kept their culture and traditions through thick and thin, love their big families and find true wealth in them. Even the new Uzbeks that I knew were not cold and calculating. Bakhodir, who I worked with on another UNIDO privatization project and befriended, was very much the new Uzbek (actually half Tajik). He started up his own consulting business, and was generous with neighbours (and me), not obsessed with money.
Ploff dinners at Mubin's home are a fond memory. He lived with his mother as the youngest son, in a traditional Uzbek mahalla (neighbourhood) of one/two storey adobe homes with a courtyard, all surrounded by a high adobe fence. His mother had been a translator of Russian novels, his sister Sayora a professional singer, his older brother is a noted artist. 
His good friend Hasim became a slot machine owner, raking in cash and saving to go to the US. He came over after dinner and we all stood around in the courtyard shooting the breeze. As virtually all young people here believe, America is the magical heaven on earth where they can earn lots of money and come back home to live like kings. That prompted me to ask: "What do you think about Bush's plans to attack Iraq?" 
"That's just to gain control of the oil there," he said in a matter-of-fact way. 
His friend Salim piped in: "Afghanistan, Iraq … the US has lots of weapons. It has got to use them up. War's good for the economy." 
I thought that wasn't far off the mark, considering their only sources of news are word of mouth and official Uzbek news, which is slavishly pro-American. 
Somehow the conversation came around to what it was like 'before', i.e., before the Soviet Union collapsed. 
"Life was secure then. We had communism and didn't realize it," said Hasim sheepishly. "You didn't think much about money. Studying was free. Now our kids have to hustle to pay for everything. They don't have time to study properly. Or play." 
"And the US thought twice before bombing another country into oblivion," I couldn't help adding. 
"We were part of a powerful country that the world respected," said Salim. "Where are we now? A backwater, cut off from the world behind tightly controlled borders."
It was getting nippy, so Mubin and I bade farewell and joined his family. As the youngest son, he had settled into the family home when he married, and he looks after his energetic, no-nonsense mother, this being the Uzbek and Muslim tradition. In fact, she needs little looking after, though she was pushing 80. The garden is a riot of color in the summer, full of flowers, persimmons, figs, pomegranates, apples, berries ... She had just finished a biography of her father, who studied in Turkey until 1925, and, as with so many of the intellectuals of the Soviet Union, disappeared during the '30s one day, never being heard from again.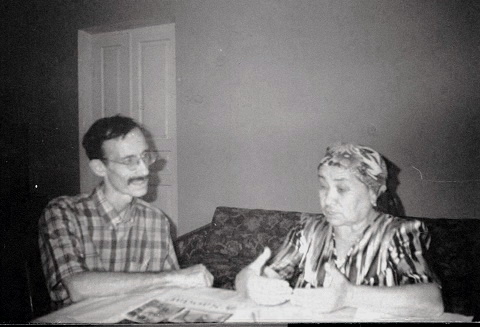 Despite this, Barno opa (opa means elder sister, a term of respect) never suffered being a child of an 'enemy of the people'. The family, though devastated when he disappeared, fantasized that he had gone back to Turkey somehow. She became a noted journalist, joined the Communist Party, and lived a full and interesting life; a strong, independent woman who had no need for 'women's lib'. She had read Khrushchev's speech denouncing Stalin, but only learned the fate of her father after the floodgates opened under Gorbachev in 1989, over 50 years later. He had been arrested along with 80 other leading Uzbeks, and was one of 15 who were spirited off to Moscow and shot without trial for advocating a pan-Turkestan independent republic. 
"But didn't you know about the gulag?" I asked her. "Didn't you suspect that he had been 'repressed'?" 
"No. We knew that there were many unjust arrests and murders under Stalin, but I never thought this had happened to my father," she said. 
As a result of this shattering revelation, Barno opa welcomed Uzbekistan's independence, and supported Karimov, refusing to bemoan the collapse of the Soviet Union that had done so much, both good and bad, for her. She accepts the entrenching of a petty dictator (who incidentally was a destitute orphan and yet was able to rise to be president), the extreme censorship of media, the jails full of ordinary believers. In her twilight years, she doesn't worry about the radical economic changes and the brave new world growing up around her. What's important to her is that her father's picture is in the Museum of the Victims of Colonialism, which lumps Russian and Soviet periods under one imperialist yoke. It's hard to blame her. 
Nonetheless, I suggested that it was a tragedy that the Soviet Union collapsed. As if to end any further criticism, Barno opa said firmly, "I'm proud of our new independent Uzbekistan." But Mubin's beautiful, smartly dressed sister, Sayora, surprised me by readily agreeing with me. "I'm a profession singer and lived comfortably in Soviet times, with no worries about hustling to find engagements." Her charming personality and talent convinced me of that. Their mother remained silent, but Sayora's husband, Temir, an erstwhile Communist Party member, launched into a critique of the Soviet Union as state capitalist. He is a budding businessman, and during perestroika, was active in organizing a "trade union of entrepreneurs". As we were both economists, I started to protest his obvious misuse of terms. 
"Of course, it wasn't a trade union in the real sense of the word, but at that time, we had to use acceptable terms to organize," Temir explained smoothly. 
You know the type: he would have fit well into the ideology section of some Soviet ministry, and now, if his English were better, he would be snapped up by Saatchi & Saatchi to dream up ads in Uzbek for Dentamint. He struck me as having less of a grip on reality than the street-smart Hasim, and with a lot more pretensions. 
"Yes, poor Gorby," I said rather undiplomatically and proceeded to poke holes in Temir's trade union for entrepreneurs and his theory about the Soviet Union. "Gorbachev had these naive ideas that if things were loosened up a bit, people would honestly work together, form real cooperatives, and the reforms would succeed," I continued. "Instead, everyone grabbed what they could and Yeltsin tore the whole system down." Maybe they were just being polite, but no one dissented. Even Barno opa didn't have a good word for Yeltsin, except that by scuttling Gorbachev's attempt to salvage the Union, he had paved the way for Uzbekistan to become independent. 
Such a stew of contradictions ― the worship of the American dream, but also the cynical awareness that the US is selfish and violent on a world scale. People lived well under a harsh but egalitarian system, but either their personal tragedy or just their gullibility undermined their faith in it. They have to come to terms with their brave new world, and it's not easy. 
In Soviet times, it was the US that was the cause of the problems. Now Uzbek President Islam Karimov told parliament in August that "the shadow of the USSR" was a major reason for its present problems. He hailed the new generation growing up free of "the totalitarian heritage" of the Soviet Union. As Karimov told parliament in 2002, "Having visited one of the schools, I asked the children, 'Do you know who Brezhnev was?' They answered, 'No, we don't.' Then I asked them, 'Who is Gorbachev?' They again said that they didn't know. Then I told them that they are doing great." 
Whew. The saving grace in all this stew was the fragrance and (muted) voice of Islam, which had proved impossible to eradicate. Given what Karimov was up to, it was now the only remaining path not sullied by the clodhopping Soviet past and Karimov present.
For the first few years, I hadn't seen or heard much evidence of Islam, other than the azan from the Mirzo-Yusuf mosque near my home in 1996, which soon was banned, and an invitation at the UNIDO office by some shy Uzbek women to join in their iftar in February 1997. True, Uzbeks said a blessing for meals and ran their hands down their face then and every time they passed a cemetery. Russians kidded them about this, but Uzbeks paid no attention. There was talk of the Islamic Movement of Uzbekistan (IMU), but no violence until 1999, when six car bombs exploded in Tashkent, killing 16 and injuring more than 100, in an attempt to assassinate President Karimov. This followed the more spectacular bombings―the 1997 Luxor massacre in Egypt and the 1998 US embassy bombings in Kenya and Uganda, in which 224 mostly innocent bystanders were killed. 
Citizens in the Central Asian republics had been in fact quite content to remain in the Soviet Union. With a 95% turnout, 95% of Uzbeks (vs 70% of all Soviets) supported the 1991 referendum by Soviet President Gorbachev to maintain the union. After a few decades of repression of all religions, the fruits of socialism had come to Soviet Muslims and Christians alike, with economic well-being far exceeding that of the Muslim world under the imperialist yoke. The Uzbeks knew they had a good thing. A glance at the deplorable state of the Muslim world outside the Soviet Union was all they needed.
The socialist revolution in next-door Afghanistan in 1978 must be seen in this context. Until its collapse in 1991, the Soviet Union, after briefly flirting with the newly created Jewish state of Israel in 1948, was a solid ally of the Arab world in its fight against Israel, and was welcomed as an ally by the peoples of Egypt, Algeria, Libya, Syria, Iraq, Yemen and Palestine. Afghan leftists did not fear Soviet influence (most studied in Moscow at the Patrice Lumumba Friendship University) and by the 1970s looked on enviously at the high standards of living, education and culture next door, without a thought for how shaky the foundation for an 'Afghan Soviet Republic' might be. 
The putsch by Afghan secular leftists in 1979 came as an unwelcome surprise in Moscow. Brezhnev was signing disarmament treaties with the US and joint space projects. Pepsi and Marlborough were literally on everyone's lips. It looked like the era of detente was being renewed. That is what I saw unfolding in the 1970s and what lured me to Moscow to study and later work, with Uzbekistan my final stop on this quixotic odyssey.
The Great Games played in the Muslim world by the West (including Russia and the Soviet Union) has left a contradictory and painful legacy for Islamic civilization, a constant attempt to undermind Islam (as was done to imperialism's other rival, communism), a trail of tribal and linguistic divisions, trade routes disrupted, and local leaders as dictators with opportunistic allegiances. If far from perfect, life was better for Muslims in the Soviet Union than it was in the neocolonial Muslim world, or is in the post-Soviet world,. 
Looking back, no one (apart from conspirators Brzezinski et al) would dispute that nurturing the mujahideen in Afghanistan was a bad idea for the US, leading to the al-Qaeda-based terrorism that we have all experienced in the past two decades. I felt the effects myself in 1999, when the nearby IMU-planted bomb shattered the windows of my corner shop, and sent the plant on my window sill flying, and poor Kitty scurrying under the bed.
The collapse of the Soviet Union is what led me to search for some answers in Islam, which I knew was also a bedrock of anti-imperialism, notably in Palestine, and which, as a socialist, I saw, approvingly, as a bedrock of a just society. With the collapse of the communist dream, I finally found my 'Damascus moment' in events which unfolded in 2005 in Andijan. 
Many Uzbeks had kept their faith through all the Soviet repression, which had subsided. There were only 500 functioning mosques in the Soviet Union in the 1970s, and public religious observance was not allowed, but religious practice was not outlawed. It was not expected that the new post-independence order would repress religious observance, let alone return to the practices of Stalin. But when peaceful Muslims tried to make a public protest, asking only for the municipality to issue licenses to form businesses based on Islam principles, 1000 were gunned down while sitting in the city square in Andijan.
When the news of the massacre spread, I was shaken. "It is necessary to honour them. Teach me the Muslim prayers and let's pray for them," I told Mubin. Though a believer, he was embarrassed, as he didn't know them. After all, his grandfather had been killed in a purge in the 1930s, and his mother, though a believer, was a communist. But he was also shaken and began to learn the prayers. He is no revolutionary: "There's no point losing your life trying to overthrow a dictator as ruthless as ours. I will keep on educating my children in the straight path. One day we will win." Karimov's viciousness was galvanizing many into affirming their faith.
That began my journey to Islam (thank you, Mr Karimov). But wait. It was not just the horrible massacre in 2005. It was much earlier, in 1996, waking to the gentle azan. And the next year, when sweet Uzbek women offering a share in their iftar at work. I only signed on the dotted line later in Cairo, where I moved in 2006, once the precious visa was denied me in Tashkent. A chance to work as a journalist at al-Ahram Weekly, learn Arabic, pray at the many historical mosques that make Cairo so special, share in the public festivities surrounding Ramadan, again, thanks to Mr Karimov.
Following the massacre, Mubin and I went every Juma to the modest Kukeldash Madrasah, which serves as one of the few functioning mosques.*** It was built in 1570 and went through many different transformations, as a caravanserai in the 18th century, later a fortress. In the 20th century it was a museum, first of atheism, and later of folk music (I remember going to a disco there in 1980 as a Russian language student in Moscow), before returning to its roots in the 1990s as a centre of Muslum education. The modest open-air courtyard serves as the most central mosque in Tashkent. Karimov has avoided building a large public mosque in the capital. Mubin and I were taking our chances worshipping there, as it was watched by Karimov's police like hawks. 
A lovely memory of that time is walking in the Botanical Gardens. The gardens were unkempt, very Soviet, spaceous, a blessed riot of restful green. I discovered a meandering, overgrown brambleberry thicket, and often went there to struggle to reach the berries through the thorns. A quixotic activity, but for some reason it gave me satisfaction. I suppose I sensed how it expressed metaphorically my own struggle to find the precious reward in the thorny, hostile surroundings, all the tastier for the struggle. 
Tashkent brings back haunting memories with their fleeting beauty. I keep on looking for such treasures through the new pathways I trod. There was no happy ending to my 13 years in my special city, but there were many happy moments, and the greatest treasure I found there was Islam, which found Turkestan in the 8th century, where Sahih Bukhari, the most authentic of all hadith compilations, was written in the 9th century, and where Ibn Sina wrote the definitive medical encyclopedia of the time, The Canon of Medicine, in the 11th century. Both are ageless works.
My journey to the Other could have been to Kuala Lumpur, Konya or Karachi. What's important is being the Other. Tashkent is almost exactly half way around the world from Toronto, at the same latitude. I like to image: what if my soul had been plopped down on the other side of the earth, growing up in this exquisite mountain river valley, with small farmer traditions enduring, living a tough but peaceful life, rich in culture, Muslim? 
My 13 years in Tashkent as my Other were mostly happy in human terms, and provided the vivid experiences and time to reflect, allowed me to find the spiritual path that Marx ignored. Thank you, Muhammud (pbuy) for foreseeing the evil that lay in wait for us 14 centuries later, and providing an enduring roadmap to keep us on the straight and narrow. Thank you, Muhammad al-Bukhari for your hadiths, and Ibn Sina for your healing genius. And thank you, centuries of Uzbek craftsmen and musicians for your inimitable works of art. 
Few people outside the ex-Soviet Union see the demise of the Soviet Union―the intention behind the US creation of al-Qaeda―as the root of the problem. So, hats off to Marx, for exposing the devastating logic of industrial capitalism, the truth behind these events for me.
A heartfelt thanks to the ogre who presides over the current sad state of Uzbekistan. Thank you for not boiling me in oil upon discovering a naughty gadfly on your staff. Yes, I betrayed your confidence, but in my defense it was mostly just to prevent myself from going mad, and my scurrilous internet screeds did not seem to harm you in the least. What's more, they turned me into the writer I am today, fighting injustice but with a sense of humor, and a foundation in your hated Islam. 
We can even thank Stalin for something. Though he was ruthless, he was following a socialist path, and provided Uzbekistan with the foundations of a thriving economy. He also can be thanked for preserving Uzbek culture. Yes, culture. Stalin's mistake, for hardcore communists, was to preserve both Russian and the many non-Russian cultures and languages. Bach, Tchaikovsky, Pushkin and Dostoevsky are not secular. Nor are shashmaqams, traditional Uzbek music with roots in Sufism and Persian and Indian ragas. They are profoundly spiritual. Even if the Quran was not widely disseminated, it was cherished, and when the strictures against religion were relaxed, it became widely available again.
Karimov is an especially appallingly dictator, but one whose power is skin deep (an unfortunate metaphor). Uzbeks remain a charming, handsome people. Despite the torture and killing of innocent Muslims, the accumulating scars in Tashkent, the treeless and faux Disney amusement parks, the burgeoning mahallas for the super rich, the inherent beauty of the Uzbek people and their magical Tashkent prevail. Dictatorships eventually crumble, and good Muslims like my friend Mubin are preparing a new generation to pick up the pieces, just as his mother and Vladlen's mother survived Stalin's dictatorship and brought fine sons into the world.
Yes, Mr Karimov, your billions continue to accumulate, your nation's children still slave in the cotton fields, you cut down priceless trees with impunity, your daughter waits in the wings to grab the reins of power. Her lack of ability and well known scandals could even be a blessing, as when you are gone, it is unlikely she will kept the reins long.**** Finally, thank you Canada for my passport.
*It was originally called Constantine Square, then Kaurmann Square with a statue of governor general Konstantin Kaufmann in 1882. It later became a racetrack and promenading area for the well-to-do. The Bolsheviks renamed Kaufmann's square Revolution Garden and replaced him with a monument to Free Workers (1917), monument to 10th anniversary of October revolution (1927), temporary obelisks and Lenin busts, until 1947 when Stalin took pride of place. In 1968, it became Marx Square, with a bronze head of Karl Marx, replaced in 1993 as Amir Timur Square, with a large globe, with uzbekistan ground zero. 
**For instance, Gorky metro station was changed to the clumsy Buyuk Ipak Yolli (Great Silk Road), Pushkin was changed to Salar (Persian meaning leader).
***The Khast Imam Mosque, like Kukeldash, is in the old city, but is less accessible, more a museum, containing the Uthman Qur'an, considered to be the oldest, dating to 655 and stained with the blood of murdered caliph Uthman. It was brought by Timur to Samarkand, seized by the Russians as a war trophy and returned in 1924. Far more gawking western tourists see it than Uzbek and non-Uzbek believers.
****Gulnara Karimova has attempted to break into the global cultural elite, with her albums, fashion and jewelry lines. In 2011, organizers canceled her show at New York fashion week following pressure from human rights groups. A 2005  US diplomatic cable revealed by Wikileaks said that "she remains the single most hated person in the country."
xxxxx
Update (2019): Since the death of Karimov in 2016, his family has disappeared from Uzbek life, relations with Russia and neighbours have improved, though as yet little else has changed.
Critical Muslim 18 April 2016