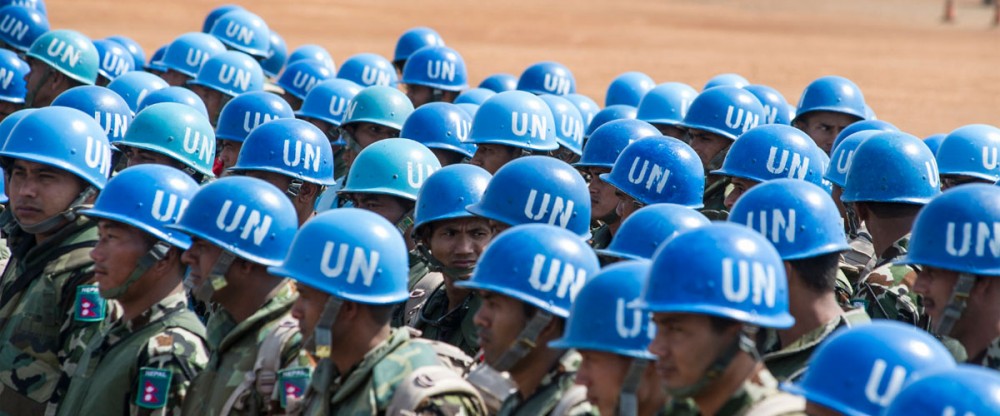 Biggest contributor to UN peacekeeping operations
The UN would be at a loss without India's staunch commitment to peacekeeping. India has been the largest troop contributor to UN missions since its inception.
So far, India has taken part in 43 Peacekeeping missions with a total contribution exceeding 180,000 troops and a significant number of police personnel. In 2014 India was the third largest troop contributor with 7,860 personnel deployed with ten UN Peacekeeping Missions.
India's current missions are: Lebanon (UNIFIL), Congo (MONUSCO), Sudan and South Sudan (UNMIS/UNMISS), Golan Heights (UNDOF), Ivory Coast (UNOCI), Haiti (MINUSTAH), Liberia (UNMIL). The Female Formed Police Unit there has become an inspiration for the women of the host nation and a harbinger of future such female units.
The UNSC Push – India, a Global Player
As the second largest country in the world after China, it is hard to understand why India doesn't have a seat at the Security Council of the United Nations. The simple answer is: bad timing. Back in 1945 in the dying days of WWII, when the UNSC seats were being reserved, India was 'the Raj', with Churchill still desperately hoping to revive the empire. He didn't bother to reserve a seat for an independent Raj in talks with FDR and Stalin, more concerned about divvying up Europe. China was independent, sort-of, and the hope was a seat with the big guys just might help keep the communists at bay. The Raj was in safe hands, and would just join, with no protest.
This geopolitical excuse has long ago worn thin. But no sooner did India announce its independence than a war erupted with its new neighbour Pakistan, as a result of more British confused thinking.
India's bid for permanent membership of UNSC is still stymied. The United States initially opposed India's candidacy on grounds of nuclear proliferation, as India has acquired nuclear weapons and not signed the Nuclear Non-Proliferation Treaty, but was convinced of India's peaceful intentions and joined France, Britain and Russia to back the bid. In 2011, China expressed its support for "an increased Indian role at the United Nations", but has yet to explicitly endorse India's Security Council ambitions.
Achieving a permanent seat on the UNSC is in India's grasp, but requires patience. India has good peacekeeping credentials at the UN, and in the past, has promoted nuclear disarmament. It will continue to gain the world's respect if it follows the road of peaceful development, as laid out by its founders. Its day at the UNSC will surely come.
Championing the cause of nuclear disarmament and non-proliferation

International Atomic Energy Agency director General Dr. Mohamed ElBaradei, on receiving the Indira Gandhi Prize for Peace, Disarmament and Development in 2008, spoke of how Indira Gandhi was a tireless campaigner for nuclear disarmament, recognizing the insanity of an international security system rooted in MAD (mutual assured destruction). In 1983, when two nuclear-armed superpower blocs were still staring each other down, she said: "The hood of the cobra is spread. Humankind watches in frozen fear, hoping against hope that it will not strike."
Likewise, Indira Gandhi recognized that a world economic order "based on domination and inequality" was not sustainable. "To help developing countries is not mere largesse," she told the United Nations General Assembly. "What better investment can the North make in its own future than by turning today´s deprived of the South into tomorrow´s consumers?"
Nuclear weapons, far from being eliminated by 2010, as Rajiv Gandhi urged in his speech presenting a comprehensive action plan to the General Assembly in 1988, continue to proliferate. Former US Secretary of Defense William Perry recently stated, "The danger of a nuclear catastrophe today, in my judgment, is greater that it was during the Cold War...and yet our policies simply do not reflect those dangers." His assessment was echoed 2 months later by Igor Ivanov, Russian Foreign Minister from 1998 to 2004. Speaking in Brussels on March 18, Ivanov warned that "The risk of confrontation with the use of nuclear weapons in Europe is higher than in the 1980s."
The increased tensions between the United States and Russia have been matched by a similar escalation in the danger of nuclear war in South Asia. Since the nuclear weapon tests of May 1998 by India and then Pakistan, the two states have expanded many-fold their respective nuclear weapon and fissile material stockpiles. They have put in place command and control systems and doctrines that involve, in the case of Pakistan, first use of nuclear weapons in a conflict and, in the case of India, massive retaliatory strikes against population centers. Recently, like the US, Indian Defence Minister Manohar Parrikar publicly called for India to renounce its pledge to never mount a nuclear "first strike."
These are very different actions than those of Gandhi, mother and son. India's active role in nuclear disarmament seems to have been put on the back burner, so it was not surprising that India was rebuffed after eight years of lobbying to join the 48-member Nuclear Suppliers Group (NSG). Six countries opposed its entry, on the grounds that India has yet to sign the Non-Proliferation Treaty (NPT) and the Comprehensive Test Ban Treaty. India has a waiver that gives it access to the global commercial nuclear trade and technology, but this can be withdrawn at any time.
"Participating governments reiterated their firm support for the full, complete, and effective implementation of the NPT as the cornerstone of the international non-proliferation regime," the NSG statement resoundingly stated. The most vocal opponent to India's entry was China, which insisted that any concession extended to India must apply to its nuclear-armed neighbour Pakistan, which, too, has sought NSG membership. India's testing of a long-range Agni-V missile shortly after the rebuff did not help its case.
Pundits see China's opposition stemming from the fact that India's entry into the NSG would change South Asian geopolitics. It's time, instead, for some creative thinking. A public reaffirmation of 'no first strike' by India, agreement to sign the NPT, a some frank diplomacy with China and Pakistan. These are the only ways to break the logjams. India could indeed 'change South Asian geopolitics' in the interests of all -- China, Pakistan, and in the first place, India.

Rising global stature
Despite its 1.3 billion citizens and its strong promotion of peacekeeping, to its credit, India has traditionally played a relatively low key role in world diplomacy. Even without its coveted UNSC seat, it sees the UN as the best chance for promoting world peace, not such more militaristic organizations such as NATO.
Because of its vast size, most of what happens in India on a day-to-day basis goes unreported, there being hundreds of thousands of initiatives to improve people's lives taking place at the local level. Because of this, to better understand the real India, it is useful to have a few urls up your sleeve to follow some of these initiatives.
A look at The Alternative India* shows a selection of these uplifting activities -- Indians helping Indians. For instance,
*a nationwide volunteer program to provide experience and help broaden employer perspectives
*Baala Balaga School's innovative approach to education puts play at the centre of learning
*BAIF's Wadi Model bearing fruit for small farmers
*Sankalpa Rural Development Society putting an end to farmers' water woes with affordable borewell recharge technology
It is through the work of millions of young Indians, eager to help bring peaceful development, and India's peacekeeping around the world that India's global stature will continue to rise. As 2017 begins, it is high time to go back to basics, to India's founders' venerable traditions.
xxxx
*(
http://www.thealternative.in
) Two other such sites are
I See India
(
http://iseeindia.com/
) and
The Better India
(
http://www.thebetterindia.com/
)
Diplomatist.com
March 2017