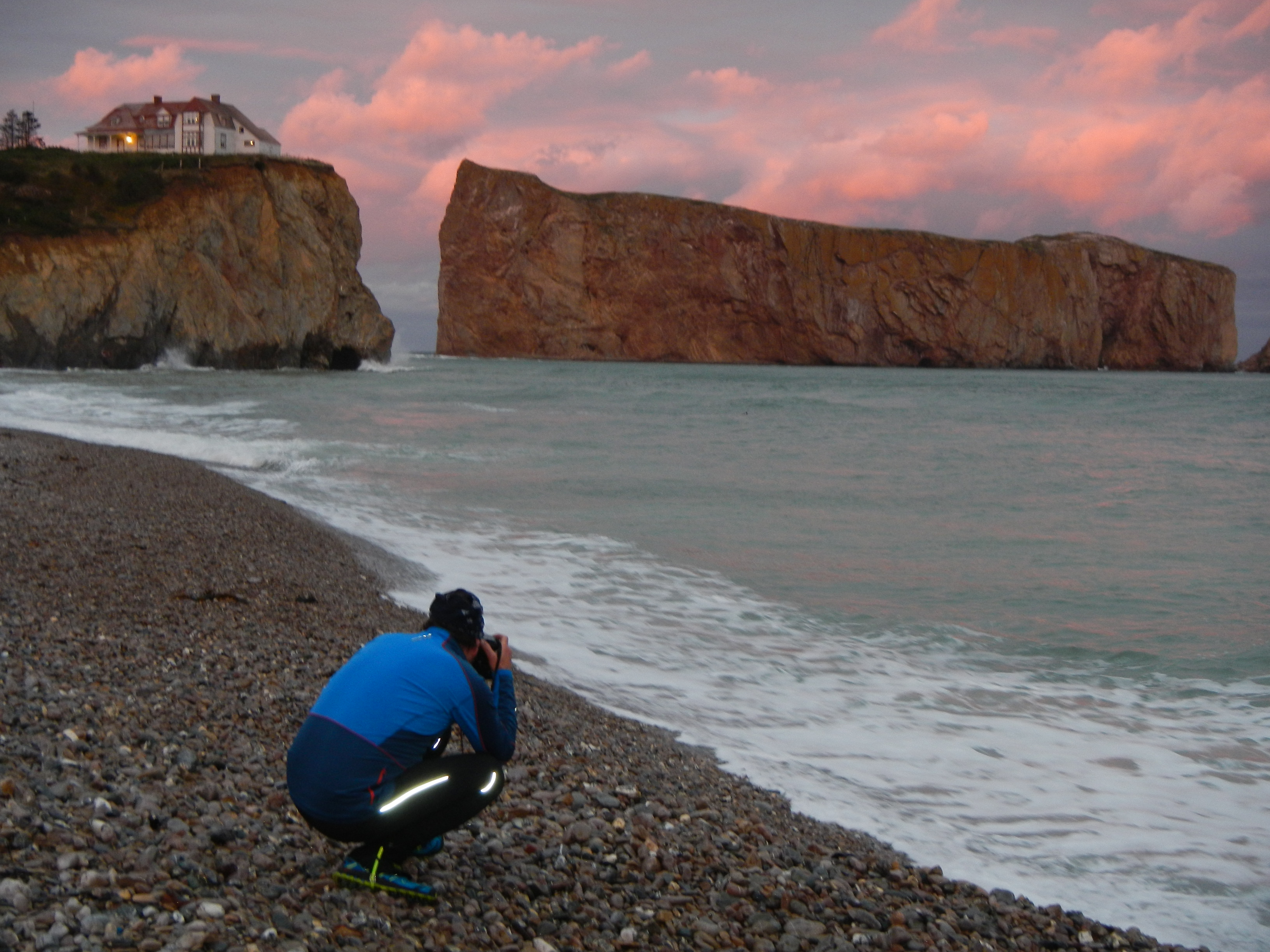 The Gaspé  is considered one of the top hiking spots in the world, after the Grand Canyon, the Himalayas, the Andes, and the Swiss Alps. There are 6,000 km of trails, and a range of vistas from mountains to cliffs facing the mouth of the St Lawrence and the Atlantic Ocean. And best of all, it is hardly known outside Quebec—a spectacular, untouched place right in our own backyard.

For the past decade, hundreds of cross-country skiers—nearly all of them Quebeckers—have come for a six-day, 100-mile-plus ski odyssey through the winter wonderland at the eastern edge of Canada's largest province. After an article in the New York Times in 2013, 100 Yanks showed up, but as yet, very few Anglo-Canadians. Two years ago, hardy hikers started coming at the end of September to see the fall colours and the caribou, and I opted to join them this year.

Saturday – The 8-hour 'trek' from Toronto to Montreal brought me to the bus to Gaspé at 5am, just in time. Our guide to Gaspé, Gilbert, was one of the many volunteers, a physiotherapist by profession, our residential doctor for sore feet. He is a joker, and over the microphone acted the voice of an airline pilot explaining to brace ourselves for the 2-hour climb that evening on arrival in Gaspé "to reach the hotel". Ìn line for coffee I met Robert, who is a Montreal-based fundraiser for nonprofit organizations and hospitals, a charmer, well in tune with his profession. We settled in for the 10-hour trip to Carleton-sur-Mer, on the south coast, before moving northeast to Gaspé and then east to Percé.


The bus trip went from scenic, with the St Lawrence and tree-covered hills and sparsely populated plains, to spectacular, as we entered Gaspé, with a panoramic view of cliffs, mountains, and a river valley that we followed, with the bus perched high above, giving a breath-taking view.

As we approached our first stop, Carleton-sur-mer, I looked out at New Brunswick across the bay, and realized I had been touching three provinces in one very long day—almost 24 hours from Toronto. Across from me at dinner that night was Celine, who related her adventures in Tanzania, climbing Kilimanjaro 12 times. The casual atmosphere of the trip encourages people to mix. I was fortunate to meet a range of participants, representing Quebeckers from all backgrounds—lawyers, doctors, engineers, fundraisers, teachers, professors, civil servants. Nature lovers and hikers come in all shapes and sizes.

At dinner, Yvon, who is 53 but already retired, explained his decision to throw in his investment analysis towel. "My sister died of cancer a few years ago, and that was a milestone for me. I want to make sure I have tasted life to the full. She did."

day 1 Sunday

We rose at 6am, and after 1 1/2 hrs of climbing up Mt Carleton, the option of a shorter route for the weak and lazy was offered. I jumped at it. Each day there was this option, which about half the trekkers opted for. I lunched at a scenic point which allowed one to stretch out and soak up some sun, and was soon joined by two genuine Gaspesians, middle aged ladies who were delighted to exchange some words with an anglais. A bit further on were falls cascading 50 meters over a series of broiling chutes. Leisurely strolling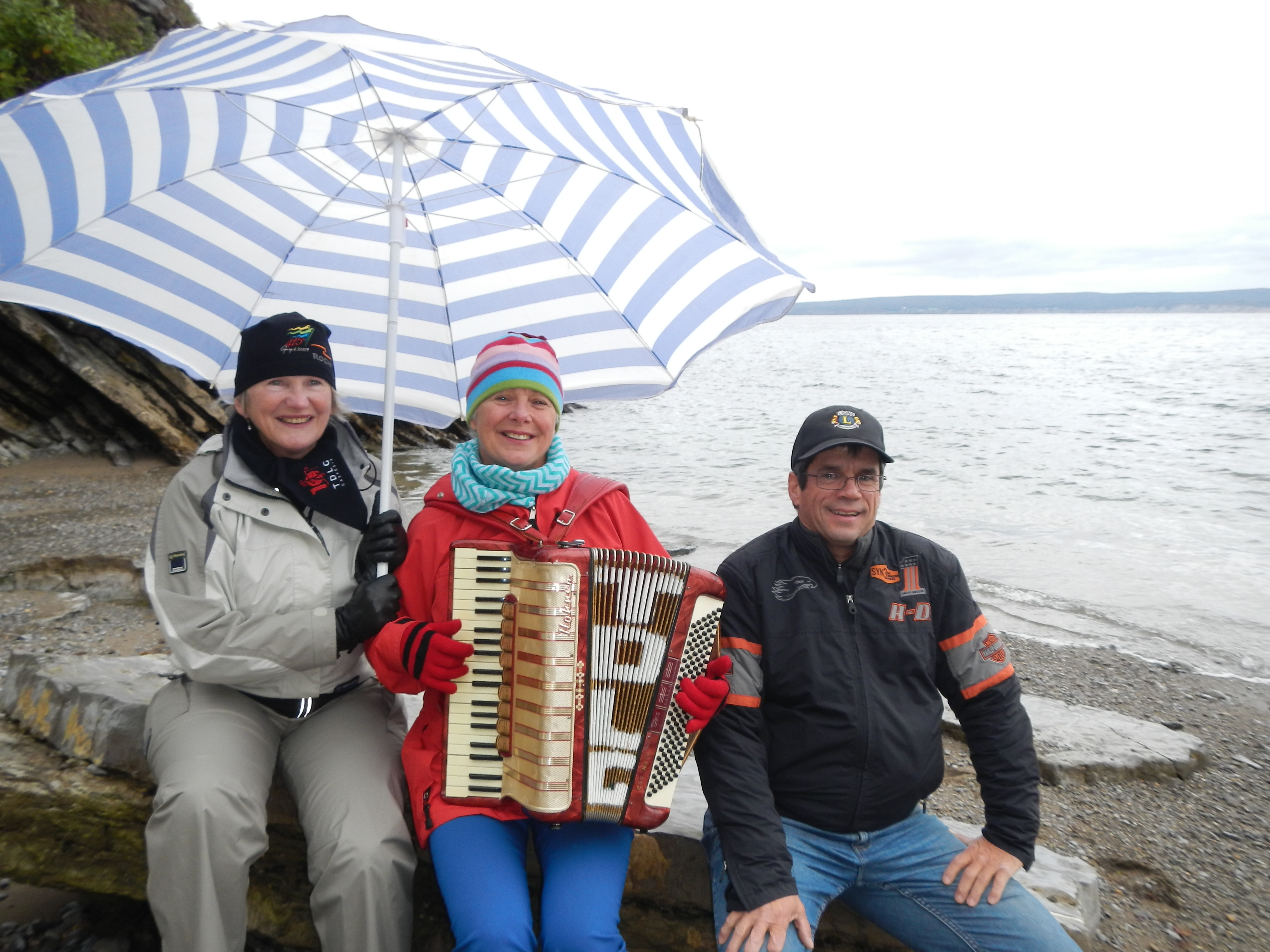 back to the bus parking spot, we were greeted by the resident accordionist playing French polkas and treating exhausted hikers with strawberry wine, a local specialty (much nicer than the startling rhubarb wine which greeted us the previous day).

day 2 Monday

Weather holding. We moved on to la Gite [chalets] du Mont Albert. We are now 7 in a chalet—4 men, 3 women, sharing beds. JC was with his "blond" (generaic Quebecois for mistress). I am sharing digs (2 strangers in a bed didn't faze the Quebeckers) with Richard and Robert, who looks 50 but is 66. "What is your secret?" I asked. Robert: "Smile, do what you enjoy, and enjoy what you do." He has raised millions for hospitals and other social services, mostly in Montreal and Ottawa, so his karma is in good shape.

Richard is a retiring IT type, taking lots of pictures of the scenery. As we climbed over a hill, we were greeted by a forest of windmills, roaring away in the strong trade winds.
The climb took us up to Mt Albert's bald summit graced by Lake Quiscale, surrounded by a beautiful meadow, actually a massive bog from annual snow melt. There is a boardwalk across the open meadow on top of the mountain, "to keep us from sinking—it's really part of the lake," Belgian journalist Christiane told me.

At cocktails that evening I met the Corsican Philip Hercher, the first to circumnavigate the Arctic in his boat the Mango. He is devoted to the northern natives and hopes that globalization can work in their favour, making their plight better known, though he is not optimistic about the future. "I feel like I'm documenting a dying past," he said wistfully.

The hors d'œuvres were very continental, duck and mackerel canopes. Dinner's highlight for me was the 'pot-a-pot', an seafood pie. I chanced to sit beside Christian, a youthful retired doctor. I asked him, "Why don't you go to Africa to work?" "I did my 60-hour weeks for 13 years mostly in emergency wards, and decided there was more to life. Now I read all the books I never had time for, and live and work with the tour group in the Gaspé."

Day 3 Tuesday

On the bus, I chatted with dour Pierre, a former separatist. I asked him, "What would Canada be without Quebec? Just another US state." He didn't disagree, but was pessimistic about what was in it for Quebec. "Our culture is being destroyed and in 20 years will cease to exist."

I climbed Mt Jacques Cartier with Yvon, who kindly lent me one of his poles, as I was really an interloper, more here for the chance to mingle with Quebeckers, enjoy the scenery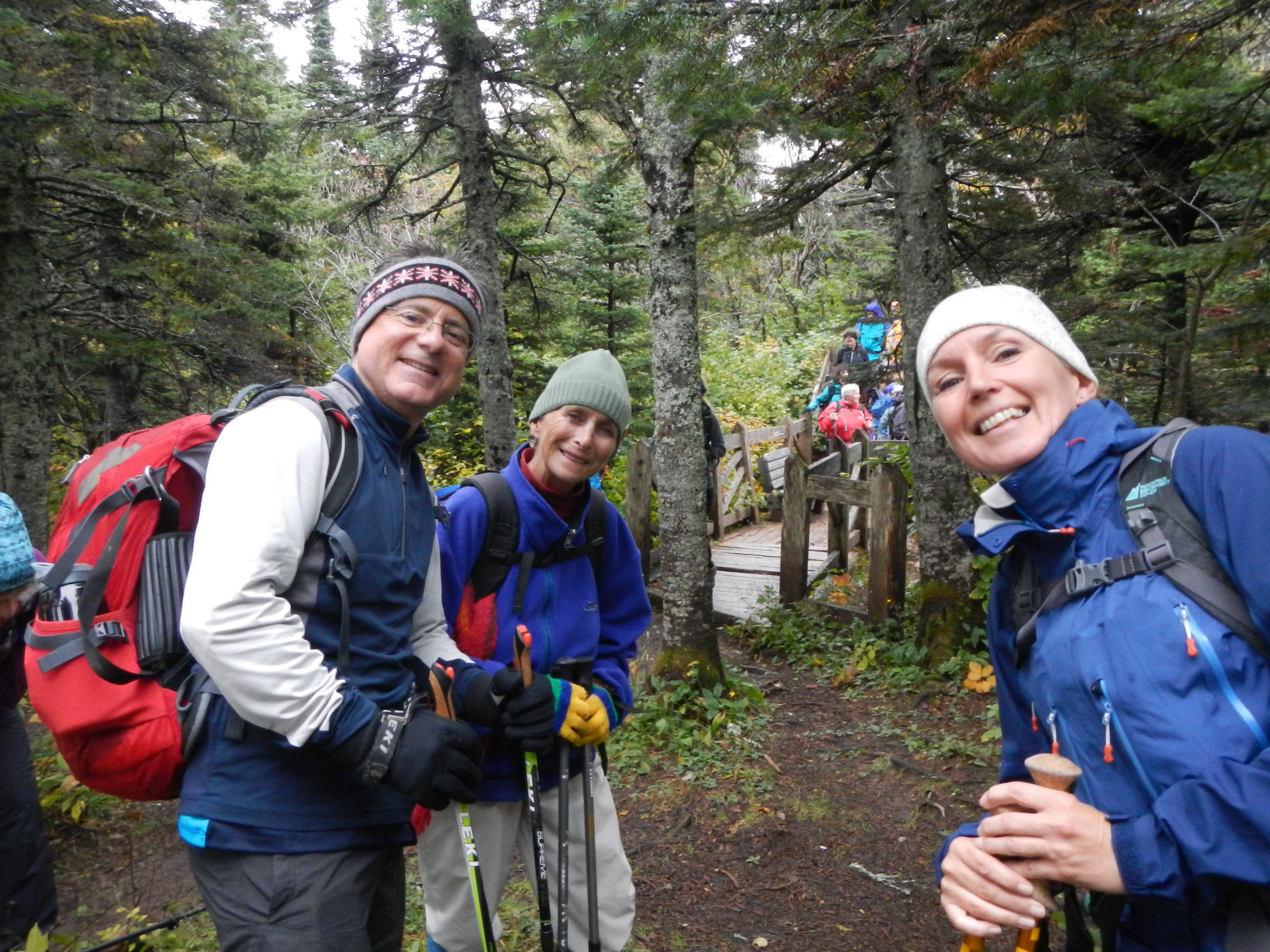 and to write. He was the opposite from dour Pierre, and was confident that Quebec was not a lost cause. "My sons come home with friends of all colors. They are all proud to be Quebeckers. Yes, many immigrants come just to make money and to escape desolate futures at home, but the next generation integrates. That is Canada's history and strength."

A thick fog descended and as we climbed higher, a sharp wet wind chilled us all. I was ready to turn back, but Yvon encouraged me and we finally reached a tower on the peak for hikers and huddled inside out of the wind, tearing open our bagged lunches.

Lo and behold, the fog lifted and revealed a magnificent 360-degree view of peaks, many tiny lakes, and a hideous stone field surrounding the tower. A plaque explained that at 1270m, the weather here is Arctic, even though it is at the same latitude as Paris. The frightening stone formation is a result of millennia of "gelifraction", the constant melting and freezing of the rocks, turning them into sharp teeth-like shards, giving the feeling you are in a horror movie.

Our descent across the gelifracked rocks was with clouds at eye level, but fortunately not immersing us in a fog. We stopped for a moment, turned, and there was the elusive caribou we had hoped to see. A male with antlers, graceful in its massive clumsiness. It looked at us, as if greeting subjects in his realm, and disappeared over the hill. A plaque down near the base explained that lichens and moss are 80% of their diet. Hard to believe that such a diet can sustain such magnificent beasts through the long cold winters.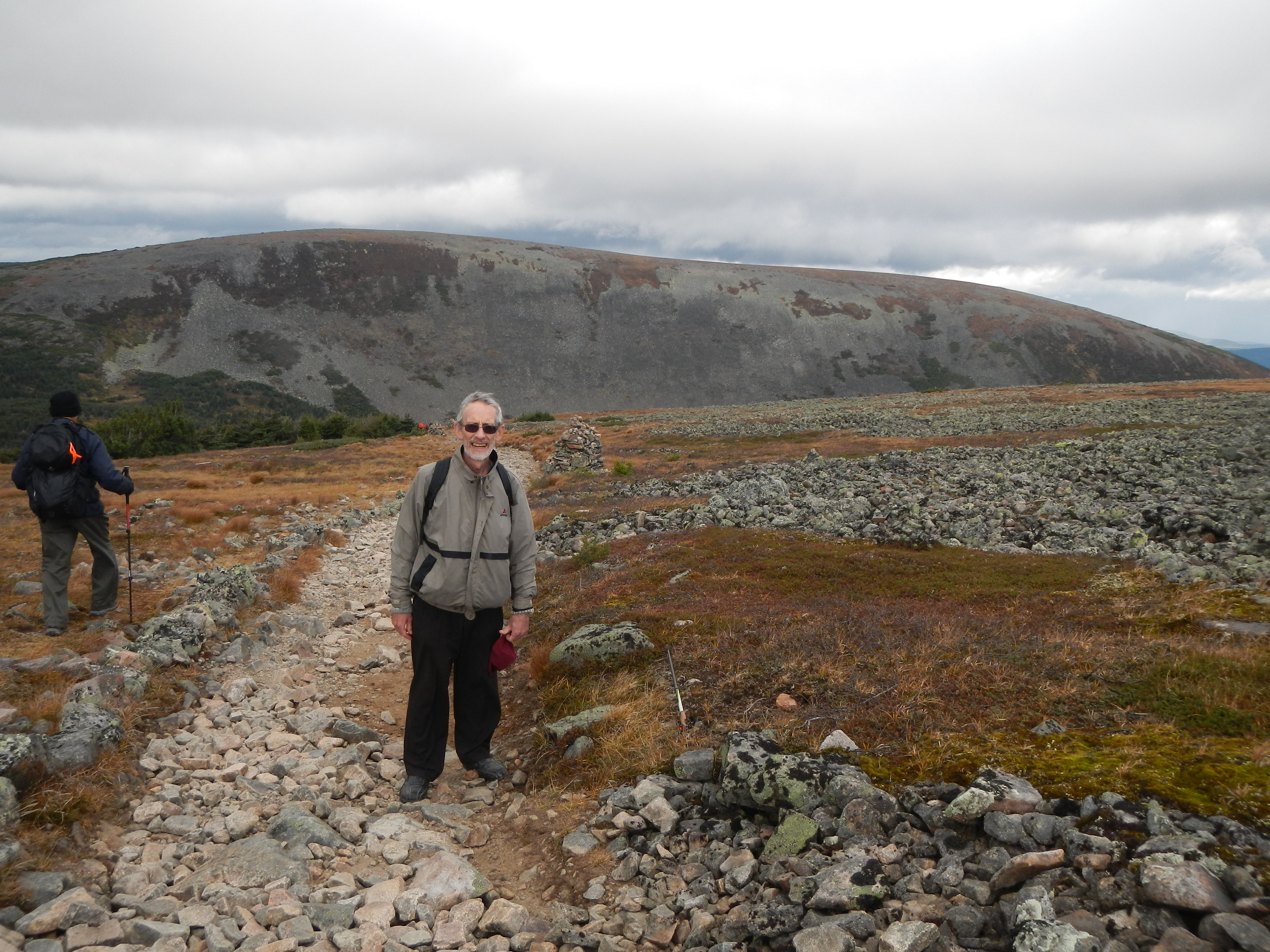 I continue to be impressed at the lack of hostility towards things English, as Quebeckers seem to have outgrown the separatist passion. The beauty of a trip to Quebec is that for anglos, you are actually going abroad without the hassle of a long plane ride and visas.

day 4 Wednesday

Warning: Be prepared in Gaspé for lots of seafood. Tonight was salmon. Tomorrow will be shrimp lasagna. The next day turbo, with canopes of shrimp.

Lize has befriended me, a delightful 74-year-old now on her sixth Tour de la Gaspésie trip—3 crosscountry skiing, 1 by bike, and now on her second trek. I sat in the bus on route to Mt Richardson with Lize and I learned that her ancestory in Quebec, like the majority of the trekkers, goes back to the 17th century, when a solitary fisherman forefather came from Anguleme in southwest France and founded the Simard clan.

Next stop: Gaspé city. Gaspé derives from the Micmac word Gespegh, meaning land's end, reflecting that the peninsula is the farthest mainland point (ok, Labrador goes farther, but that's already Inuit). Gaspé, a town of 15,000 grew up on the site where Jacques Cartier staked a claim for France in 1534, which began the wave of French immigration. The French chose the best fishing sites (sorry, natives), and then the Brits came and in turn pushed the French out. In Percé, a British warship passing by stopped in to raze their homes and killed the inhabitants. Cod was gold. But there was an accommodation over time, as attested by the names of towns and mountains.

The lingua franca in Gaspé was English till the 1960s, when the movement began to make sure French became the language of Quebec. "Cegep [community colleges] really changed things, spreading higher education in French to smaller cities and towns," Lize told me.

After a Pina Colada made from maple cream, pineapple and rum and a Gaspé beer, Petit Caribou, I was joined by Lize and her friend Anne-Marie, a mother of five, grandmother of 14, and painter of portraits when she is not hiking. The trek group consisted of probably 80% women. Where all the jock hikers are is a mystery.

day 5 Thursday

We moved on to Percé, and climbed Mt St Anne. Anne is believed by Catholics and Muslims to be the mother of the Virgin Mary. She is also the patron saint of the Micmacs, Gaspé's natives. The climb was in gusty winds of up to 50 kmh, which hit two streams and turned them into geysers shooting 10m into the air, forcing us to hurry through the upside-downpour. The fickle weather prevented us from crossing the water to l'Ile Bonaventure, where the gannet eke out an endangered existence. Their population plummeted after the BP oil spill in the Gulf of Mexico in 2010. Only 15% remain. Percé is one of the handful of places they come for their summer breeding season.

Percé was considered the cod capital of the world in the 19th century under the British, but cod lost its attraction to European taste buds and the quantity of cod fell from overfishing. By the 1920s, with the arrival of the railway, tourism became fashionable, attracting rich Americans and even the French surrealist poet André Breton, who in 1944 found solace there and called it "a hymn of hope, renewal, and resurrection". In 1985, the Quebec government made the area the Parc-de-l'Ile-Bonaveture-et-du-Rocher-Percé, to preserve both the nature and the cultural heritage. The famous Percé Rock features only one arch now, the other came crashing down in 1845, but it remains stunning. The remains of the second arch are a forlorn "obelisk".

Instead of our boat ride, we took the bus farther south along the Malbaie coast, where a delicate sand causeway stretches 7 kms, protecting a unique salt marsh, now a preserve where over 200 types of birds nest. We walked along the causeway on the beach and abandoned railway tracks (the railway to eastern Gaspé was 'rationalized' in 2013), watching various species of birds flit between the marsh and the ocean.

day 6 Friday

Our final destination is Forillon Park, along the Grand-Graves coast, so-called for its jagged cliffs hollowed out by the waves into striking, long, open caves. The easternmost point on the St Lawrence south shore was a quiet rural fishing backwater till Trudeau Sr decided it should 'benefit' from the regional planning craze of the 1970s. The 300 families living in the area were forced out (shades of the British actions in the 18th century and the French in the 17th century) and resettled in nearby villages, their homes razed to make sure they didn't try to return, and given 'compensation'.

Unfortunately the sudden deluge of settlers pushed up land prices in the area, and the families couldn't afford to buy a home to reconstitute their self-reliant lives. A monument to their plight was later erected in the park. "I lost our little paradise and our kids their heritage," wrote one evacuee. The settlers were from Jersey and Guernsey, and their unique heritage is now gone.

When we reached "land's end", it was bitterly cold with rain and a strong wind. For the ceremony inaugurating Gaspé into the European list of Grand Treks, the hardy trekkers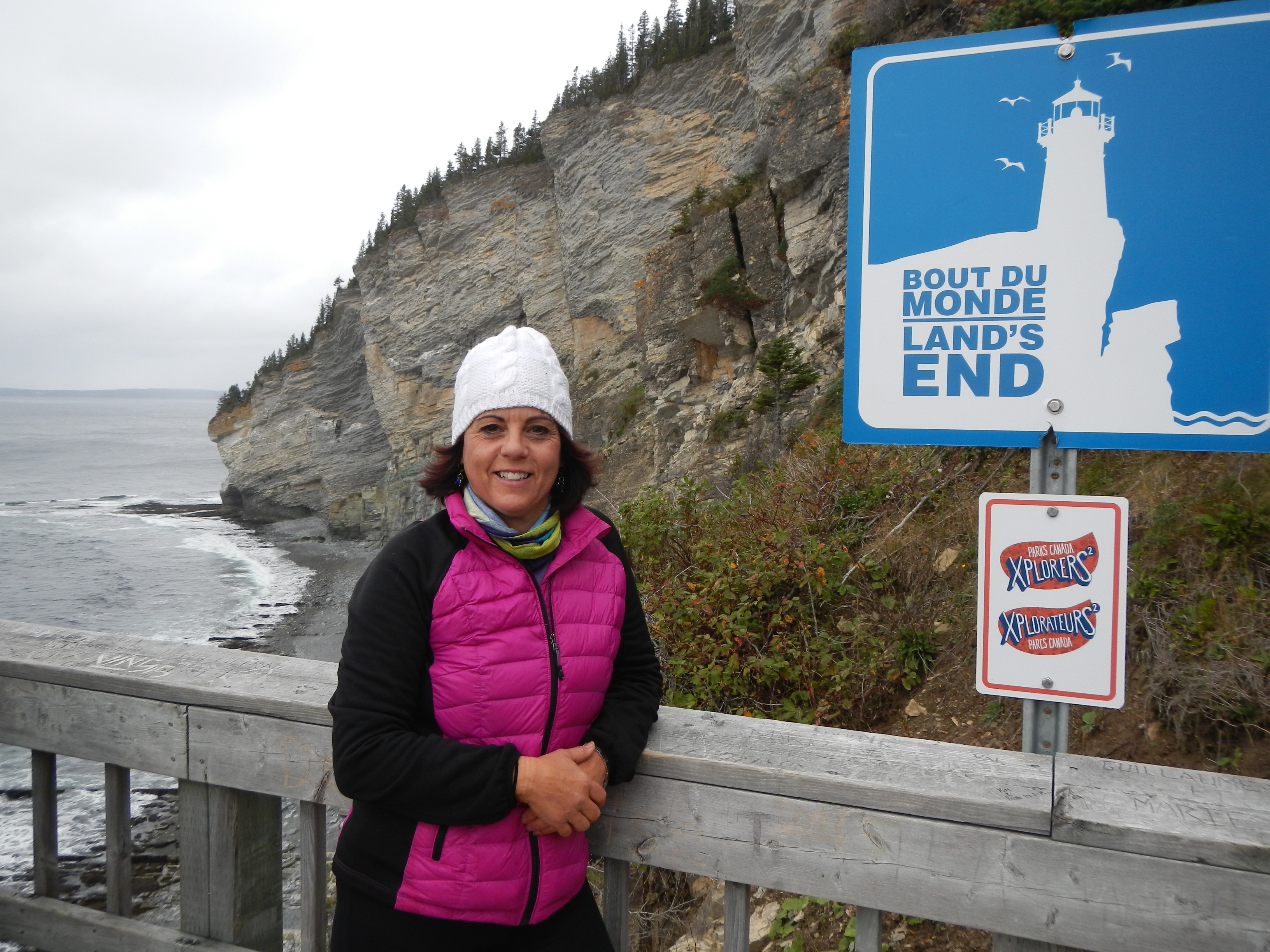 stood outside around the fine art-plaques signifying the beginning of the Appalachian Trail in Georgia and its northernmost tip here at Gaspé. It is a spectacular spot, ending in a towering 90m cliff with a tiny 12m lighthouse perched precariously on top, small for a lighthouse, but it does the trick for sailors on one of the most treacherous shores of the Atlantic.

I pulled the French Trekkers' Federation President Guy Berçot into the shelter and quizzed him about the inauguration. When we got to the park chalet later, a fire was roaring as 15 intrepid souls disrobed for the inauguration dip in the icy Atlantic waters, seemingly impervious to the cold. One slender woman in a bikini even went back for a second dip for a photo op.

We gathered in the evening after dinner for a "diabolical" costume party, featuring battery-powered devil's horns and some swirling cloaks and pitchforks. A group of women began an impromptu square dancing, turning the mundane 'square' into a 16+ member square-circle with do-si-dos moving effortless back and forth and through the middle, like a flock of birds flitting delicately as if by instinct.

I had dinner with the only other anglo, Myron Frankman, a retired professor of economics at McGill, who came from New Jersey in 1967 to Montreal to teach, and stayed 47 years. Myron was bitter about the devastation Harper has wrought in academia. "He shut down the National Council of Welfare, a treasure house of information and research vital to policy formation. We don't even know where much of the archives are."

Petite Lize was just as angry, as Harper 'reorganized' the world-renowned marine biology Institut Maurice Lamontagne near Quebec city away from scientific research towards indusrial applications. "It's like a forest fire has swept through Canada's research community. I can't imagine how the damage can be undone." lamented Myron. "All to promote economic growth at all costs."

JUST THE FACTS

Tour de la Gaspesie (TDLG) TOURS Next year's Grand Trek will be at the end of September. The next crosscountry ski tour is February 20--27, 2016. The cost for this year's ski and trek varied according to accommodation was from $1300--$1800.  The TDLG site is http://tdlg.qc.ca
***


Gaspé : First North American 'Grand Trek'

LAND'S END--We celebrated the inauguration of the first Grande Randonée in North America at Cap-Gaspé, the final point of the Appalachian Trail (AT), which extends from Georgia to Maine in the US and continues as the International Appalachian Trail in New Brunswick and Quebec. The Appalachians extend 4455 kms, and the Appalachian Trail hiking organization was founded in 1937.

The president of the French Trekkers' Federation, Guy Berçot, came at the end of the tour to finalize Gaspé's membership. The hikers'organization in France alone has 3,500 associations and 220,000 hikers, 6,000 French volunteers who maintain trails, and the villages and departments in Franch provide assistance. There are 28 Grande Randonées across Europe. "Joining the European hikers' federation as North America's first Grande Randonée will bring thousands of eager hikers from Europe. I am delighted to be instrumental in bringing Gaspé to the hikers' world. This is what tourism should be all about," enthused Berçot.

Don Hudson, the head of the Maine AT organization also attended. "We hope that Gaspé will lead to broader Appalachian membership in the European GR organization, including Newfoundland, which is also an extension of the trail. It promotes healthy eco-friendly tourism."

The International Appalachian Trail (IAT) organization was founded in 1994 to bring together hikers who recognize that the Appalachians are really part of then ancient range of mountains circling the Atlantic Ocean. IAT heads Quebecker Eric Chouinard and Paul Wylezol from Newfoundland were on hand to explain.

"The geology of the Appalachians links it with the west coast of Europe and African as far as Morocco. The forerunner of the Atlantic was the Iapetus Ocean, which shrank and pushed up mountains when tectonic plates collided," explained Wylezol. It was renowned University of Toronto geologist Tuzo Wilson who uncovered the origins of the Atlantic in the 1960s, which transformed geology with the theory of plate techtonics.

Now keen hikers are uniting around the Atlantic basin from Greenland to Morocco with the British, French, Spanish, Canadians and Americans in what is a common geological homeland.

published at International Appalachian Trail Newfoundland & Labrador
an abridged version of this is in the Toronto Star