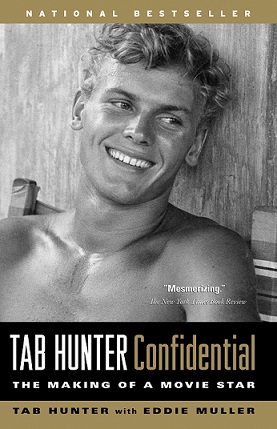 He had it all, and survived to relish it. Beauty, stardom, even an okay love life. The epitome of Hollywood in its heyday. And it was all a (well-meant) ruse. Tab was happy to stay 'in the closet' right to the end. He accepted his sexual orientation but was 'not comfortable discussing it.' His work with John Waters and Divine were 'the high point of my professional life, even though it led to another label being hung on me that I have no use for: Gay Icon.'
Ne Arthur Gelien, rechristened Tab Hunter (Art loved riding and shooting) by sleazy agent Henry Willson, who Art/Tab insists never got his lecherous paws into his pants. Tab survived the poison of Hollywood long enough to leave his mark and then have a real life afterwards, despite his 'secret'. And that's the way he wanted it.
He claims (not all that convincingly) that 'professionally, the 'keep quiet' strategy worked. Allegations of homosexuality did not ruin me. 'Young love' topped the charts after the smear articles [Confidential], it did not influence taste and opinions of mainstream America. I learned street smarts the hard way, on the boulevards and byways of Hollywood. It prepared me for the stable of Henry Willson.'
He was beautiful as a child and a prince charming as a teen, escaping to a classroom at break to fend off girls and boys (who resented his adulation). Then there was the church organist. A neighbourhood girl tried to seduce him, he felt guilty, couldn't perform on command, then a police complaint (unfiled). Not a stellar first love.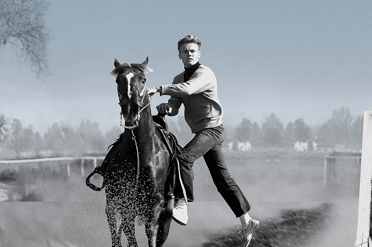 His brother Walt, only a year older, took him riding at the public horse riding club in Los Angeles. He fell in love with horses, and they proved a good excuse for not wanting sex. He dropped out of school, where he was more or less mobbed, and joined the coast guard at 15, experiencing a religious oneness in nature on the ocean.
Bars weren't my style. Sometimes curiosity would get the best of me, and I'd test the waters with other boys, intrigued and relieved to find other kids who shared my 'unspoken secret'.
A Hollywood actor-agent and horse lover, Dick Clayton, took a shine to him, insisting he should be a movie star. Then, in 1950, Art/Tab was arrested in a raid on a 'pyjama party', i.e., a gay gathering, but already his beauty and charm began to play its magic. Though he hadn't even audition anywhere, he was plucked from the others in his crowded cell, freed by an attorney who specialised in the discreet handling for agents, producers and studio bosses.
How could this handsome, athletic guy not be a movie star? That moment was in fact the future Tab's first 'screen test', though it would haunt him throughout his career. Art's future agent (friend of Clayton) Henry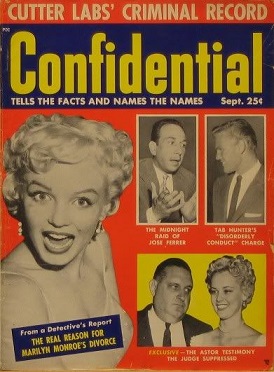 Willson (creator of Rock Hudson) knew all the dope on all actors. When Art/Tab finally dumped him, Willson took his revenge by leaking Tab's arrest to Confidential in 1955, when Tab was at the peak of a dazzling career.

Incredibly, in his memoir Tab Hunter Confidential: the making of a movie star (2006), Art/Tab writes that he bears no grudge. This was bound to happen as Willson was typical of Hollywood: Tab had abandoned Willson (who had done very little and got nothing in the line of favours from Tab), so he was fair game. Mentor and friend producer Edward Small told him: personality is a commodity. He joined a (messy) class action suit against Confidential, and breathed a sigh of relief when he wasn't called to witness.
That lack of hate and desire to 'get back' is the reason Tab had such a great life. A lesson for all. When things got bad, he always seemed to have enough money to retreat to his farm-of-the-moment with his beloved horses. He never seemed to make any enemies. He was always self-effacing, apologetic about his looks and sudden fame.
When he was asked to record something (it wouldn't matter if he had any talent), he went to the studio, and they decided to record 'Young Love', a new song, which hadn't caught fire. Two days later, it was on radio stations across the US, making him millions. His performance on The Perry Como show in 1956 is so awkward, ingenuous, it's touching. He bumped a furious Elvis from top spot for 5 weeks. Too much alike, they were never friends, but neither were into gossip.
Tab sang in a church choir as a boy, so he could actually sing. Despite feeling rejected by the church for his 'sin', he was a professed Catholic. He jokes how he'd pray for God to bless Sonja Henie, the reining world figure skating champion until 1936 and Hollywood star till 1941. He was also a competitive figure skater, winning regional pairs championships. His first love was the legendary spinner Robbie Robertson.
We shared something we wanted, it felt right, we allowed it to happen. Even if we could have talked about it, I doubt we would have. There were snide comments. We didn't have to deny anything. In 1953 homosexuality was denied by culture at large. Such things weren't talked about.
Robertson was told by the US skating federation not to let Tab come to the 1956 Olympics or he would not win. He told them he didn't care. And lost to the other American Hayes Jenkins. Tab's talent at charades is captivating in Stump the stars in 1954.
Tab's films eerily recap his life as image in Hollywood:
Island of Desire (1951) with Linda Darnell
Paired with Natalie Wood in 1956 (the new Hepburn-Tracey) in The Girl He Left Behind and The Burning Hills (not up to Hepburn-Tracey)
Gunman's Walk (1958, no father, psychopath, killed by father) directed by Wellman
Portrait of a Murderer (1958, insists on pleading guilty and being electrocuted) directed by Arthur Penn for tv
Damned Yankees (1958, handsome, funny, simple)
That Kind of Woman (1959) with Sophia Loren directed by Sidney Lumet
Judge Roy Bean (1972, bit part, executed),
The Arousers (1973, impotent so kills women)
Polyester (1981, made Tab hip to generation who'd never heard of him, helped Waters legitimize his filmmaking).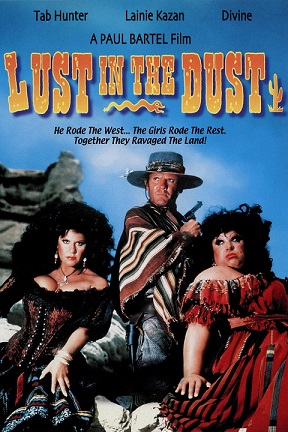 Prompted by Waters, he wrote a storyline for a spoof of westerns and finally got funding. Lust in the dust (1984) (Gregory Peck's name for his Duel in the Sun (1947)) is probably the film he is best remembered for .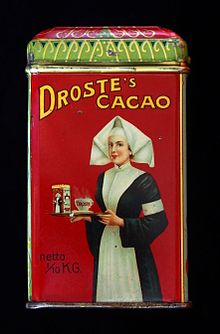 Tab was best playing Tab/ Hollywood icon, either 'straight' or as parody. Something like the Droste effect, where a picture recursively appears within itself, in a place where a similar picture would realistically be expected to appear. Inside the screen actor Tab is actor Tab playing the actor Tab.
Another Drost moment: When Art/Tab was 16 in the coast guard, his mentor and best friend Clayton invited him to cocktail parties when he was stationed near New York. This dazzling 16-year-old met Cole Porter! 'It was as if I'd gotten out of my seat in one of those Hollywood theaters and walked right into the movie.' A page out of a Woody Allen film.
The would-be straight hero-lover of the likes of Hollywood beauties Linda Darnell, Natalie Wood, Sophia Loren. And great directors -- Penn, Frankenheimer, Wellman, Lumet. He got lots of chances, had every perk that Hollywood offered, but just was no Brando. He blames his failed career on his bad acting, but that was actually what saved him. The higher you climb, the more perilous. Just ask Montgomery Clift, Anthony Perkins or Rock Hudson.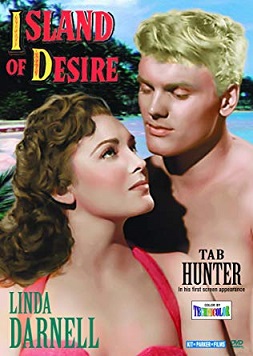 Though disparaged (his mother told him 'you were terrible'), his best film to me is his first. He was who he would like to be. A platonic vision, a boisterous, pouting, uncouth teen, educated in the school of hard knocks, straight, a military hero (his brother was killed in Vietnam in 1964), a Robinson Crusoe, lover of the Hollywood beauty of the day. His famous kiss with Darnell worked as a fantasy of all guys.
Tab insists he never 'acted straight'.
I was painfully isolated, stranded between the casual homophobia of most 'normal' people and the flagrantly gay Hollywood subculture, where i was even less comfortable and less accepted. I never 'acted' straight to get by. What you saw was what you got. What you didn't see was none of your business.
A Hollywood fluke that is now a metaphor for Hollywood itself.
His most meaningful role artistically, with lots of anguishy overtones, was on Broadway, The Milkman Doesn't Sop Here Anymore by Tennessee Williams, with Tallulah Bankhead playing (badly) herself.
Everybody has a sense of reality of some kind of another, some sense of things being real in his particular world. And when one person's sense of reality seems too disturbingly different from another's, he's avoided. People hang labels on the people that disturb their own sense of reality too much.
It opened January 1, 1964, a month after Kennedy's assassination and folded after three performances. 'I feared I was in danger of being an icon of the era that Kennedy's death wiped out. The day the 50s ended.'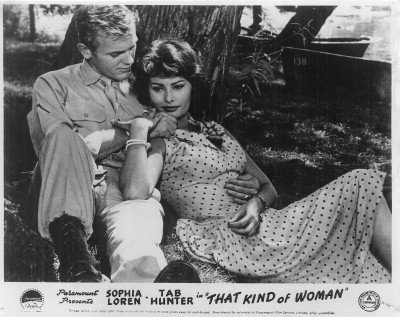 He pulled it off, even though Loren's biographer writes,
with Tab Hunter as her costar, Sophia had to struggle to make it seem believable that she could ever seriously fall for him, let alone desire him for a husband. … Tab Hunter's homosexuality was no shock to Sophia, but it was apparently one reason why their love scenes lacked fire.
Tab takes umbrage, but it rings true. At 27, he was not believable as an adult love interest. And he wasn't a great actor.
Tab played the game, didn't rock the boat, so he was accepted till he wasn't a money-maker. He realized that was the game and that his time was over. So he got out before Hollywood killed him. So began a second (hellish) life in touring dinner theatre, earning enough for the next horse farm and early retirement. Middle class women were his heart-throbbing fans, dragging their pot-bellied husbands to recapture a lost youth. He was living off his past glory, and it was grueling. Imagine playing a thousand performances of Here Lies Jeremy Troy.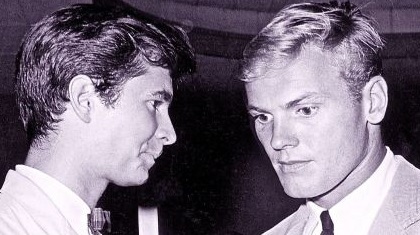 His great love was Tony Perkins, though Perkins finally ended their clandestine affair, got married, had two kids, and died of AIDS in 1992. Tab offered him the lead in Lust in the Dust, but Perkins was still struggling to hide his 'secret' as best he could, not realizing that his time playing the part was coming to an end, and it wouldn't really matter anymore. Their affair was sad, but that's life. Tab's later partners were all clones of Perkins. A nice tribute.
Tab's acceptance of the way Hollywood and he used each other, and his peaceful, joy-filled retirement contrasts with Perkins' final bitter words. Elaborating on his experiences with AIDS, he wrote:
There are many who believe that this disease is God's vengeance, but I believe it was sent to teach people how to love and understand and have compassion for each other. I have learned more about love, selflessness and human understanding from the people I have met in this great adventure in the world of AIDS than I ever did in the cutthroat, competitive world in which I spent my life.
If Tab has a lesson for gays, it is to not be gay. To live your private life privately.
Accepting that I was wired differently was no cause for celebration. Being 'proud' of your homosexuality was a concept still years away. Not that I'd every feel that way. It's like saying you're proud to be hetero. Why do you need to wear a badge? You simply are what you are. Everybody knew it took all kinds to make a movie. An acceptance that didn't exist for car dealers in Omaha. I didn't have time to 'uncover' my inner self. All the babble about tunneling inward, burrowing into one's soul. How egotistical to assume the answers are in your little brain. I always felt close to an 'answer' when riding.
He only wrote these memoirs to preempt a biography of him that his partner/ agent warned him about.
His epitaph:
I believe in god and I owe him all my gratitude and humility for blessing me with two precious gifts---life and free will. Every day say thank you. That's what life is all about.