1/ Manial
2/ My Arab godson
3/ Al-Ahram
4/ Bringing down the Brotherhood
5/ Sisi – Muhammad Ali redux

1/ Manial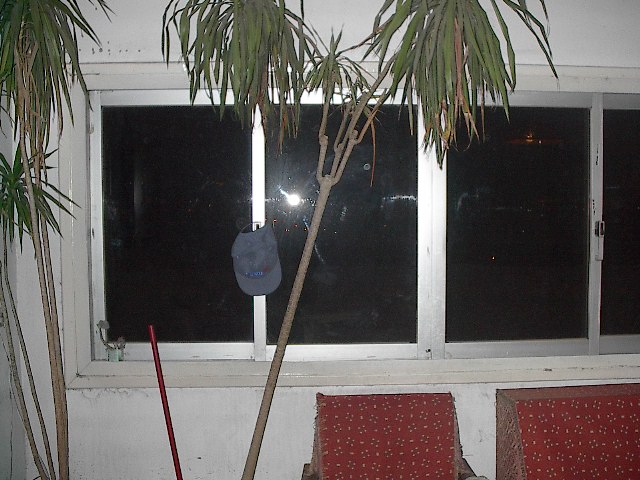 I stumbled into Cairo after Tashkent, where I had stumbled across Islam, courtesy of dictator Islam Karimov, who – despite his name – persecuted brave Muslims mercilessly, and impelled me to recite the shuhada, at first, more as a sign of solidarity. I was now determined to learn Arabic, read the Quran, experience Muslim culture first-hand and test my enthusiasm for Islam.

I found the Fajr Centre for the Arabic Language, founded in Cairo in 1995, online. The new session was beginning in January 2007. Fajr (dawn) is for new enthusiasts and prospective imams, affiliated to the Egyptian Ministry of Education and al-Azhar, and located in Medina Nasser (Nasser City), which I was to discover is a sprawling suburban near the airport. Transportation in Cairo is a nightmare, be it by taxi or public transit. Virtually all Fajr students share digs near the 'institute', which is modest to say the least, but I immediately liked it, despite the anonymous suburban clutter. The administrators and my teacher were clearly devout Muslims, and warm, friendly people. This was not for rich secular westerners, who studied at the AUC or one of many private institutes down town, at three times the cost.

I heard of a Canadian-Egyptian artist who lived in Manial, the southern-most large island of Cairo, perched just upstream from more upscale Zamalek. Anna responded to my query,
offering the vacant apartment next door. The 'apartment' was one of two shacks atop a 9-storey genteel 1930s apartment building on the east shore of the island of Manial, with a channel of the Nile and the Corniche directly underneath, in the heart of Cairo. Straight out of The Yacubian Building (2002), the current best-seller by Egyptian author (and dentist) Alaa el-Aswany, made into a film as I was packing my bags for Egypt in 2006, and into a TV series in 2007. A good omen, I thought, and it became a kind of Bible for me, where I learned my Arabic watching the daily episodes, along with other musalsal (tv soap operas) over the few years, like a textbook, as I struggled with Arabic. It is set in a real-life, dowdy, but still elegant Art Deco-style 1930s apartment building in downtown Cairo, much like the one I was to call home for the next six years, populated by a bizarre cross-section of Egypt.

My rooftop eyrie, eerie with its ghosts of past rooftop dwellers, was a scaled-down version. The real thing was a whole village, crammed onto the roof. The book-movie is a biting condemnation of a nation that has squandered its promise and which has been forced to compromise its own principles, resulting in a corrupt and undemocratic political system dominated by a single party (the fictitious "Patriotic Party", a thinly veiled version of Egypt's National Democratic Party under Mubarak), a society whose most talented members abandon the country for promising careers abroad, and an increasingly disenchanted and restive populace that has no loyalty to the government and which sees extremist Islam as one of the few viable options to counter growing poverty, economic stagnation, moral degradation and social alienation. Despite its unremittingly devastating dissection of Cairo, its colourful characters make it a compelling, heart-warming read. I visited the real Yacoubian Building on Talaat Harb Street (still referred to by its old name, Suleiman Pasha, Muhammad Ali's  French-born general). It hasn't changed much over the years, but its entrance gate is more securely locked than mine in Manial against gawkers like me.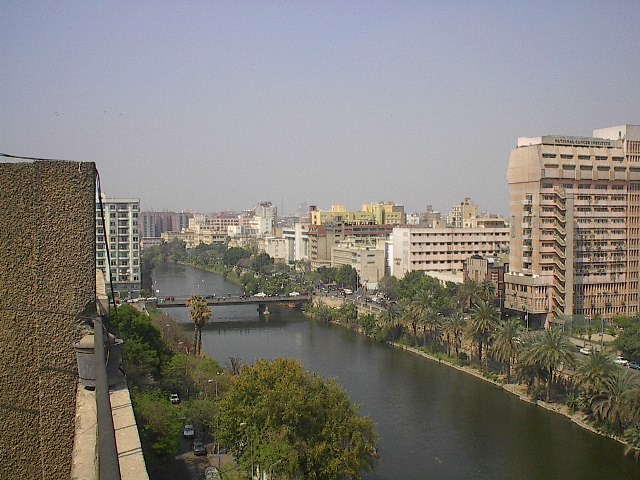 One look at the panorama of the Nile below my eerie and I was determined to rough it out. It sounds great in retrospect, but over time, proved less and less a place to actually live. My eccentric rooftop neighbour Anna Boughiguian, the Armenian Egyptian author of Anna's Egypt: an artist's journey (2003),  herself spent months at a time visiting artist friends in Germany, following the trail of the Dalai Lama, whatever. Her flat was more a studio/ storage shack. The lock on the iron gate at the entrance was mostly broken or left unlocked, which made it convenient for visitors, both expected and unwanted. She was a militant secularist, representing the large and frightened class of westernized bourgeois who thrived under Sadat-Mubarak. She had no use for either Nasser's national socialism or the Muslim Brotherhood (MB), both of which I cherished. Over time, I came across many such Egyptians.

Manial's claim to fame on its north end is the Manial Palace, built by Prince Mohammed Ali Tewfik (1875―1955), the uncle of King Farouk, between 1899 and 1929, in a style integrating Art Nouveau, Rococo and Islamic architecture styles. It was endlessly under repair when I lived there, now mostly just a nice bit of greenery without a sidewalk accessible by pedestrians, hence, a rare stretch of the Corniche without garbage thoughtlessly tossed down the embankment. Much of the palace land was requisitioned to build a Meridian hotel. On the south end of Manial there is  the Nilometer, original dating from 861 AD, but the modern structure is just an anachronism, after the completion of the Aswan Dam in 1970, as the water level of the Nile is now regulated. The dams on the Nile, the first built by the British in 1902 and the monumental Aswan Dam in 1970, built by the Soviet Union, dominate Egypt-Cairo's life, having tamed the Nile, with all the advantages and problems that dams entail.

The students I met at the Fajr Institute mostly ended up just conversing in English, French, Russian, Bengali, etc., while diligently parsing difficult classical Arabic grammar and memorizing passages. Most could read Arabic script fluently, as they were mostly Muslim by birth and had attended Muslim classes to learn to read the script, but without any understanding. That was not what i had in mind. I wanted not only to understand what I read, but to gain enough fluency to function socially. The six-week course at Fajr taught very little grammar, and no conversational skills, but it was a start. The textbooks were Saudi – big, shiny, very multicultural. My class was level one, a wonderful group of nine, mostly from the former Soviet Union, which meant we spoke more Russian than Arabic after class.

I marvelled that as I was being politely expelled from Uzbekistan (dictators steer clear of western passports) and preparing to go to Cairo, these eight fellows were scraping together funds and finagling visas from Russia, Kazakhstan and Kyrgyzstan (no Uzbeks made it), resulting in our meeting in this spartan, drafty classroom far from our far-flung homes, wearing our winter jackets and gloves in the chilly Cairo winter. I connected immediately with Abu Bakir from Chechnya, and we talked politics (in Russian). He insisted I take a Muslim name, 'christening' me Ali, and he instructed me on the intricacies of Muslim praying – the times, the Arabic expressions, the ablutions, the Tashahhud prayer. I was expecting to hear words of anger for the horrors of Chechnya inflicted by the Russians, and a desire for revenge, but was surprised when he told me, "Ali, it was not so bad in the Soviet Union. I was a trader and lived the high life. We got along fine with Russians. We lived better than they did! The collapse of the Soviet Union was a tragedy. That's when the trouble began, with crazy plans for independence. The Russians will never let Chechnya go. Yes, the killing is terrible, but it will stop and things will settle down. Life will be good for my kids. We can worship freely. That's what's important. When I go home, I will bring my children up to be good Muslims. No need to keep fighting." Abu Bakir had lost everything since 1991, including many of his relatives, but I could tell he was a go-getter and would succeed wherever he was, secure in his faith, well educated, universal in outlook. He had taken the best of Soviet life and was letting go of the bad of 'independence'.

"Welcome to Egypt!" I have heard this many times during my four hours of crowded, stuffy buses each day. People from all walks of life, most of whom don't know another word in English: the policeman calmly flashing a toothy leer at a chaotic intersection between Medina el-Gadida (New City) and Medina Nasser, who stopped traffic to scrawl instructions; the helpful bus traveller flashing his toothy, yellow smile as I haltingly ask which buses go there for future reference; the long-suffering, bored bus driver who promised to tell me when to get off and promptly forgot, graciously allowing me to ride back free and stopping till I did.

My thirst for Muslim experiences led me to an American Sufi, a American University in Cairo sociology prof, Abu Hai Naq, who related the numeric significance of the Semitic scripts on our hour-long car ride to a Thursday evening zikr. An 11th century mosque in Aleppo was built according to the the architect's wife's name. The builder was a Sufi and the dimensions derived from her name. I was skeptical of this magic totemism but Naq argued that just speaking the ancient sounds brings one closer to God. Idris Shah counters this in Learning How to Learn: Psychology and Spirituality in the Sufi Way (1996) by saying prayers by rote, without understanding, is useless. I wanted to side with Idris Shah, but my own fascination and obsession with learning Arabic suggests the sounds have a special quality. I want to articulate (even by rote) the sounds the prophet used to transmit the message from beyond. But just as important, to understand them. My enthusiasm for real understanding of Islam just by learning Arabic flirts with misplaced concreteness, but is a blessing as well. The blessing being the challenge of the arcane text, forcing me to be creative in deconstructing the text, fashioning the meaning based on reason and study, a kind of ijtihad. There is no excuse for intellectual laziness in Islam, but true understanding requires going beyond mere words, whether in Arabic or English.

The zikr was at a spooky Ottoman mosque/ graveyard buried among modern blocks of flats. Sufism is generally frowned upon in mainstream Egyptian society, and there are only a few mosques which allow zikrs 'after hours', so it was an adventure. The Shia-like chanting, reaching an ecstatic state with clapping and singing, was followed by a tasty repast. The Sufism of Cairo is the Naqshibandi tariqa (path), which dominated religious life during the middle of the 19th century in Egypt. This colourful mysticism was frowned on by the British occupiers, Nasser and, since the 1970s, the secular establishment and Salafi. The Turkish Cypriot Sufi Muslim Sheikh Nazim is the spiritual leader of the Naqshbandi tariqa, and on my ride home, French-speaking Fazil urged me to "venez avec mois a un festival cet ete avec Sheikh Nazim en Chypre." We were listening to Cairo radio's Chopin hour (syrupy nocturnes), driving on the spaghetti expressways weaving through Cairo in his Lexus, and I thought: nice and cultured as Fazil was (we went to a bridge club a few times), I was not here to listen to hackneyed Chopin, play bridge, or to flit off to Cyprus to follow the guru of westernized Muslims. This is not the Cairo I'm looking for.

Omar, a Surinamese, born in Holland,  befriended me on the bus near Fajr one day, and invited me to iftar in his digs (with five other students) and prayers at the nearby mosque. "We must love each other as Muslims. We must share equally." Much like my teacher Fuad says, "I teach you because I love you as one Muslim loves another." A fascinating variation on the Christian 'fundies' I have experienced in Canada. I use this diminutive not as a slight, but rather to suggest the refreshing naivete of the best of both Christian and Muslim fundamentalists. My US cousins in Minneapolis are evangelicals, never missing a Sunday service, and attending a Bible study group every week. They volunteer for charity work (mostly with the elderly rather than the poor). But they are literalists, reading the Bible like Omar reads the Quran and sunnah. There is no sense that one must wrestle with the scriptures to make sense out of them in today's world. They mean well, but this bad epistemology is sterile, if not downright dangerous.

What a contrast with the very westernized Sufis I've encountered here, though the Sufis strike me as naive in a different way, following a guru, justifying their bourgeois lifestyle with ecstatic zikrs, but also disconnected from the social, political and economic challenges of the world around them.

And then there are the westernized lumpen Egyptians, more cynical than naive. Waiting for the creaking rusty trolley in a car-infested suburbia across from a stately mosque, I spotted a teenage girl in an orange headscarf with a tight, black t-shirt barely containing her hanging breasts with "Love Boat Have the Girls" emblazoned in complementary orange caps, chewing her bubblegum. An act of defiant protest, though the angry girl doesn't know against what.

My touristy activity in Cairo was attending jummah at different mosques, the most imposing ones luckily within walking distance or a short "marshrut" (van-bus) ride from Manial. My favourite was the Salah al-Din mosque, a 19th century tribute to 'Saladin', on the west side of Manial at the bridge to Giza. The al-Rifai Mosque (1869–1912) is across the Nile, visible from my eerie, named after the medieval era Islamic saint (1118–1182), founder of the Rifai Sufi order, born in present-day Iraq. With a touch of 20th century irony, it contains the tomb of the Shah of Iran, who Sadat invited as the Shah was wandering the world, abandoned by his patron the US, dying of cancer in 1979. This homage is a conflicted one, only a modest posy of flowers at its base when I visited, attracting a few westerners and stray Iranian emigres, the shah's legacy as an abandoned US puppet having no more than curiosity value today.

Also within walking distance was the Mosque of Amr ibn al-As, originally built in 642 AD as the centre of the newly founded capital of Egypt, Fustat. The original structure was the first mosque built in Egypt, the site of the tent of the commander of the Muslim army, general, a companion of the Prophet and credited with the conquest of Egypt in 640. One corner of the mosque contains the tomb of his son, Abd Allah ibn Amr ibn al-As, but the rest is the result of reconstruction over the centuries. A visit during Ramadan in 2009 to pray was awesome, feeling the weight of history, the mosque bright, spacious and packed. Unfortunately, there is little greenery around any of these places of worship, only clogged roads and crowded sidewalks.  I also prayed at the more modest prayer halls dotting the streets, small narrow rooms wedged between stores and residences. It was delightful to just slip in to one when the muezzin called to prayer, like a social instinct, kept in tune by the thousands of centres scattered everywhere.

I found I was not really welcome beyond superficial polite hellos in my building. My shack's previous tenant (French) was a bit of a scandal, using it as a bachelor's flop house, as Anna explained later during one of our few interludes of truce. I never came to know many of the building tenants. Occasionally on the lift, I would greet a Saudi in full regalia, and learned that several of the flats were used by vacationing Saudis. But they are even more aloof with foreigners than Egyptians. Thousands of Saudis spend months in Egypt, mostly in the summer, Egypt's furnace being a refreshing relief from the Saudi furnace. It is a chance to unwind, drink booze, and wallow in decadent quasi-Muslim culture. Cairenes have a love-hate relation with Saudis, envious of their wealth, but secretly contemptuous of their boorishness, lack of culture, seeing Saudi Arabia as a kind of rich purgatory, best reserved for the haj. Egypt is tied to Saudi's purse strings, and Egyptians bridle at the Saudis flaunting of wealth, their love of prostitutes and the purchase of young Egyptian brides. The protests over Egyptian President Sisi's 'gift' of the Tiran island to the Saudis in 2017 highlights the widespread resentment―and Egypt's dilemma―a rare example of public protest in today's Egypt.

Internet cafes dot Manial, and being without a computer, I made daily excursions to one or another of them, still looking for a silver bullet for learning Arabic and deciphering Cairo. The Fajr programme was oblivious to the use of Arabic as a lingua franca. An American woman I met later at al-Ahram, Julie, told me, "I studied four years of classical Arabic at university in the US, came to Cairo, and asked where I could buy a fishing rod, and was greeted by shock and laughter." (It struck me they may have found her request just as bizarre as her Fus-ha.) I already sensed that, and found a lead to the University of Cairo, which I discovered (stumbled upon) just across the Nile in Giza.

2/ My Arab godson

This time my stumbling landed me at the Centre for Eastern Studies in Cairo University, offering Arabic and Hebrew, though only Arabic seemed to be taught, located in a small,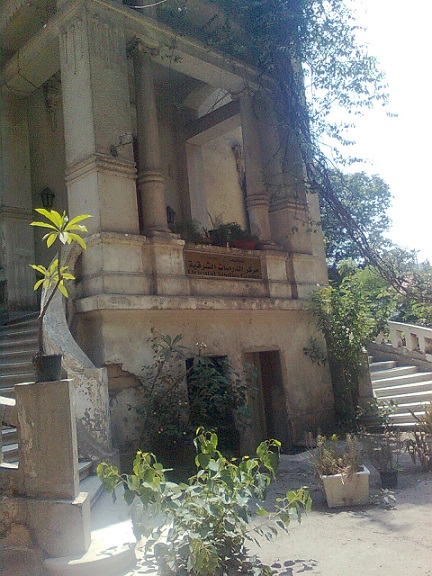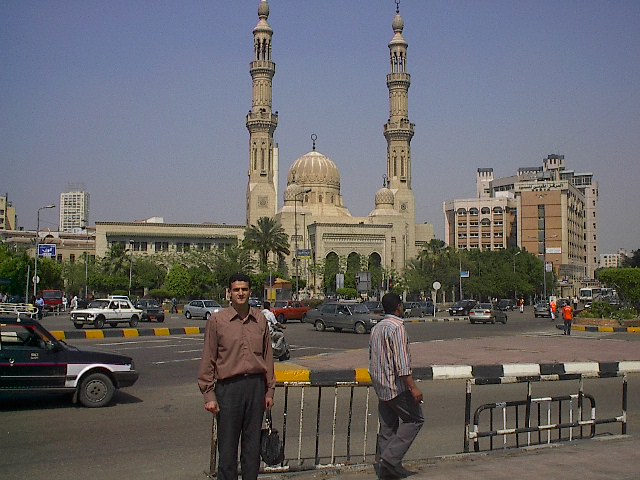 dilapidated palace of a princess near the Cairo Zoo (one of my few concessions to tourism was taking visitors to the zoo as you would to the CN Tower in Toronto or the London Eye). I registered for a month, joining the last half of a class of Korean students. It used the same wooden, tedious methodology of Fajr, guaranteed not to result in any ability to speak Arabic. But with advantages: 1/ it was nearby, a  must in Cairo, where a normal commute takes one and a half hours, 2/ with a friendly young office clerk, a new father, Mahmoud, who I quickly befriended and convince to teach me colloquial Arabic at home. This was strictly forbidden–no private coaching–but we made a secret pact, and a blind eye was turned (if it saw anything), as Mahmoud's salary skyrocketed from $8 a month, most of which went to pay for three marshrut from his village Nikla, 20 miles north in the delta.

I felt like my real voyage of discovery of Cairo and Islam had finally begun. Mahmoud Shaaban more or less adopted me (his father had died of Nile liver disease at age 40). He spoke little English, though he had studied it all through school and college, which helped us without him constantly breaking the spell of my thinking in Arabic. For the next five years, Mahmoud would slip away twice a week after work (as a school, the Centre ended its workday at 3pm) with a cardboard container of foul (beans) and chipsty (freshly made potato chips) from a street kiosk. When in season, he would bring artichokes, which he tore into and ate raw, with relish.

For a Muslim, to 'sign up' a convert puts you on the fast track to jannah, so Mahmoud insisted on taking me to al-Azhar one day to the department for registering new Muslims in the Office of the Grand Imam, where I recited the Shuhada and Fatihah and signed on the dotted line. It was almost worth becoming a Muslim just to feel the joy in Mahmoud, his family and the Azhar sheikh.

Cairo has the world's second-oldest university, al-Azhar University, founded in 970 by Sunni Egypt's Fatimids, a now forgotten historical footnote. You might think it makes Egypt the perfect intermediary in Sunni-Shia understanding, and indeed, al-Azhar recognizes not only the four Sunni schools of jurisprudence, but the Shia Jafari school. However, virtually all Egyptians are disdainful of Shia, both the devout – suspicious that they are trying to convert Sunnis with their veneration of Ali and Hussain, and the secularists – fearing Iran as a dangerous example for Egypt's Islamists, intent, so they assume, on creating a genuine Islamic state.
 
Today, despite British, Nasserist, Soviet, American and now Sisi-ist pressures, al-Azhar is still the centre of Arabic culture and Islamic learning in the world, and sponsor of the Fajr Institute, where I planned to study. In 1961, under secularist Nasser, additional non-religious subjects were added to its curriculum, keeping to the Muslim belief that science and religion are indelibly linked. Its ulamas render fatwas on disputes submitted to them from all over the Sunni Islamic world regarding proper conduct for Muslim individuals and societies, published on its website. Al-Azhar also trains Egyptian government-appointed preachers in proselytizing (dawa). It has a more colourful history than might be expected. The 19th century reformer, the Persian Jamal al-Din al-Afghani, a Freemason but also an Islamist, was a frequent guest of his Egyptian collaborator and fellow Freemason, al-Azhar chief mufti Muhammad Abduh. Abduh was promoted by the British in Egypt and eventually was appointed chief mufti in 1899 until his death in 1905, deftly manoeuvring between the British, the Khedive, the nationalists and Islamists.

Mahmoud and I also went to the theatre, which I didn't really understand, but knew was 'good for me', and Mahmoud enjoyed himself immensely and would explain the plot. He had never been to the theatre, and his life with me was a new life, challenging his beliefs, as he imparted his own deep faith and gave me insight into his life as a poor young Egyptian villager, struggling with the temptations of cosmopolitan Cairo. Our attempts to travel beyond Cairo and his own village were not much success. Neither of us were tourists and Egypt is not tourist-friendly for simple people or free spirit middle-aged hawagas. The 2-3-hour trips to his village Nikla were exhausting (what isn't exhausting in Cairo, in the chilly, unheated winters, and blistering, merciless summers?), though the last bumpy, crowded hour out of Cairo was at least dotted with brilliant green fields of sugar cane or vegetables, a view of the Great Pyramid, and felaheen toiling away. But also passing through cluttered, unkempt villages, where garbage was piled randomly and stagnant canals were full of slime.

Always a tasty meal, served modestly by Mahmoud's lovely wife Nagla, with his daughter Miriam and son Abdul-Rahman crawling over us. Usually just Mahmoud and me, but sometimes his closest friend and nephew, Muhammad, and others. I met one of his six brothers once, another Muhammad, who was a bit of a rake and offered me a toke, much to Mahmoud's dismay. Mahmoud later confessed he smoked dope on occasion, but considered it haram and refused to help me obtain any. "I can't be a corrupter of you. That would mean I'm doing Satan's bidding." I suspect Mahmoud didn't really want to share me with anyone else, or maybe his brothers were suspicious of this hawaga friend.

My life with Mahmoud encapsulated much of Cairo with all its contradictions for me. Sincerity of belief, abiding friendship, politeness with foreigners, but hunger for the promise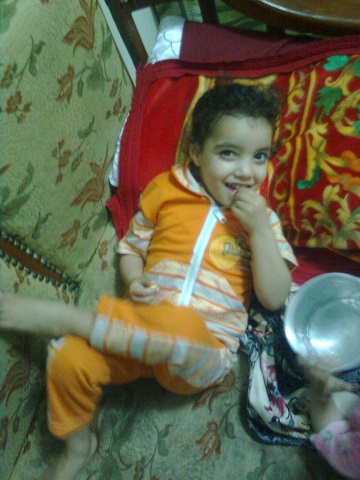 that western media held out and that I symbolized, suspicion, resentment, disdain ... It's hard to put my finger on it. I suspect it's the traveller-writer's bane: you never really integrate, you are grateful to find and cultivate a friend or two.

One evening after our lesson, I walked Mahmoud to the bus stop and we chatted, waiting at least 10 minutes. No bus. He was hurrying to the pre-wedding party of his younger sister. A 10 year old girl heard my stumbling Arabic and started staring at me as if I were an animal in a zoo, whispering to her black hijab-wearing mother. I stared back, irritated after an exhausting 3 hours of speaking Arabic, and embarrassed. Mahmoud was uncomfortable and decided the next bus would do and I walked off to buy some food. It was sunset and the bakery that I like to frequent, humble and good quality, was already shuttered. I walked on and there was Mohammad, the fruit drink seller, shuttering his shop.

"Ali, where have you been? Come to prayers... Have you prayed today?"
As it happened, I had. Fajr (3 hours late), zuhr, asra (with Mahmoud). Mohammad smiled to hear that. We were joined by his 2 young cousins and an older brother and wound our way through the twisting back allies to the 18th century Ottoman mosque, open in the middle with the sky glowing above, with solid stone walls and ornamental painting on the lofty ceiling. It was angled, almost triangular in shape, making it seem even more unworldly than usual, with jallaba-clad men lined up with blue-jeaned youth in t-shirts. We first made our ablutions in the clean but very wet washing room. Then I went with a young cousin to pray and ended up beside a handsome, modest teen, who was not embarrassed by physical contact of feet and shoulders with this odd visitor, as Muslims are instructed to do during prayer, though on my other side, the fellow did not touch, and seemed resentful of my invasion of his world.

These thousands of men of all walks of life all touching as we prayed tonight in the majestic cathedral mosque in the dirt poor neighbourhood aren't just having the second-hand brief spark of experience that, say, we achieved at a suburban United Church in Ontario. They do this five times a day and really believe it. They have conserved their spirit, inculcated since childhood and maintained through the years by the constant prayer, gruelling fast and intense celebrations that characterize Islam. Hence the naivete of Muslims and lack of Judeo smarts, despite the common monotheistic, semitic heritage. That's why they can't seem to make the real world work to their advantage. It's just not important enough. Their real life is on another plane, and their crass political leaders are the real chumps (fat cats though they be).

The subtlety of determining how intimate your fellow supplicants want to be is perhaps a secret chance to share a moment of spiritual connection, with only Allah observing. I marvelled as I wandered out of this magical journey into another dimension, and put my sandals back on with Mohammad, that Muslim men have a wonderful channel for intimacy, alien to western secular behaviour, which dehumanizes, reduces everything to sex and money, creating slots for humanity, be they race, class, sexuality. I often think of Malcolm X's epiphany at Mecca in 1964. In letters from his trip, he described scenes of unimagined interracial harmony among "tens of thousands of pilgrims, from all over the world. They were of all colors, from blue-eyed blondes to black-skinned Africans." His greatest struggle was to bow down and touch his forehead to the ground in humility. He got up and shed his hatred of whites, embracing Islam and equality of all peoples.

Another high, talking about Sufism, Islam, Handel's Messiah, and glimpses of heaven, as medical student Haitham and I leisurely crossed the Nile on the Gamaa bridge from Giza to Manial, watching lovers leaning over the rail, the ferries floating past, the cool, clean night wind blowing in our faces, the wedding cortege (clap-trap b/w taxis) with young Egyptians hanging out the windows by their knees, hooting and waving. There is no end to the wildness and chaos, the joie-de-vivre here, all sans alcohol. Such a sense of grubby, but real civilization, without the sexy ads celebrating the drunkenness that is so ingrained in partying in Canada.

Recovering from the usual hawaga digestion problems, I decided to risk a lunch of qushari (lentils and macaroni) yesterday. I wanted the nice half-litre plastic container for my kitchen set, and the meal costs only LE2 (LE Egyptian pounds). The server stood at the raised counter like a high priest surrounded by huge vats of lentils, chickpeas, macaroni and crispy fried onions, like the percussionist in an orchestra surrounded by his shiny timpani and kettle drums. Before I could catch my breath, he had scooped up the macaroni, flourished a dollop of lentils and threw a large spoonful of chickpeas and onions in the air, catching them expertly in the container, dropping in pouches (plastic of course) of hot sauce and vinegar as he smiled at me. A magic trick, an offering to the gods (just joking). Speaking of which (another day's topic) you don't joke about religion here. From starving street persons to fabulously rich businessmen, this is indeed sacred (even secularists are careful), tho I'm constantly flummoxed by the unbelievable disparity in incomes. Only the MB addresses the economic disparities, and of course is harshly persecuted as a result.

3/ Al-Ahram

My life was up for grabs after Fajr. I was still 'full time' enough at the University of Cairo to extend my visa for a year, thanks to Mubarak-era lax visa requirements. Could I aspire to study Islam at al-Azhar University? No. Prospective students from abroad spent at least two years intensively studying classical Arabic, as I had witnessed at Fajr. After two years, they still couldn't converse easily on the street, and that was my priority. My love of writing (and adventure) trumped my desire for a scholarly background in Islam. With no income, my only hope of staying was to work. In the past, I had worked as a freelance journalist in Moscow and Tashkent, and as a translator of books, and English stylist at  newspapers, but that was from Russian to English. My Arabic would never be good enough for translations, but there were at least three English-language newspapers, and I made the rounds over the next month, stumbling–again–across a copy of al-Ahram Weekly, which I found buried among the Arabic newspapers of a street hawker in Giza, near the university. You never see foreign language newspapers as a rule, so my sojourn at the university was a lucky stroke. Ahram means ruins, as in pyramids, which is the newspaper's emblem, fitting in more ways than one, as the leading newspaper in Egypt, home of the pyramids and a country in ruins. Al-Ahram was founded in 1875, and is the most widely circulating Egyptian daily newspaper since Nasser, state-owned.

There was an email address on the editorial page, and without any expectations, I fired off a letter touting my credentials and availability. The next day at the internet cafe, I was pleasantly surprised to see an answer, asking me to come immediately for an interview. Chapter 2 of my life in Cairo was beginning, as I took the metro to Urabi station and queried my way to the imposing 12-storey Ahram buildings (I & II) on Galaa St. The English edition (founded in 1991) was on the ninth floor of the old building, and I entered its mini-labyrinth, had several interviews, and was given a trial, along with the other prospect, who had already been interviewed. I had sent my application just in time to give editor-in-chief Assam el-Kirsh and managing editor Galal Nasser a choice. My competition was Mel Frykberg, a tough-as-nails South African/ Australian journalist (like me, of Swedish descent), who had already lived and worked for eight years as a correspondent in Israel. Sounded like a walk-over for Mel, but I had to have this plum job. Did I have a chance? We were asked to work in tandem, writing something for the paper, and editing some copy of the local journalists, who all wrote in passable English. Despite her many years experience, Mel knew less Arabic than I did, and my Cambridge degree (and gender, as 80% of the staff were women) tipped the balance with these secular Anglophiles.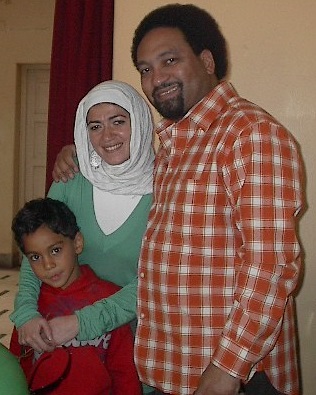 The Weekly staff was in two camps: militant secularists and a smaller contingent of quiet, devout Muslims, who lived peaceably, respecting the differences, with a surprising lack of censorship, though the limits of the state-owned paper were more or less clear. Most of the women were sans hijab, pampered children of the old secular elite, though a couple would flirt with hijab from time to time, more as a fashion statement. I moved between the two groups, my disputes being with the secularists, who viewed my praying in the hallway with the believers with curiosity and even amusement. I sometimes missed the adhan, hard at work with a deadline. The praying staff were a minority, mostly the errand boys/men and other service staff, but with some journalists. There was a prayer cubby hole in the waiting room for women and others who disdained the mostly plebeians praying by the elevator.

The secularists accepted that I was still a plus, despite my eccentricity, there being only one other hawaga on staff, the pompous Brit Nigel, who was even more eccentric, my secular nemesis, now a recluse, refusing to come to work, sending in his style editing from home. I reluctantly entered a Paul Bowles world of the decadent expat, who relies on his passport and foreign chicness, his violation of the status quo tolerated more for his entertainment value than his productivity. There was more in common between myself and the secularists in tastes and life style, though that changed over time. The chain-smoking atheist culture editor, Yousef Rakha, gave me free rein on book reviews, my articles on culture clash, reading the Quran, and western converts to Islam, and my obit for Osama Bin Laden. As long as it was readable and intelligent, he was happy. We even squared off on Judaism vs Islam.

Nigel was the culture hawaga, a cynical secularist, so he was not happy with me horning in on his territory, but perhaps my Islamic bent was seen as providing the balance that was sorely lacking at the Weekly. Instead of feeling threatened, he made use of me as a stop-gap, disappearing into Sinai to write a novel, where he lived in a cabin on a mountain side during my last two years at the Weekly. He would have been out the door in a western paper, but this was Egypt, where socialism survives, if only in terms of job security, though Assam never seemed to get around to giving me a contract, leaving me at the whim of management. I sensed that I was not indispensable if someone else showed up, but who knows? However, relations remained friendly, and in the end, it was my choice to leave.

Friendly except for one snag. My office mate -- divorced, withdrawn, depressive Raya, a 40ish overweight, mournful woman, who had lived her youth in Tripoli, where many Egyptian scientists worked for the high salaries of oil-rich Libya, holding their noses and saving money for their return to Egypt. Libya was a rarefied atmosphere of paranoia and isolation, but a much higher material standard of living that Cairo offered. I asked Raya shortly after arriving: "If you could choose an era in Egypt's history to live in, what would it be?" I thought she would say Nasser or Sadat or even King Farouk. She lit up: "The era of Muhammad Ali, when Egypt was opening to the West, catching up on the enlightenment." Perhaps Raya decided I was her ticket out of Egypt, which was not to be, and when it became clear I was not in the market, things became as icy as the frigid a/c and as dreary as the windowless prison we were forced to share. I saw the wisdom of Islam's segregation of the sexes, or merely of Nigel's routine, showing up less and less at work, doing my writing at home or scheduling my office visits to avoid the friction, much to the displeasure of the editor, who refused to move me.

Despite Raya, the Weekly was a godsend for me, as I was soon promoted to the 'American correspondent', writing about  Canada, the US and Palestinian-Israeli issues, which are inevitably American issues. My patron was Gamal Nkrumah, son of Kwame Nkrumah, Ghana's first president, ally and soulmate of Gamal Abdel-Nasser, heir to the heady secular socialist project of African and Arab unity and socialism. Gamal, like his father, is a larger than life persona, living in the family mansion on the Nile in Helwan, built by Nasser on the southern outskirts of Cairo for Kwame Nkrumah's family after he was toppled in the 1966 coup. Gamal liked my anti-imperialist credentials, my love of socialism, the Soviet Union and third world liberation – my earlier incarnation. He was a reluctant Muslim, divorced with two young sons. He never saw his father after the coup, spirited out of Ghana on a military plane which Nasser sent for the Nkrumahs. Kwame chose to go into his own exile, first to Guinea and then on to Romania, where he died in 1972. Gamal was the foreign news editor and was happy to unload much of the foreign news onto me, more interested in doing restaurant reviewing, interviews with visiting media stars, and culture pieces.

The Soviet Union was Egypt-Cairo's third motherland, replacing France and Britain, as Egypt's sponsor under Nasser, but very much the unloved stepmother. The engineers who came to build the Aswan dam were watched by their KGB minders, and Nasser was a reluctant Soviet ally, wanting the financial and economic support, but also wanting his own version of a socialist Arab nationalism – Nasserism, and control of Middle East politics. It's hard to say what would have happened if Nasser had been more obedient as a Soviet ally. He was caught between the MB, whom he ruthlessly repressed, and the nationalist westernizers, who were mostly cynical about his socialism, but happy to promote Egypt as the head of the Arab world, abiding his dictatorial regime, as it kept the Islamists in check. When the shock of the 1967 defeat by Israel receded, Egyptians felt betrayed by their socialist stepmother, and when Nasser died in 1970, his successor Anwar el-Sadat maintained the Soviet alliance only long enough to get the arms necessary to launch a replay against Israel in 1973 to regain Sinai.

Gamal and I often bemoaned the loss of the socialist ideal of pan-Africanism, and Sadat's embrace of the US as the new stepmother. Working at the Weekly was ironically much like my time at Moscow News from 1989 to 1992, the dying days of the Soviet Union, where full time jobs were really part time jobs with the appropriate part time pay, and no one took news or media seriously.

Over the next five years, I wrote mostly about politics, mobilized by Gamal to write weekly on whatever crisis was brewing or breaking. But that veered into Islamic politics and during Ramadan, articles celebrating Islamic history and culture, including Iran, in defiance of the overwhelmingly negative view or just absence of Iran in Egyptian news and thinking. To me, despite its ostracism as the only Shia country, Iran is at the heart of modern day Islamic affairs. This was not a popular stand in Egypt and secular al-Ahram, but when events conspired, I made a point of supporting the Iranian revolution and its importance to Palestine and to the anti-imperialist struggle. After all, my new name is Ali. (I suspect my Chechen friend at Fajr, Abu Bakr, saw me as an odd-man-out when he chose it for me.)

Much like the other secularists on staff, Gamal found my bumbling efforts to be a Muslim amusing, recounting his own earlier attempts. "The only time I was able to fast, was in London in the 1970s, when the day was only six hours long." Like me, he had Christian parents, his mother, an Coptic Egyptian beauty, a lowly bank clerk in 1950s who caught the eye of his father, a secularist with both native and Catholic religious background, who Kwame had met on a visit to Egypt shortly after Ghana achieved independence in 1957. It was a political marriage but a successful one. Gamal had accepted Islam only as a matter of protocol when he married. Being a lapsed Christian (Coptic) was not a plus on his resume and passport, and he had lost any Muslim fervor as his marriage disintegrated, enjoying his drink and occasional pork.

I was in awe of his legendary father, and was delighted to make a second home at his villa on the Nile in Helwan, where he grew up, attending the elite English-language Victoria College. Gamal is a tantalizing mix of Ghanaian high forehead and afro hair, the flashing eyes, jolly humour, wild laugh, resonant voice, regal paunch, and the Copt oval face, large round eyes, romantic character. His own biography is populated by large-than-life events – studies in London and Zimbabwe, before settling into his position at al-Ahram.

He teased me about what he saw as my infatuation with Islam. At lunch in the al-Ahram restaurant-cafeteria one day, with two women on our staff, both Muslims, he probed my sincerity.
"Do you fast in Ramadan?"
"The doctor said my weak stomach excused me from fasting, though I go without lunch and wait till sundown to eat," I replied.
"Ha, ha. Nice one. How about five daily prayers?"
"Always in the morning and at night, but I admit I miss out often during working hours."
"And you drink wine and coffee! You're not much of a Musli," Gamal guffawed triumphantly.
Over time, I improved my fasting, though in Canada in the summer, 18-hour summer days are gruelling. The doctor was right about my stomach, and I don't feel guilty anymore. Besides, in another 15 years the fasting days will be short in Canada. Without a hectic work regime, the prayers are in place, so I can say I'm getting there, still on the road.

My debut as a anti-imperialism correspondent was an account of the sixth (and last) international Cairo Conference against Imperialism and Zionism in 2008. Egypt was in the dying days of dictator Hosni Mubarak's regime, caught between the anti-imperialism and socialism of Nasser and his pro-American successor Anwar el-Sadat. Sadat, to his credit, was trying to move forward when he made peace with the enemy in 1979. But his embrace of Israel and US neoliberalism won him no supporters, and his assassination in 1981 resulted in no outpouring of grief, unlike the death of his beloved predecessor in 1970. His plodding successor, Hosni Mubarak continued Sadat's policies, Egypt regaining membership and headquarters of the Arab League in 1987, and maintaining a pseudo-democracy under US tutelage, where real opposition (the Muslim Brotherhood or MB) was repressed.

Gamal took me to the conference at the Journalists' Union building near al-Ahram and introduced me to some of his Egyptian colleagues, but slipped out to do a restaurant review (i.e., gorge himself), commissioning me to write up the conference. I was overwhelmed with the cacophony of the cross-section of the Egyptian opposition. (No officials from the government were there.) The conference featured children of jailed Muslim Brothers, bravely pleading for public awareness about their fathers being tortured and robbed. Egyptians are uniformly hostile to Israel, the cause of unending tragedy, not only for Palestinians, but for Egyptians, so holding the conference was good politics for the unpopular Mubarak, despite its strong anti-US tone, the presence of major Egyptian opposition representatives, and the lack of any Mubarak supporters.

Fourteen members of the Canadian Peace Alliance and from student organizations represented Canada. Delegates to this and the previous Cairo conference were attacked in the National Post and Ottawa Citizen for consorting with "terrorists", and "shouldn't be surprised if they come under scrutiny of the Canadian security services", simply for their willingness to dialogue with Muslims fighting the various wars now being inflicted on them. My article "Zionism in Canada: Political poison" prompted a reference to me in the Canadian National Post as a "terrorist", and derided my comparison of the struggle of Canada's natives and Palestinians. My reply to the Post was not printed, nor did I get an acknowledgment, but my first thrust into Middle East and the world of Islam had had some ripples, which was encouraging (but also put me on Homeland Security's hitlist. Not nice.). It convinced no one that I was a danger, but gave me a platform and an incentive to continue the battle for Palestine. These were the fraught days before the whirlwind of 2011, after which open defiance of imperialism and popular support for the MB and Palestine blossomed. Halcyon days before an even more brutal dictatorship emerged, when no public expressions of anti-imperialist and pro-Palestinian sentiment were possible anymore. It turned out Mubarak got the last laugh.

Mubarak days are remembered now with nostalgia by the intellectual elite. Life was boring but safe. Mubarak was a wonderfully unifying force, making unlikely allies of secularists and devout Muslims on the staff, while not torturing as much as Nasser or Sisi.

Once the Arab Spring exploded, militant secularists had a field day, shouting their promises and demands loudly. The Muslims were quietly using the vacuum in society to rebuild their forces, jails now emptied of MBers, even while daily crises grew, to which only the MB had a tradition of grassroots help, from doctors, to school books, to meals for the destitute. I witnessed this frequently outside my apartment building in relatively prosperous Manial, where tables were set up, and school books and notepads were distributed. In 2012, the MB mobilized its cadres to clean up the worst trash in the streets, for which they were derided by the secularists. There were many such local activities across Egypt in villages, unheralded or at best ridiculed in the negative press. Any such altruistic efforts to follow the teachings of Islam were greeted with scornful taunts of "Down with the rule of the Supreme Guide!", conjuring the spectre of Iran.

4/ Bringing down the Brotherhood

The Egyptian revolution was brought down by an unholy alliance of 'foloul' (beans, remnants, referring to the old guard), the army, and so-called liberals. The latter loathed the Muslim Brotherhood in the first place, the old guard second, the army a bit less, and despised the people, thinking they could use them, despite the clear evidence in repeated elections since 2011, that they would elect an Islamic government. Given the collapse of authority in 2011, this was a recipe for disaster. The MB was elected, but its government was sabotaged by the bureaucracy, army, police and liberals, most of whom were eager to abandon the fragile democracy. 'Better dead than Islamic.'

The fanatical Islamophobe at al-Ahram turned out to be Khaled Dawoud, whose (second, and short-lived) wedding I attended at the ritzy Shepheard Hotel in 2008. A former CNN stringer, he became spokesman of the Constitution Party of Egypt in 2011, and later for the National Salvation Front (NSF), hastily thrown together in November 2012 to overthrow the MB government. He resigned from his political life in August 2013 in protest at the police violence against Morsi supporters, and was stabbed by a Morsi supporter on 4 October 2013, but survived and still works at the Weekly.

The liberal star of the coup was a stand up comic, a young doctor, Bassem Youssef, who used YouTube to launch El-Bernameg. ("You are watching the program The Program!" opened each show.) It ran from 2011 to 2013, uncensored despite its increasingly ad hominem attacks on Egypt's first democratically elected president, promoting the opposition's distorted exaggerations of actual events, claiming that Morsi was becoming a dictator. As the campaign of subversion intensified on all fronts, Youssef (dubbed the Jon Stewart of the Arab world) let his program, fresh from witnessing the overthrow of a real dictator (Mubarak), set the stage for a new, more vicious dictator, what the army had intended all along, from the opening shots of January 2011.

The army hated Mubarak as much as anyone, and let the revolution of 2011 proceed under their control, though they had no use for either the liberals or the Brotherhood. The plan was to give the Brotherhood some rope and then take charge and hang them (metaphorically and literally), responding to the vengefulness of the old guard and the naive, screaming liberals. The liberals were weak, and could be conned into supporting a coup, and then easily brought to heel with a few arrests and massacres.

Youssef, nominally a Muslim, was sponsored by Egypt's top billionaire, the secular Copt Naguib Sawiris, mobile phone magnate and owner of ONTV. Youssef's parodies originally targeted genuine buffoons like  TV show host Tawfik Okasha, minor figures like Salafist presidential candidate Hazem Salah Abu Ismail, and even respected liberals such as Mohamed ElBaradei, former head of the International Atomic Energy Agency and onetime presidential candidate. In June 2012, Jon Stewart invited Youssef to The Daily Show in New York. Youssef recorded one of the highest viewership ratings in the world on both TV and internet, with 40 million viewers on TV and more than 184 million combined views for his show on YouTube alone. He was a political power by social media.

But Youssef also alienated his new TV sponsor CBC with insults to the management and they cancelled one program, a warning of what was to come. Caught up in his ego trip and adulation of the US, he emulated Stewart, his hero, through increasingly outrageous skits ridiculing Morsi and the vision of an Islamic government. Instead of using his immense popularity to help calm waters and to support the fledgling democracy, he used these few precious months of disorganized 'freedom' to discredit and bring down the democratically elected Brotherhood and Egypt's first legitimate president. Brotherhood criticism of Youssef was muted. He was never arrested. The Brotherhood did not control the media, and his program continued unhindered, to whip up ever great anger and protests.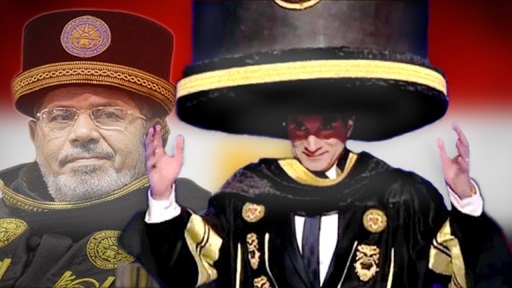 As the coup loomed on the horizon in June 2013, Youssef appeared again on The Daily Show in New York, and Stewart came to Cairo as a supposed terrorist on The Program. As the coup took place, Youssef, like my Ahram colleague Khaled, watching, first ecstatic, then as if in surprise, in shock, as thousands of devout Muslims were mowed down and the Brotherhood leaders arrested and condemned to death, much like I had witnessed in Uzbekistan in 2005. His Program was closed after 2 post-coup episodes. He managed a few more Programs on satellite MBCMasr before a suit by CBC (claiming his contract was broken for not providing acceptable content) was decided in CBC's favour, and Youssef was ordered to pay $1 million dollars.

As thousands were killed, tortured, left in prison limbo, Youssef fled Cairo, and in the venerable tradition for pro-US dissidents, was given an appointment at Harvard's Institute for Politics. In an adulatory documentary Tickling Giants (2017), he is clearly shaken but insists (feebly) that "If I could it do to again, I would do the same." In 2013, Youssef was named one of the "100 most influential people in the world" by Time magazine and one of Foreign Policy magazine's 100 Leading Global Thinkers. In November 2013, he was awarded the International Press Freedom Award by the Committee to Protect Journalists.

I watched Youssef on TV before I myself fled the growing nightmare of Cairo in 2012, but he didn't really register with me or Mahmoud. Humour in another language is always difficult, and petulant stand up comedy mocking politics never appealed to me, attacking personal foibles, actually diverting the listener from serious political issues. The writing was on the wall as Egypt descended into chaos and experienced a collective mental breakdown, laughed at by satirist Youssef et al, and I left in bitter disillusion. As much as I had come to love Egypt, it was not my breakdown. Hawagas were more and more seen as at best irrelevant and nosy parasites, at worst, traitors and spies.

Stewart pushes limits, but US culture can stand it. He's a gadfly, even courted by budding US politicians, willing to make fun of themselves and social silliness, Stewart's clowning of no consequence. But this American-style humour is poisonous in a conflicted Muslim society lacking democratic foundations. Youssef was naive, and used his cold-blooded skills as a doctor to inject Egypt with US cultural poison, handing Morsi's head to Sisi, a kind of Lady Macbeth, who incited the murder of the king out of lust for power.  Morsi's death sentence has not been carried out – yet.  But Egypt's latter day Lady Macbeth lives a happy life—in the US—apparently without any compulsion to wash his hands of blood.

5/ Sisi - Muhammad Ali redux

From my rooftop, I often sat watching the dusk transform the Mohamed Ali Citadel, the 12th century citadel build by Salah al-Din, containing the Mosque of Muhammad Ali, built between 1828 and 1848, perched on the summit of the citadel. As a new Muslim, I watched the phases of the moon, like a slow-moving backwards clock, from my perch in Manial, unhindered by clouds. It's hard to imagine anything more magical that the full moon rising behind the minarets of the sprawling mosque on the Muqatam hills.  Even more magical was a crescent moon at midnight, feeling the power of the lunar calendar in action, the spiritual timepiece of Muslim worship.

The Citadel was fortified by the Ayyubid ruler Salah al-Din (Saladin) between 1176 and 1183 AD, to protect it from the Crusaders, and was the seat of government until Khedive Ismail moved to his newly built Abdin Palace in the 1860s. The Ottoman mosque was built in memory of Tusun Pasha, Muhammad Ali's second son who died in 1816. However, it also represents Muhammad Ali's efforts to erase symbols of the Mamluk dynasty that he 'replaced', and to keep Egypt's image firmly Muslim, even as the British and French were taking control, and as the Ottoman Caliphate was giving way to the new imperial high-tech world. The Citadel is the most popular tourist site in Cairo after the pyramids, with Japanese cameras casually documenting worshippers at prayer. There is a small museum of Muhammad Ali's collection of paintings and artifacts, and a very large museum of Egyptian military history, which–until 201–featuring a massive mural with Mubarak as father of the people.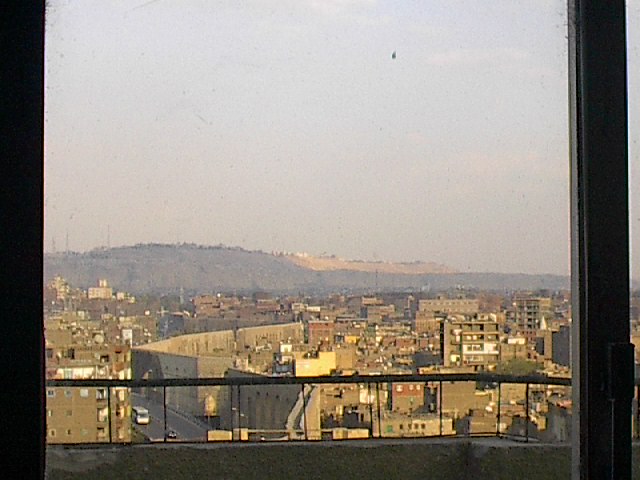 When friends visited, we would make the excursion to the Citadel, and nearby al-Azhar Park, another hilltop fort lavishly restored with funds of Aga Khan IV, a descendant of the Fatimid Imam-Caliphs who ruled from Cairo in the 11–12th centuries. But I was a very poor tourist, never actually standing at the foot of the Giza pyramids or in line at the Egyptian Museum in Tahrir Square, though I passed it hundreds of times. I did visit Saqqara, thanks to my USAID friend Robert, who came to Cairo to see how I was faring. Robert reserved a taxi for the day and invited me along. The tourist shtick of Giza was too much when we stopped there, a gaggle of sloppily dressed Russians haranguing a camel driver. Saqqara was much better, if only because it is far from downtown Cairo, with no metro stop, so gets fewer and more serious visitors.  To my shame, I never did the Luxor pilgrimage to the Valley of the Kings, not even the tourist's de rigueur camp-out on an oasis. When you live somewhere, suddenly you're not a tourist, and touristy things are for 'them'. None of my friends had any interest in them. I avoided falling into the expat rut of English-language NGO and diplomatic parties and excursions. I was in Cairo to learn Arabic, experience Muslim life in the flesh, to see and feel the real Egypt-Cairo, to take the local pulse. Each day spent with an expat was a day wasted. When Egypt collapsed/ rose up in 2011, that put touristy things even lower on the totem pole. My balconies were my daily dose of Egyptian history (the opposite balcony faced the Giza pyramid, though it was rarely visible in the smog).

Sisi is beginning to take on traits associated with this 19th dictator-pasha Muhammad Ali, beloved of Ahram Raya. She no doubt saw the parallel between Sisi's slaughter of thousands of Muslims, and Muhammad Ali's  clever invitation of all his Mamluk rivals to his citadel, where he proceeded to slaughter a thousand of them to consolidate his rule.

A legend of the pasha was that he had 300,000 street children rounded up and shipped to Aswan where they were taught skills and became assets to his construction of a new Egypt. Sisi launched just such a program "Homeless Children" in May 2017, planning to gather up street waifs and whisk them to an army camp for training. This nostalgia for the secular past is perhaps a stab at taking the wind out of the ISIS types, yearning for the caliphate, but is just as misguided as ISIS itself. That was what the MB could have tackled, but not a secular dictator persecuting devout Muslims. On the contrary, terrorism has increased dramatically since 2013.

Another bright idea to model a compliant youth is the Ministry of Education's decision to airbrush the whole revolution-coup experience out of Egyptian history. They decreed that the revolutions of January 25, 2011 and June 30, 2013 will no longer be mentioned in high school history textbooks. This followed protests over an exam question: "How would things be if Abdel Fattah al-Sisi had never given the June 30 speech?" Countering incredulous protests, Mamdouh Qadri, history adviser for the Ministry of Education, said the answer to the question is clearly defined in the curriculum, and that students were only asked to stick to the textbook without giving any political reasoning or personal analysis. Only the most hardened Sisiphiles could swallow that. Better 'out of sight, out of mind.' The Egyptian revolution and 2013 coup no longer exist. "Welcome to Egypt!"

Critical Muslim