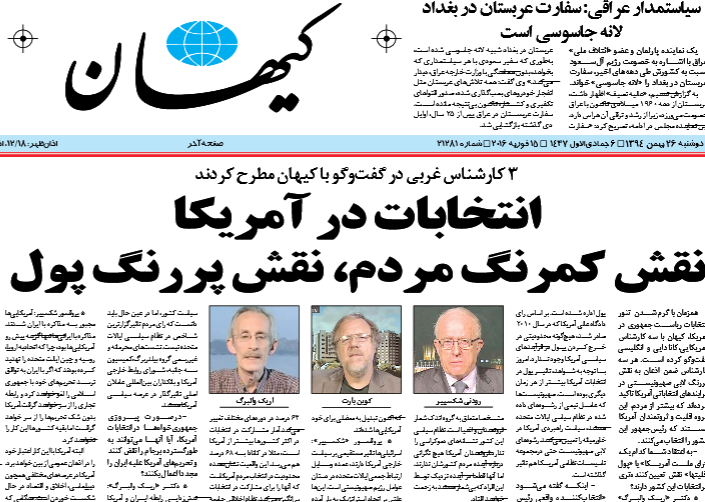 1) Which element plays a more critical role in US presidential elections--the pursuit of the people's vote or of special interest money?
The simple answer is: both, but with a strong advantage to special interests. The electoral process costs billions of dollars, with candidates (except the socialist Democrat Bernie Saunders) relying on Political Action Committees, which receive unlimited donations from corporations. It is TV ads and TV coverage that dominate the electoral system. Democracy is 'democracy of dollars'. So while it is ultimately the people's votes that count, there is little room for a genuine people's candidate to win. If there is a tie, as happened in 2000, the Supreme Court decides. Saunders is the first genuine populist candidate for president since Roosevelt in the 1930s, and his chances are slim.
2) What do you think about this statement: "It is the ruling elite that elects the president rather than the people"?
That is true, but this time the field is weak. There are no outstanding charismatic hopefuls, with the possible exception of the Republican Donald Trump. The sorry state of the US economy, and the failed wars in Afghanistan, Iraq and now Syria, have discredited the ruling elite's efforts to construct a 'New World Order'. For the first time in over 50 years, socialism as a viable alternative to capitalism is being talked about by disillusioned Democrats. Despite winning the New Hampshire primary, the socialist candidate, Bernie Saunders, has little chance of winning (Clinton was given 429 'soft delegates' to Saunders' 14 by the party elite before the primaries started), his strong criticisms of US warmongering are widely heard and respected. Despite being Jewish and a supporter of Israel, he supports Obama on better relations with Iran, and is not supported by the Israel Lobby, showing that the Zionist elite is bankrupt in ideas, leaving room for realism on the Middle East, and a growing consensus against more wars.